Fight disinformation:
Sign up
for the free
Mother Jones Daily
newsletter and follow the news that matters.
The Obama administration might not process the illegal immigrants that Arizona authorities hand over to them—a possible means of blunting the impact of the state's harsh new immigration law. At the same time, Homeland Security has vowed to ramp up its deportation of illegal immigrants elsewhere in the country.
Criticizing the Arizona law last week, John Morton, head of U.S. Immigration and Customs Enforcement (ICE), said that his agency would not necessarily act upon referrals of suspected illegal immigrants from Arizona officials. Under the state's new law, local law enforcement officials have the authority to detain suspected illegal immigrants, but they must verify their status with the federal government to proceed further. Such comments prompted conservatives like Senate candidate JD Hayworth–who's challenging McCain in Arizona–to call for Morton's resignation and slam the Obama administration for "encouraging lawlessness" by failing to enforce Arizona's law.
But the federal government has always had the legal discretion to decide which immigration cases to act upon. Well before the passage of Arizona's law, the Obama administration had stepped up its immigration enforcement efforts, pledging to shift its attention to criminal illegal immigrants. And Morton vowed to continue to expand such efforts going forward by expanding its Secure Communities program, which aims to help local police identify criminal immigrants, and by increasing scrutiny on employers who hire illegal immigrants. "Morton said the government's stepped-up enforcement would result in a 'sharp increase' in deportations this year," the Chicago Tribune reports. "Last year's 400,000 overall deportations were a record, but this year there has already been a 40 percent jump in deportations of criminals, [Morton] said."
At the same time, a breakdown of the deportation numbers makes it clear that it's not just criminal immigrants that federal immigration officials are targeting. Within the first year of the Obama administration, ICE had deported 5 percent more immigrants than it had during the last year under Bush. There's been a small decrease in the number of non-criminal immigrants who've been deported, but they still make up a large majority of deportations: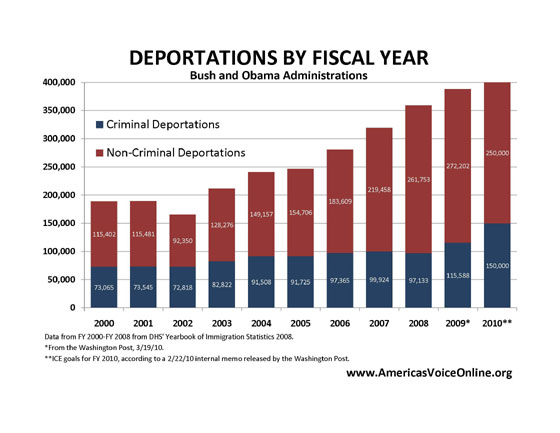 Having promised to step up its federal enforcement efforts—and to exert greater discretion in targeting illegal immigrants than Arizona—the Obama administration needs to become more transparent about its own deportation policy as well.