Fight disinformation:
Sign up
for the free
Mother Jones Daily
newsletter and follow the news that matters.
The meteorologist-turned-adventurer Felicity Aston has had a soft spot for Antarctica ever since she learned of the ill-fated British explorer Robert Falcon Scott, who loomed as large for her growing up, she says, as characters like King Arthur and Robin Hood. But unlike most of us, Aston never abandoned her dream of emulating her childhood hero. In January the 34-year-old became the first woman to cross Antarctica alone and the first human to traverse the 1,084 mile-long continent without dogs or snowmobiles—although, because she had two food drop-offs, Guinness World Records won't credit her for a solo crossing.
In any case, the trek took her 59 days of pulling two sledges behind her on skis, securing her tent against ferocious windstorms, navigating glaciers, and rationing a small tub of peanut butter—her only luxury. In the process, she fell even more in love with "that white place at the bottom of the globe." I spoke with Aston last month, two weeks after her return from the Hercules Inlet, where her journey ended.
Mother Jones: When did you first become interested in Antarctica?
Felicity Aston: I've always had this appreciation that Antarctica was somewhere where you went to prove yourself and where all these kind of legendary people were made. After university, I got a job with the British Antarctic survey and was sent to a research station for three years as a meteorologist looking at climate and ozone. And that kind of bit me with the bug, really. How do you follow that up? Certainly not a 9-to-5 in a London office somewhere.
MJ: You first landed there at age 23. What surprised you about the experience?
FA: As a wintering team, there were 21 people, and I was one of three women. During my second winter, it was just me and one other. So you have to learn a lot about the group dynamics and the psychology of small communities very, very quickly. On top of that, you're learning how to drive the Skidoo, you're learning how to guide planes in. Because the thing is, once everyone leaves, there's no IT department to ring. Once something goes wrong, you've got a manual and what's in your head, and that's it. I think everything was a surprise.
MJ: What do people do for fun in Antarctica?
FA: I can only speak for my base, but we had pretty much every sort of wacky fancy dress theme you can think of. I remember at one point we turned one room into a curry house and we all had curry that night. And somebody else rigged up a bungee rope where you had to run down a corridor hooked up to a bungee where you had to get hold of a beer. An ice cave was made. But also you've got Antarctica as your playground, so you go skiing, ice climbing. Even if it was a popular local peak, you knew there were only about two dozen people who had been up there before you. You really were adventuring.
MJ: Why'd you decide you wanted to ski across Antarctica alone?
FA: I'd skied to the South Pole as a team before, and I'd read about other people doing solo expeditions, and the question I always asked myself was "Would I be able to do that? Would I react in that way? Would I be up to it? Would I be capable?" So it was curiosity. And I wanted to know what it would feel like to be in that amazing place by myself, to effectively have it to myself. The psychological dimension was really interesting.
MJ: What were some of the dangers of being completely alone?
FA: You have no backup. The level of stress is always there. For example, getting a bit of frost nip on your face—you're not going to see that unless you're looking for it, unless you're constantly aware of "Can I feel my nose? Are my cheeks all right?" Whereas if you're in a team, someone else might see that. So you can't ever let your guard down. I also found that I allowed myself to be a lot more emotional than I did in front of a team. Whether it was crying or getting angry or whatever I needed to do, I let it out. I found I gave myself a lot more leeway when I was on my own.
MJ: What do you think ended up being the hardest thing psychologically?
FA: The loneliness really hit me. I'm not a natural soloist, even though I'm someone who likes my own company.
MJ: Was there a mantra or something you repeated to yourself while skiing?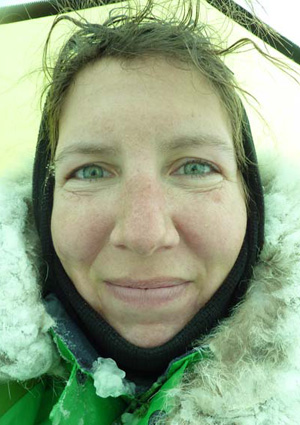 FA: I was listening to music on an MP3 player sometimes, and there were lyrics that would stick out to me and help me through that particular day. There was something else that someone was telling me, which was: "If it can happen, it probably will, so fix it." [Laughs.] You'd notice skis that the binding fit weird or a strap needed to be shortened, if you could see a potential that you could lose a bit of gear or something could get broken, just do something about it now. On your own, you're always on the more cautious side because you can't really afford to mess up.
MJ: Were you bored a lot of the time, or are things there more interesting than one might guess?
FA: "Bored" is a tough word. The landscape was certainly very monotonous, and there were times when the days just seemed to drag, but there were also times when the days just seemed to gallop by. I think you pay attention to details a lot more. There aren't huge landscapes, but there would be days when just the texture of the snow would be quite peculiar, or the reflection of the light, or a bit of miraging, or halos around the sun.
MJ: Were there moments when you feared for your life?
FA: On day four, I found myself on a very narrow part of the glacier that I was traversing up, called the Leverett Glacier, and all the wind that comes from the South Pole gets kind of funneled down through this tiny gap in the mountains. The glacier is probably only about 10 kilometers wide, if that. It was katabatic winds that are very forceful and directional and they can last for days. I kind of in my mind thought, "Oh, if I just keep skiing, I'll ski through this," but as I started up the glacier, it got to the point where I started thinking, "I'm not sure I'm going to be able to get the tent up if it gets any stronger."
"It took me two and a half hours to get the tent up, because the winds were so strong they were knocking me backwards."
It took me two and a half hours to get the tent up, because the winds were so strong they were knocking me backwards. So once I crawled inside the tent, I just remember sort of sitting there as these winds were beating the tent and just thinking, "Oh my goodness!" What I realized in that moment was that there was no one to come and help. If a plane came to get me, it would take them a couple of days to get organized, they wouldn't be able to land anywhere near me. There was no option but to get myself out of this mess.
And yeah, that was a pretty horrific night. Being scared was an emotional response. When I was being logical, I was like, "Yeah, my tent is really strong. I've got double poles in the front. I've anchored myself well"—every hour I was getting out to reanchor and make sure everything was secure. And yet my emotional response was fear and panic. I don't think I really calmed down from that for a couple of days. At the time, I hadn't realized that it had quite an impact. But looking back on it, for the next couple of days, I was overly cautious to the point of being ridiculous. You know, in terms of half-burying my tent each night, over-anchoring, and things like that.
MJ: In the video you recorded on your last day, at the Hercules Inlet, you say: "I don't really know what I was expecting. After counting the days and the miles so long, it all seems to have come to an end a bit quick." Was it anticlimactic?
FA: By that state, you've switched off a little bit. One Antarctic explorer once said, "Let routine take command of feeling," and it was something that I recalled several times during the journey, because that's precisely what my response was. It was about going through the motions to get myself out of the tent every morning, and the rest would take care of itself. So you get this sense of rhythm. And then suddenly, I was at the end, and it was like, wow! Those last three days are when you go from seeing the mountains to reaching my end point. When I first saw those mountains, in many respects that was the end of the expedition for me, because I knew I was going to make it. Although I was relieved it was coming to an end, I was also incredibly sad. It was my big adventure that was over.
MJ: When I ski, I usually have M&Ms in my pocket. Did you allow yourself any such luxury items?
FA: I'm quite tough with myself, because I have to carry everything with me. So I had a few tiny good luck charms, like a locket from my sister, a tiny St. Christopher my aunt gave me. At the pole, I got a small pot of peanut butter. So every evening beyond the pole, I would give myself a spoonful. It was a bit of a bad evening when I hit the bottom of the pot.

MJ: In 2009 you led a group of women to the South Pole. Some of them, it looks like they'd never skied before. Why do you think it's important to lead people with no experience to accomplish a feat like that?
"A lot of people say, 'Oh, the feminist drum has been banged and it's done.' Well, it's not done."
FA: There were several people who had never seen snow, never seen a pair of skis. We had a mother of three and a newlywed and professionals and people who hadn't decided what they wanted to do yet. I thought it was important that I didn't just find experienced adventurers, because when you find someone else who is doing something spectacular, you instantly find reasons why you aren't doing the same. For instance, if you've seen a director who's done well, you say, "Oh, well, both her parents were Hollywood actors; she had all the contacts." We're always coming up with excuses why they can do it and we can't. So the whole purpose of the Commonwealth expedition was that these were totally ordinary women. I really hoped that when people read about the women, there was someone there that they identified with.
MJ: Why just women?
FA: I think, for me, it's a really sad thing that in the 21st century, the majority of women on the planet today don't have the opportunity to make their own choices in life. And a lot of people say, "Oh, the feminist drum has been banged and it's done." Well, it's not done. There are a lot of women out there who for reasons of economy or culture or religion are not able to make their own choices. I thought, well, I'm not an aid worker, I'm not a politician, so what do I do? I'm an expedition leader. And I wanted to organize an expedition that would somehow highlight that aspect of the world.
MJ: What do you have that Ernest Shackleton didn't?
FA: Oh, wow. A plane to take me there, satellite navigation. I wasn't trying to do it unsupported. And my ship didn't get stuck in the ice!