Fight disinformation:
Sign up
for the free
Mother Jones Daily
newsletter and follow the news that matters.
For the next few months, I'll be periodically hanging out with members of 4-H Club. One of the largest youth organizations in the world, 4-H counts agribusiness giants like Monsanto, DuPont, Cargill, John Deere, Philip Morris USA, and Kraft Foods among its partnering sponsors. That these companies would want to turn kids onto farming makes sense when you consider the fact that the average age of the American farmer is creeping up toward 60. But the values that the kids learn about livestock—ethical and humane treatment of animals, lots of personal interaction, and responding to each animals' individual needs—goes completely against the agribiz-as-usual model about which my colleague Tom Philpott has blogged extensively. My first post on 4-H, where I check out the animals at the Alameda County Fair, is here.

One sunny afternoon in July, I drove up a series of narrow, winding roads into the hills of Oakland, California, to meet two seasoned members of the Montclair 4-H Club: Kendall and Garrett Post. The Post kids live with their mom and dad in a cool old farm house, behind which are fire trails that snake up through the woods. The setting feels rural, but it's actually only a few minutes' drive from bustling downtown Oakland.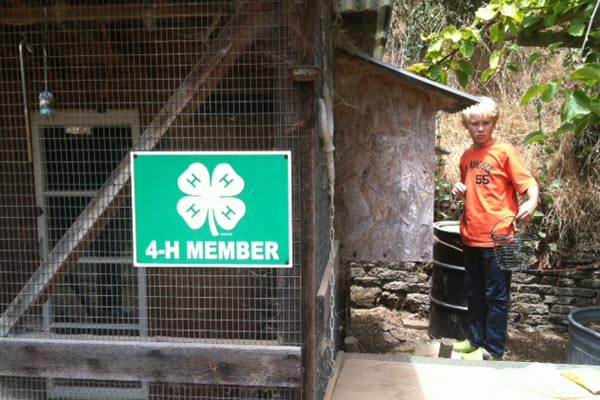 This spring, the Post kids raised two pigs for 4-H in their barn. Since their property isn't big enough to properly exercise the pigs, Kendall and Garrett walked them on the public fire trails behind their house, guiding them with short crops, since pigs don't do well with leashes. More than a few hikers, they told me, did double takes at the sight of a couple of kids prodding their pigs up the trail.
By the time I visited, the pigs had already been sold for meat at the Alameda County Fair. But the kids were nice enough to show me a few of their other animals and to chat with me about what it's like to raise livestock in Oakland.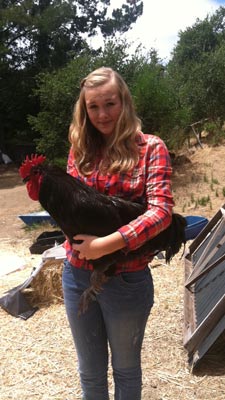 When I visited the Posts, 4-H activities had wound down for the summer. The only animals around were chickens, rabbits, and a few gawky teenage turkeys. But in the spring, during the weeks leading up to the county fair, Kendall explained, things can get a little crazy, since the kids have to make sure that their show animals are ready for prime time: healthy, well-groomed, and obedient. Kendall and Garrett walk their pigs as many as three times a day. The walk is partially for exercise, but it's also for fair practice: "You have to make sure you can control your animal in front of the judges," Kendall says.
At 14, Kendall has been a 4-Her for nine years, during which time she's raised rabbits, chickens, turkeys, goats, and pigs. She describes 4-H as "a giant time commitment." In addition to the one to two hours every day she spends with her animals, there's club meetings, project meetings, and officers' meetings; Kendall serves as club treasurer.
Over a lemonade in the backyard, Kendall and her little brother Garrett, 11, demonstrated how to show a pig, pantomiming how to direct the animal with a stick. "What if you have a pig with an attitude?" I asked. Kendall giggled. "Well then, you're kind of done."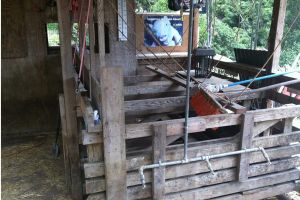 Many 4-H kids raise their animals on other people's properties or on a 4-H farm, but Kendall and Garrett are lucky: They have a big yard and a dad who likes to build animal enclosures, so their chickens, goats, rabbits, and pigs live right on their family's property. In fact, a few other 4-H kids who don't have as much space raise their pigs at the Posts' place.
The Post kids admit that 4-H can be a lot of pressure, especially in the months leading up to the fair. Kendall and Garrett devote a lot of energy to making sure their pigs reach the required weight of 250 pounds, since underweight animals aren't allowed to be shown. They also do a lot of cramming to prepare for questions from tough judges: Kendall even participated in something called Rabbit Bowl, a quiz-show style contest where kids answer questions about rabbit health and handling. And competition is fierce. "When I tell people I got fourth place*, it doesn't sound like that big of a deal, but to me it is," she says. "We're up against kids from farms, and 4-H is their whole lives." Their hard work paid off: Kendall's pig sold for an impressive $1,700, and Garrett's sold for just over $1,000. 4-H kids typically use most of what they earn from a sale to pay back loans they've taken out to buy and feed the animals, but the net profit is usually still a few hundred dollars.
Next year, Kendall will be a freshman at a Catholic high school in Oakland. I asked her what her friends at school think of her 4-H activities. She thought about it for a minute. "I think they're interested, but they can't see themselves doing it," she said. Kendall's not sure yet how she'll balance the demands of high school with her 4-H animal projects. She'd like to try out for school plays, and rehearsals could conflict with pig-exercising and sty-cleaning time.
So was it worth devoting all that time to an animal that you know is going to be sold for meat? I asked Garrett whether it was sad to say goodbye to his pig at the fair. "Last year I was really sad," he said. "This year I got a little misty-eyed on the way home from the fair, but I didn't break down."
Kendall explained it this way: "We know that our pigs have a way better life than the ones whose meat you get at the grocery store. We know exactly what they're fed. We walk them. We play tug-of-war with them. Of course it's sad to say goodbye to them, but I know that they're happy."
Correction: An earlier version of this article incorrectly stated that Kendall's pig took fourth place. That was incorrect; both Kendall and Garrett took fourth place in showmanship. The sentence has been corrected.