Fight disinformation:
Sign up
for the free
Mother Jones Daily
newsletter and follow the news that matters.
After hunting for feral pigs with invasivore extraordinaire Jackson Landers, I decided it was time to experiment with weeds. Fellow MoJo staffers Maddie Oatman and Ian Gordon came over to my place to cook up three dishes, each based around a different invasive plant. Herewith, the recipes (and a few pictures from our culinary adventure):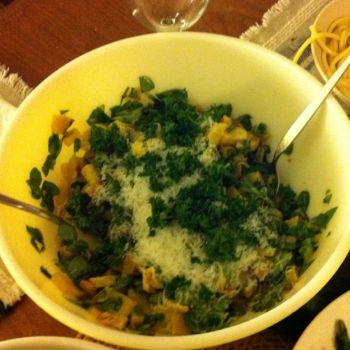 Purslane Salad With Roasted Root Vegetables (serves four)
from Chef Sean Baker of Gather in Berkeley, California
Start with 3 cups of celery root and 3 cups of peeled sunchokes, chopped into 3/4″ pieces. Toss with salt and olive oil and roast in a 325-degree oven for 30 to 45 minutes until soft, rotating as needed. Cool to room temperature and dump into a big bowl with 3 cups of washed, chopped purslane*. Toss in 3 tablespoons of toasted pine nuts, 1 tablespoon of chopped fresh thyme, and 1/2 tablespoons of chopped fresh parsley. Flavor with a mix of 3 tablespoons of lemon juice and 6 tablespoons of olive oil. Add salt and fresh ground pepper to taste, grate pecorino cheese on top, and serve.
*Purslane, sometimes called verdolagas, grows wild in many places in the US. If you can't find it in your yard, try a Mexican supermarket.
Nopal Salad With Watercress, Citrus, and Shallot (serves four)
from Chef Leif Hedendal of San Francisco, California:
Dice 1/2 pound of young tender pads of nopales*, then boil them in well-salted water for ten minutes, adding a pinch of baking soda at the end of cooking (this helps the nopales be less sticky). Wash under cold water until cool. Dice a shallot into very small pieces, and macerate it in the juice of a lime with a pinch of salt for 10 or more minutes. Cut all the rind and pith off of an orange and a grapefruit, and cut the segments away from the membrane of both fruit into a bowl. Squeeze in the remaining juice. Wash and spin a large handful of watercress, and combine it with the nopales, shallot, citrus in its juice, 1/4 cup of olive oil, and a pinch of salt, in a bowl. Toss well and serve.
*Native to Mexico, the nopal cactus has crept northward over the past half century, overtaking native plants and injuring livestock with its prickles along its way. Like purslane, it's also often available in Mexican markets.
Sautéed Dandelion Greens With Garlic and Pine Nuts (serves four)
from Chef Kristin Ferguson of Forage in Los Angeles, California
Sauté 12 oz. dandelion greens* in two tablespoons of olive oil or bacon fat until wilted and tender. Add two cloves of garlic, squeezed through a press, along with salt to taste. Cook for another minute or two, then transfer to a plate and sprinkle with two tablespoons of cheese and a handful of toasted pine nuts. Serve.
*Chances are you are familiar with (and if you're a gardener, perhaps engaged in an active battle with) dendelions. Their leaves are abundant in yards all over the country, and sometimes they are sold at farmers markets, too.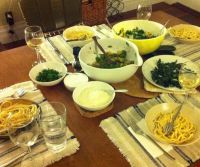 Several hours and a few glasses of wine later, we were finally ready to eat. Along with the three veggie dishes, we had thick spaghetti with eggs from my chickens, butter, and parmesan. To our great (and slightly tipsy) satisfaction, all three dishes turned out well. The slightly nutty flavor of the roasted vegetables brought out the sweetness of the purslane, all of which was quite different from the citrusy tang of the nopales salad. We ate the garlicky dandelion greens right on top of our pasta. I'll likely make all three dishes again, possibly this Thanksgiving.
Thanks to the restaurants Gather (Berkeley) and Forage (Los Angeles) and to Chef Leif Hedendal. Photos by Ian Gordon and Maddie Oatman.