Fight disinformation:
Sign up
for the free
Mother Jones Daily
newsletter and follow the news that matters.
When I come down with a cold, I avoid treating it with pharmaceuticals that mask symptoms. Instead, I try to ramp up my immune system to fight the cold back the hippie way: with herbs and vitamin C and the like.
But there's no doubt that cold symptoms—sore throat, stuffed nose, irritated sinuses, lethargy—really, really suck. For more years than I care to calculate, I've been fighting these vexations with a fiery soup, loosely based on a Mexican specialty called sopa de tortilla. It won't really "crush" your cold, as the headline promises, at least not permanantly, but it will send it packing for the time it takes you to eat a bowl or two and for about 15 minutes after. During that blessed period, your sore throat will vanish, your sinuses will open and allow you to breathe freely, and overall, you'll feel like a million bucks instead of death warmed over. I credit the latter effect to the feel-good endorphins that chile peppers are said to release.
In addition to its short-term benefits, the soup may also help you get rid of your cold faster. That's because three of its four essential ingredients—chiles, tomatoes and fresh lime juice—are all packed with vitamin C. The fourth one, garlic, used here in medicinal amounts, is also thought to boost the immune system. Plus, I always garnish it with something green—cilantro if I have it, or parsley or even arugula—which is good for you no matter what. For crunch and a little sweetness, I sometimes add chopped red cabbage, a vegetable so full of vitamin C that it is reputed to have saved sailors from scurvy in times past.
Even more so than most Tom's Kitchen recipes, this one is exceedingly simple. That's because it's been honed over the years to be made by someone who does not want to deal with the slightest bit of fussiness: a sick person. So next time you're feeling under the weather, give this soup a shot.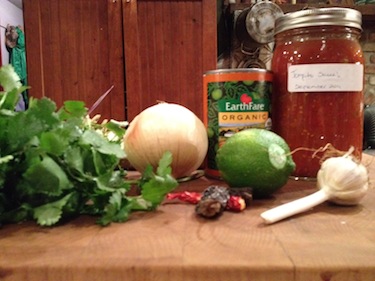 Tortilla-less Tortilla Soup for the Sick Person's Soul
(Makes about 2 quarts—enough for 4-5 large servings)
Note: This recipe has a lot of optional ingredients. I add the optional stuff if i have them on hand and I feel like adding them. If I'm feeling too low to chop an onion, I omit it without losing all that much. If I want it to be more substantial, I add the beans. The dried herbs make the soup taste great—but when my nose is stopped up, I can't taste them anyway. The core ingredients—garlic, chiles, tomatoes, limes—will take you where you need to go.
Ingredients
1 medium onion, chopped*
Olive oil for sauteing
1 head garlic, cloves separated and chopped fine
3-4 small hot chile peppers, chopped (fresh are best, but dried ones like chipotles and chiles de arbol work great, too. Just rehydrate them in hot water for a few minutes before chopping. )
1 tablespoon dried oregano and/or thyme*
1 28-32 oz can or jar of organic whole tomatoes or tomato puree (I use home-canned tomatoes)
1 can garbanzo beans (cook them from scratch by all means; but if you're doing poorly, don't be shy about opening a can), drained*
Sea salt
Garnishes
Limes—enough for half a lime for each serving
Some good but not fancy melting cheese—I use Organic Valley Sharp Cheddar—grated, about ¼ cup per bowl of soup
1 bunch of something green—preferably cilantro, but parsley works well too—chopped
Chopped red cabbage, about 1 cup*
Avocado slices*
* Optional ingredients
Put a large, heavy-bottomed pot over medium heat, and coat bottom with olive oil. Add the chopped onions (if using) and let them saute, stirring occasionally, until they're translucent. Add the garlic and the chiles and saute them, stirring to avoid burning, for a minute or two. Now add the tomatoes and a good pinch of salt. If you are using whole canned tomatoes, use a wooden spoon to break them up as they cook. Add the beans, and let the tomato mixture cook and reduce for a few minutes, stirring occasionally to avoid any sticking to the bottom and burning. Now, take the same container the tomatoes came in—whether store-bought can or home jar—and fill it with water. Add the water to the pot, and bring to a boil. Turn heat to low, correct for salt, and prepare to serve.
To serve: Add grated cheese (if using) to an empty soup bowl. I know you're not supposed to eat dairy when you have a cold, but I find molten cheese in this soup enormously comforting. Ladle a good amount of hot soup into the bowl, making sure that the cheese is completely covered (this will ensure it melts). Now give it a big squeeze of lime juice—at least half a lime. Cover top with final garnishes—chopped greens, and if you're using them, cabbage and avocado slices.