Fight disinformation:
Sign up
for the free
Mother Jones Daily
newsletter and follow the news that matters.
Richard Nixon thought that doing it would make him look like a "jerk." Geraldine Ferraro said it spread germs and lipstick, but she did it anyway. Andrew Jackson suckered his secretary of war into doing it for him. Davy Crockett did it so much it should have been mentioned in his theme song. We're talking about kissing babies, that revered yet reviled, much-analyzed yet meaningless American political custom.
Few candidates dare avoid it, yet no one can point to a case of a politician's failure to do it (or to do it well) causing an electoral defeat. As we head into the thick of another hotly contested baby-smooching season, here's a short history of our love-hate relationship with a campaign trail cliché.
1833: Andrew Jackson's lips are sealed
The first politician to lay lips on an unsuspecting infant is unknown, though President Andrew Jackson is credited with the first use of a supporter's baby as a political prop. As recounted in an 1888 issue of Cosmopolitan (no, not that one), during an 1833 tour of the eastern states, the president was approached by a "poor bareheaded woman with a little baby under her arm" who said she wished to see him:
At this Jackson again raised his hat and said, "I am he, and I am glad to know you. And is that fine boy your baby? Let me have him."

The woman handed the dirty-faced infant to Old Hickory. Jackson took it and held it up before him.

"Ah! There is a fine specimen of American childhood. I think, madam, your boy will make a fine man some day."

Then, with a quick gesture, he put the dirty face of the infant close to the face of Secretary [of War] Eaton, saying quickly and soberly, "Eaton, kiss him?"

General Eaton pretended to do so with a wry face, amid the laughter of the crowd, and Jackson then handed the baby back to the happy mother.
1886: "An official duty"
It was not long before baby kissing was no longer handled by proxies, but by candidates themselves. In 1886, the magazine Babyhood ("the mother's nursery guide") ran an item on this widespread bit of "politico-infant lore":
History fails to record the name of the politician who first adopted the above method of gaining the favor of mothers. Henry Clay, Tom Corwin, and Van Buren did a good deal in that line; and I believe it was Davy Crockett who boasted that he had kissed every baby in his district. General Sherman's specialty is in kissing young women, of which he has probably done more than any living American. Most of the Presidents have been brought with difficulty to the point if kissing babies as an official duty…
It also noted that Grover Cleveland, bucking the trend, "has shown his habitual firmness in declining the invitations of fond parents to kiss their offspring, although they have sometimes pressed him closely." (The General Sherman known for smooched-earth tactics appears to be none other than William Tecumseh Sherman, who is quoted elsewhere as telling President Ulysses S. Grant, "You may drive your fast horses and I will kiss all the pretty girls! Ha! ha! that shall be my fad.")
1890s: "A nuisance…to be abated"
Feminist activist Elizabeth Cady Stanton vigorously disapproved of opportunistic baby-kissing, both as a matter of children's rights and poor hygiene. Writing in the 1890s, she praised President Benjamin Harrison after he'd "quickly refrained" from kissing a baby offered to him.
He certainly had the courage of his convictions, for most Presidents especially if they were standing for re-election, would have succumbed. The New York Tribune says in this connection that kissing babies is good politics. It pleases the proud father, and wins the sympathy of the crowd who witness the paternal act. "Perhaps he thinks babies should not be indiscriminately kissed," says the editor; "if so, he has taught a good lesson. The parent who always expects the baby to be kissed, and the person who feels bound to kiss every baby that comes within reach are equally foolish and obnoxious characters. Children have a right to their kisses as well as older folks. They should not be made the prey of every officiously amiable person in their circle. In short the practice of kissing children at sight is a nuisance, and ought to be abated. But there is a more serious view still to be taken of it, as the germs of disease may often be conveyed in this way." Amen!
1903: Roosevelt's rumored kissing tour
Cleveland and Harrison were not not the only chief executives to eschew baby-kissing. In May 1903, a correspondent for The Summary reported that rumors that President Theodore Roosevelt "had been making a practice of kissing babies indiscriminately" while campaigning in the West were false.
1906: "Let the politician kiss!"
In September 1906, Los Angeles Herald ran this amusing item in response to those, such as Stanton, who might abolish baby kissing:
CANDIDATES MAY GIVE KISSES: Lavished on Babies They Do No Harm Either Way—Cleveland (Ohio) Idea

CLEVELAND, O., Sept. 26.— "Let the politician kiss," said Health Officer Friedrich today, discussing the hygienic side of the baby kissing question. "The transfer of germs is a possibility, of course, but so is my death If I take a ride on a street car.

"And, anyway, who wants to assail that tradition of politics? Why should the babies of future generations miss the adulation given to those of the past, and why should not mothers of today get the same praise which will cause them to smile and swear by the candidate forever?"

Down east there is a cry, a sort of reform wave, against the candidate who kisses babies. They say he is mowing down lives to get to his office.

"Bosh!" says Friedrich. "Let him kiss."
1920: "Invulnerable with women voters"
In October 1920, The Nation caught up with Democrat James Cox on the campaign trail, reporting that "He is the only Presidential candidate who has been able to kiss other people's babies as if he enjoyed it. This has made him well-nigh invulnerable with women voters, one of whom was heard to remark last night: 'Surely a man who kisses babies the way he does could never break the heart of the world.'"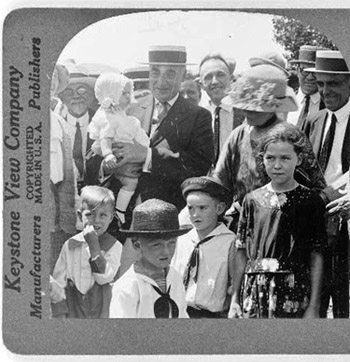 1928: Babies are like ice skates
Edward Bernays, the father of modern public relations, wrote in his 1928 treatise Propaganda that "The candidate who takes babies on his lap, and has his photograph taken, is doing a wise thing emotionally, if this act epitomizes a definite plank in his platform"—some sort of "a baby policy." He continues, "But the haphazard staging of emotional events without regard to to their value as part of the whole campaign, is a waste of effort, just as it would be a waste of effort for the manufacturer of hockey skates to advertise a picture of a church surrounded by spring foliage."
1950: You're doing it wrong
A humorous photo essay in a November 1950 issue of LIFE laid out the rules for kissing babies in the era of the photo-op: "Good politico should never let baby—or anything else—get between his face and the camera. This technique is more difficult to apply when kissing pretty girls." (Take note, would-be General Shermans.)
1958: Better than a kiss?
In 1958, the New York Times ran a photograph of Sen. William Knowland foisting a sausage-shaped balloon upon a child, suggesting that "despite a reputation for a somewhat austere personality," the California Republican might endear himself to "child-lovers" with this "variant of the politician's traditional baby-kissing gesture." The photo's quality is poor, but is included here only to show the tot's justifiably skeptical expression.
1961: The view from abroad
Writing in the New York Times, a perplexed British observer of American politics, David Shears, came right out and asked, "Is Baby Kissing Really Necessary?"
While blintz-eating and other epicurean forms of electioneering may swing the odd vote here and there, I very much doubt if baby-kissing cuts any political ice whatever. In this respect I agree with Mr. Arthur Levitt, the Democratic organization candidate for Mayor of New York, who sternly refused to kiss babies when he toured the Rockaways during the primary campaign. I refuse to believe this reserve had anything to do with his defeat. He was merely exercising every man's right to draw the line.
"I suppose baby-kissing is meant to appeal to the women's vote," Shears concluded. "But every woman knows it's pretty hard to kiss a baby unless you're holding it, and it's quite risky enough holding your own baby, let alone somebody else's."
1968: You won't have Nixon to kiss around anymore
"A mellower and wiser" Richard Nixon told LIFE in 1968, "I won't wear a silly hat, or kiss a lady or a baby. I won't ski down a hill or do any stunting like that—I'd look like a jerk."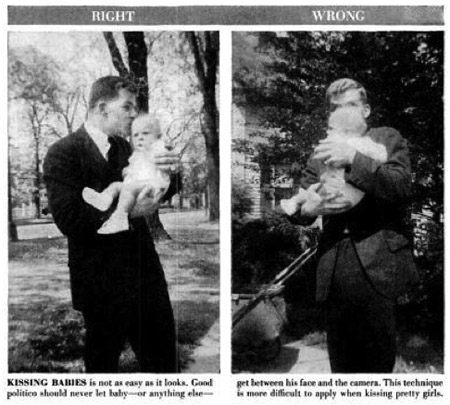 The 1972: The baby boost
Four years later, Democratic presidential hopeful Hubert Humphrey told LIFE about the tonic effects of campaigning with kids. "The way I am with little children, that isn't a put-on," he explained. "When I'm tired and I get with some children for a while, it's almost like I'm refreshed. Like a nap." The magazine concurred: "Kissing babies may win votes, but what's more important, it restores, revitalizes the candidate. So he can go after still more votes."
1984: You've come a long way, baby
In 1984, then-New York Times political correspondent Maureen Dowd reported that the "requisite totem men face on campaign is taking a new twist" with Democratic vice presidential candidate Geraldine Ferraro. Channeling Elizabeth Cady Stanton, Ferraro explained, "People hand me their babies. As a mother, my instinctive reaction is how do you give your baby to someone who's a total stranger to kiss, especially with so many colds going around? And especially when the woman is wearing lipstick?" Nevertheless: "Ms. Ferraro is above all, a pragmatist. She kisses the babies."
2008: Warm fuzzies with Hillary
A story in the Weekly World News about Hillary Clinton's decision to pick Bigfoot as her running mate "quotes" advisor Don Key (get it?) saying the campaign "may have to rule out kissing babies—not because he scares them but because he attracts them like a big, live teddy bear. The last thing we want is a video of a bunch of tots clinging to his fur while their moms scream in terror."
2012: Obama, failed baby-holder?
The Mail Online proclaims that "The baby-hugging photo opportunity is an age-old test for any politician and can sometimes define an entire campaign." After examining recent photos from the campaign trail, "a body language and behaviour expert," finds President Barack Obama to be "fatally ill-at-ease" while holding an infant. "Close-up wide smiles like his can often be seen as a form of feigned attack by a baby who wouldn't understand the skills of political masking and might just see bared teeth," she explains. Mitt Romney, on the other hand, wins points for his "more of a grandfatherly pose," which "creates a rather stronger suggestion of paternalism and confidence." However, he too betrays his true feelings as "he hands the kid back like a grenade with the pin out."