Fight disinformation:
Sign up
for the free
Mother Jones Daily
newsletter and follow the news that matters.
Tuesday, May 18 is shaping up to be a blockbuster day for politics, with a slew of primary contests happening around the country that should signal which way the wind is blowing for November's midterm elections. Will voters continue to boot out incumbents? Will Tea Partiers grab the reins of the GOP? Will liberals punish moderates in Pennsylvania and Arkansas? Here's your guide to this year's version of "Super Tuesday."
---
The Super Six: These are the six races that are most likely to dominate Wednesday morning's headlines. If you have limited time for politics on Tuesday (Lost is on!), pay attention to these races.
1. The Headliner
The Race: Pennsylvania Senate Democratic primary
The Lowdown: Republican-turned-Democrat Arlen Specter has to hold off a powerful primary challenge from Rep. Joe Sestak if he hopes to run for a sixth term in the fall.
The Polls: Most recent polling has shown Sestak ahead of Specter by single digits.
The Stakes: The winner will face former Rep. Pat Toomey, the founder of the far-right Club for Growth, in the fall. Sestak polls better than Specter does against Toomey. But can either of them hold the seat for the Dems in a GOP year?
Our Pick: The Democratic machine helps Specter eke out a narrow win.
Bonus Highlight: This ad by Sestak has to be one of the most devastating of the year:
2. The Tea Party's Triumph?
The Race: Kentucky Senate Republican primary
The Lowdown: Secretary of State Trey Grayson, a favorite of the GOP establishment, faces down an insurgent campaign by Rand Paul, the tea party-backed, libertarian son of Texas congressman Ron Paul.
The Polls: Paul is dominating. The latest PPP poll has him up 52-34.
The Stakes: The winner will face the winner of the Democratic primary in a tight November race to replace retiring GOP Sen. Jim Bunning. A Paul win would be read nationally as a victory for the Tea Party and a defeat for the Republican establishment and Senate minority leader Mitch McConnell (R-Ky.), who backed Grayson.
Our Pick: Paul wins easily.
3. Lincoln's Trial
The Race: Arkansas Senate Democratic primary
The Lowdown: Unions and liberals are upset with Dem Sen. Blanche Lincoln's role in health care (she voted against reconciliation) and her lack of support for a measure that would make it easier for workers to unionize. They've backed Lt. Gov. Bill Halter's attempt to unseat her.
The Polls: The poll averages have the incumbent up double digits, but Halter's been narrowing the gap and is holding Lincoln under the 50 percent she needs to avoid a runoff on June 8th. And a runoff is a very real possibility, given that there's a third candidate, D.C. Morrison, who could draw votes away from both Halter and Lincoln. One interesting thing to watch will be whether GOP voters choose to vote in the Dem primary (that's allowed in Arkansas). Presumably, they'd vote for the candidate who they think is weakest. But who is that?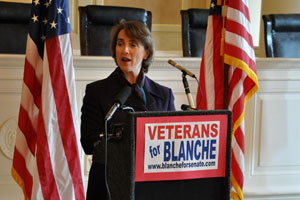 The Stakes: If Lincoln can avoid a runoff, it will strengthen her position for November. If she can't (or she loses in a surprise upset), it will be seen as a victory for the unions and liberal activists who are working to defeat her. If Halter gets his run-off and Sestak wins in Pennsylvania, expect a rash of "liberal insurgency" stories.
Our Pick: This one's going to a runoff. Halter holds Lincoln just under 50 percent.
4. The Passion of the Critz?
The Race: Special Election in Pennsylvania's 12th Congressional District
The Lowdown: This is a House special election to replace the late Rep. John Murtha. Democrat Mark Critz, a former Murtha aide, is neck-and-neck with Republican Tim Burns. But Burns also faces a GOP primary challenge for the November ballot.
The Polls: There have been five major polls since April 15, and Critz has led in two. The outcome could ride on Dem turnout.
The Stakes: The winner doesn't get a full term, but has to run for reelection in a few months. Burns faces a primary, so he could conceivably win the seat for a few months and then not be the nominee come November. Whichever party wins will try to nationalize the outcome. Don't believe the hype.
Our Pick: Critz ekes out a win on the strength of strong Dem turnout for the Senate and Gubernatorial primaries.
5. Djou You Believe?
The Race: Special Election in Hawaii's First Congressional District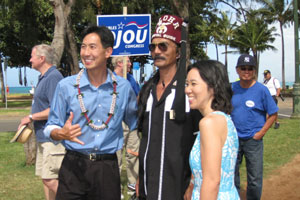 The Lowdown: This is a House special election to replace Rep. Neil Abercrombie, a 71-year old who can bench 271 pounds. Abercrombie retired to run for governor, and there's now a ten-way race to replace him. Two Democrats, former Congressman Ed Case and state Senate President Colleen Hanabusa, and a Republican, Honolulu city councilman Charles Djou, all have significant support.
The Polls: Case and Hanabusa are splitting the Dem vote, making it likely that Djou will win.
The Stakes: There is no run-off. The winner will be a member of Congress, at least until November. If Djou wins, look for the Dems to push hard to settle on one candidate for the rematch in a few months. But the Dems really blew it here. Even if they take back the seat in November, the GOP will have a new, prominent state-wide politician and potential future Senate nominee.
Our Pick: This one seems easy. Djou wins now, but loses in November.
6. BLUE-grass State?
State: Kentucky Senate Democratic primary
The Lowdown: The Dems were able to land two top-tier candidates to run in the open-seat race to replace retiring GOP Sen. Jim Bunning. Lt. Gov "Dr." Dan Mongiardo and Attorney General Jack Conway could both have a good chance in November. As the Swing State Project blog explains, this race is sort of weird:
Conway is perceived as more liberal than the pro-life Mongiardo, Conway leads among self-described conservative and pro-life Democrats while Dr. Dan is up among liberal and pro-choice Democrats. Two possible explanations from the digest's comments thread, both of which are very plausible, are that Mongiardo still has a lot of goodwill among liberals for almost taking down Jim Bunning in 2004, while Conway's day job as AG may win over lots of law-and-order types.
The Polls: Mongiardo led most of the way, but Conway has been closing.
The Stakes: The winner will take on the winner of the GOP primary in November. If Rand Paul wins the GOP primary as expected, either of these candidates could have a decent shot against him in November. A win here could offset near-certain Dem losses elsewhere (i.e., North Dakota, Delaware, Arkansas, and Nevada).
Our Pick: Mongiardo holds on, but it's close.
---
Other Senate and Gubernatorial Races To Watch
These races aren't as close as the ones above, but they could end up being just as important.
AR-SEN (GOP): Eight Republicans are facing off for the right to run against the vulnerable Blanche Lincoln (or the leftier Halter, if he wins). Rep. John Boozman is the favorite, but he may not be able to avoid a runoff.
PA-GOV: Dan Onorato, the chief executive of Allegheny County (i.e., Pittsburgh) is leading the Dem race, and Attorney General Tom Corbett is a heavy favorite on the GOP side. This should be a knock-down drag-out fight in November.
OR-GOV: Former Portland Trailblazer Chris Dudley is favored to win the GOP nod. On the Dem side, former governor John Kitzhaber leads former Secretary of State Bill Bradbury, but some people think there might be an upset brewing.
AR-GOV: Mike Beebe, the extremely popular Dem incumbent, will win the nomination easily. He'll face former state Sen. Jim Keet in November, but leads by around forty points in the polls.
OR-SEN: Sen. Ron Wyden will win the Dem nomination. He will face one of seven GOP candidates, none of whom have received significant attention or national support. Law professor Jim Huffman leads the field, but there are huge numbers of undecideds.
The House Primaries

Tuesday also features primaries for 34 House seats (including PA-12, mentioned above). Here are the top 14 to keep an eye out for:
AR-01: Rick Crawford will probably win the GOP primary for the race to replace retiring Rep. Marion Berry. On the Dem side, Chad Causey, Berry's chief of staff, is locked in a tight race with prosecutor Tim Woolridge. Several state legislators are also running in the primary, so a June 8 runoff seems likely—but if any candidate can avoid one, that could bode well for the Dem's chances of holding this seat.
AR-02: Tim Griffin, a Karl Rove protege who is connected to the US Attorneys scandal, is fighting a two-way primary against restauranteur Scott Wallace. On the Dem side, retiring Rep. Vic Snyder's chief of staff, David Boling, is running against a gaggle of state legislators. One poll has Joyce Elliott, a state senator, leading, but a runoff is likely here, too.
PA-03 (GOP): Car dealer Mike Kelly and businessman Paul Huber are the front-runners to take on Dem Rep. Kathy Dahlkemper, who could be vulnerable in the fall.
PA-04 (GOP): Former US Attorney Mary Beth Buchanan, unlike her counterpart Tim Griffin in Arkansas, has been badly damaged by her association with Bush-era controversies. Attorney Keith Rothfus could easily win this primary and face sophomore Dem Rep. Jason Altmire in November. Altmire would probably prefer to face Buchanan, but his vote against health care reform could also have strengthened his position in this tough district.
PA-06 (DEM): Physician Manan Trivedi, a netroots favorite, is battling Doug Pike for the Democratic nomination. This district generally goes blue in presidential years, but GOP Rep. Jim Gerlach has fended off a number of tough challenges over the past few cycles. Both Trivedi and Pike have raised huge amounts of money—Pike has $1.2 million in the bank. If Trevidi won the nomination and the general, he'd be the only Indian-American in Congress.
PA-07: State Rep. Bryan Lentz (D), an Iraq war vet, and Pat Meehan (R), another former US Attorney, are the leading candidates to duke it out for the suburban Philadelphia seat being vacated by Rep. Joe Sestak, who's running against Arlen Specter in the Democratic Senate primary.
PA-08 (GOP): Former GOP Rep. Mike Fitzpatrick wants a rematch with current Rep. Patrick Murphy, and he seems likely to get it.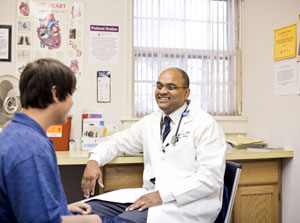 PA-10 (GOP): Incumbent Dem Chris Carney has got to be loving this expensive Republican primary. Tom Marino, yet another ex-US Attorney-turned-Republican recruit, is having trouble putting away two opponents. National Journal says that whoever wins "will be nearly broke for the general, while Carney is sitting on $700K in the bank."
PA-11 (DEM): Incumbent Rep. Paul Kanjorski faces a primary challenge from self-funder (and county commissioner) Corey O'Brien. Will Kanjorski be another Alan Mollohan?
PA-17 (GOP): Rep. Tim Holden could be vulnerable, but State Sen. Dave Argall, the GOP frontrunner, hasn't been able to shut the door on his primary challengers. Meanwhile, Holden, always a great fundraiser, has nearly a million dollars to fend off a challenge.
KY-04 (GOP): Four Republicans are vying for the chance to run against sophomore Dem Rep. John Yarmuth.
KY-06 (GOP): Six Republicans want a shot at taking out three-term Blue Dog Dem Ben Chandler.
OR-01 (GOP): Republicans are optimistic about their chances of taking out Rep. David Wu, who's been in Congress since 1998. There are four GOPers in the primary. Consultant Rob Cornilles has raised a boatload of money, but could still lose to either of two Tea Party-associated candidates, John Kuzmanich or Doug Keller.
OR-05 (GOP): Dem Rep. Kurt Schrader is a target of national Republicans, but the party's preferred candidate, state Rep. Scott Bruun, is having trouble dispatching the Tea Party-backed Fred Thompson. Watch this race and OR-01 carefully if you want to gauge the impact Tea Partiers might have in November.