Fight disinformation:
Sign up
for the free
Mother Jones Daily
newsletter and follow the news that matters.
When witnesses are called before the Senate Judiciary Committee to discuss Supreme Court nominee Elena Kagan this week, the minority party will deploy a heavy military offensive against her: Republican senators plan to call three former officers who will likely testify that Kagan is a pro-gay, anti-troops, anti-American extremist who barred military recruiters from campus when she was the dean of Harvard Law School.
All lean, clean-cut, and articulate, the three men look to be part of America's best and brightest. But these witnesses aren't typical rank-and-file soldiers: They're paid professional conservative activists.
Senior among the three men is Tom Moe, a retired colonel and Vietnam POW who campaigned for John McCain in 2008. While on the campaign trail, Moe, told a Pennsylvania audience that Barack Obama's "demagoguery" was so dangerous, it could bring about a Holocaust if he was elected. He also defended McCain's vote against wider GI Bill benefits for service members, arguing that greater educational and economic enticements for joining a war-wearied military were "unfair" to lifelong soldiers. Moe currently directs veterans programs for Republicans in the swing state of Ohio, apparently spending much of his time endorsing GOP candidates for office.
There's also Flagg Youngblood, a Yale grad who has complained on the talk-show circuit about the unjust hardship of attending ROTC drills on another college campus, 70 miles away, when Yale shuttered its military cadre over the service's "Don't Ask, Don't Tell" policy barring gays and lesbians from serving openly. (What Youngblood has failed to mention, though, is that his university provides free transportation to the military evolutions, and his ROTC scholarship subsidized 100 percent of his Ivy League education.) He now works full-time as a military outreach coordinator for the conservative Young America's Foundation (YAF), whose treasurer is a former RNC deputy chairman and a key player in the creation of Swift Boat Veterans for Truth.
Youngblood's views on Kagan are well-known: He's called her "an anti-military zealot" and a "Supreme Court sleeper agent," and just Monday, he used Oath Keepers-style language to paint the nominee as an insidious extension of President Obama's executive power: "In the last 18 months, the president and his plotting comrades have dragged the United States to the edge of Constitutional oblivion.  America's in the eleventh hour, and Elena Obama must be stopped from pushing us over the cliff."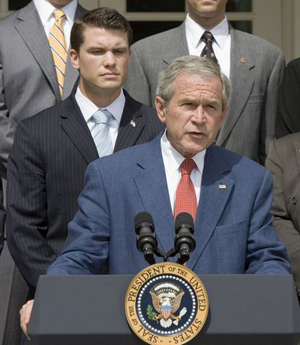 Finally, there's Pete Hegseth, the former Bear Stearns banker and head of the Republican-friendly political action committee Vets for Freedom, whose way through Princeton was paid by the anti-gay Family Research Council. While a student, he started the Princeton Tory, a conservative school paper funded with thousands of dollars from national right-wing groups, including the Intercollegiate Studies Institute, Leadership Institute, and YAF. Hegseth used the Tory's pages to attack "atheist public schools" while advocating spanking and "a return of the acceptability of the 'homemaker' vocation." He also called the National Organization for Women "a radical, leftist, feminist organization" and, for a would-be Army civil affairs officer, did a really poor job of predicting success in Iraq in late 2002:
I believe, if done correctly, eliminating Saddam and liberating Iraq could be the 'Normandy Invasion' or 'fall of the Berlin Wall' of our generation…the Iraqi people are eager to be rid of Saddam, and there is equally encouraging evidence that republican principles could thrive there.
In 2008, Hegseth pulled down a $100,000 base salary as the head of Vets for Freedom. Tax filings from that election year also show his "nonpartisan" group has deep GOP ties, paying out hundreds of thousands of dollars to right-wing consultants, including one lobby group connected to former Republican senator Bill Frist, the Bush-Cheney campaigns, and Frank Donatelli, the treasurer of Youngblood's YAF.
All of these men have served in America's war zones: Moe in Vietnam, Youngblood in Afghanistan, Hegseth in Iraq. But so have millions of men and women, and millions more who never deployed have worn the uniform. These include a growing number of Harvard Law School graduates on Kagan's watch, as well as Harvard students who entered the school with military experience. Three such students responded in writing to Youngblood's "anti-military zealot" charge last year, expressing appreciation for Kagan's "embrace" of veterans on campus. "During her time as dean," they wrote, "she has created an environment that is highly supportive of students who have served in the military."
That sentiment is consistent with the one put forth by Kagan herself in an email to the student body (PDF) in October 2008, just before military recruiters were welcomed to campus:
I believe discrimination against gays and lesbians seeking to enter military service is wrong—both unwise and unjust…The military is a noble profession, which provides extraordinary service to each of us every day. But this simple fact heightens, rather than excuses, the iniquity in this case…I look forward to the time when all our students can pursue any career path they desire, including the path—as deeply honorable as any I can imagine—of devoting their professional lives to the defense of this country.
Will any of those facts matter, though? In criticizing Kagan as anti-military this week, the Republican Party will sell itself, again, as the sole pro-military choice in Washington. That's what the testimony of party-line proxies like Moe, Youngblood, and Hegseth is engineeered to convey. They've been rewarded richly by conservatives for their loyalty; it remains to see whether conservatives will be rewarded at the polls for their cynicism.