Fight disinformation:
Sign up
for the free
Mother Jones Daily
newsletter and follow the news that matters.
Petersburg, Kentucky—If you can look past the robotic dinosaurs, talking mannequins, and multimedia shock therapy, the Creation Museum outside Cincinnati is actually a pretty normal place. Well, not normal, maybe, but hardly unique: From Cooperstown to Independence Hall, the American landscape is cluttered with too-good-to-fact-check founding fables.*
What's most jarring about the museum isn't that it teaches an alternative scientific reality (which is totally fine); it's the fact that the museum actually goes ahead and physically creates that reality. Every square inch of the museum is part of a conscious push toward legitimacy, and it's a process that begins even before you see the dinosaurs. Assuming you can make it through the fog, you're guided to the parking lot by a big white-and-brown sign, which closely resembles the ubiquitous directions to birthplaces of dead presidents and seven-state scenic overlooks.
Once you're there, you'll begin to see park rangers—or at least they look like park rangers: The security guards inside and outside the museum are decked from head to toe in the khaki-and-olive-green uniform of a National Park Service tour guide, right on down to the Smokey hats. There's even an official-looking "Entering Grand Canyon National Park" sign at the entrance to the main exhibit (which details how the Grand Canyon could have been created in three days or less). For all appearances, it looks like any other stop on your average family vacation.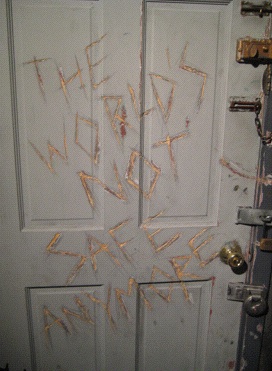 The attention to detail is awesome: Exhibits explain exactly what kind of nails Noah would have used to make his ark watertight (wooden pegs work best, because they expand with moisture); what kinds of supplies he would have brought with him on his boat trip (cloves of garlic, butternut squash, bundles of kindling, to name just a few); and how, if taking care of a puppy can be a full-time job, Noah and his wife ever managed to take care of all those animals (not entirely clear, actually, but they suggest he was very type A). And so on and so on.
As far as Sunday school field trips go, this would have to rank among the coolest, and that's before you even get to the dinosaurs, which roar and screech and flip their claws like extras from a 1950s b-list horror flick.
Walking through the exhibits themselves is a bit like doing a bellyflop into a five-paragraph high school essay. Every stray plant and square-inch of fiber-glass connects back to the original thesis, laid out in the opening exhibit: As the mannequin presiding over the opening archeological dig scene explains, "We all have the same facts. We interpret the facts differently because of our different starting points." Let's agree without being disagreeable, in other words.
Before I get back on the road, I speak with a family of seven that's waiting at the group pickup spot. "We like the fact that it presents both sides," explains Richard Gilbert of Hodgenville, Kentucky. "Whether you believe in science or religion, it takes faith…The government educational system obviously pushes a worldview. Rather than assuming things, [the museum] helps you to think and helps you to figure things out for yourself."
Richard and his family (big groups are popular at the museum) have made the three-hour drive to Petersburg more than a few times, and his takeaway seems to be the common refrain—that the Creation Museum isn't so much about promoting a viewpoint as placing two irreconcilable viewpoints on a level plane. The problem, which its curators are happy to fuel, is that elevating one perfectly fine but totally unscientific viewpoint necessarily comes at the expense of the established science.
A young woman named Adrienne, also with the group, hands me a DVD called Confronting Evolution: Highlights from the Creation Seminar Series. It was made by an atheist, she says, which I guess isn't all that surprising: Flip-flopping may be a dirty word in politics, but in the culture wars it's the ball of clay from which everything else is shaped: There's Roe, of Roe v. Wade, who's now  a fixture at pro-life rallies; the ex-gay movement, full of "ex-gays," naturally; and of course, the whole concept of being born again, which requires that you shed your past self and start down a new course. Being against something after you were for it is, oddly enough, the truest measure of one's true character.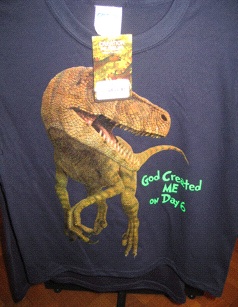 *In the museum's defense, last Christmas they scored a victory for fact-checkers everywhere by insisting on what they believed to be a more historically accurate nativity scene. As museum director Ken Ham explained at the time, "No way are they going to send away a woman who is pregnant to a stable. It makes more sense that they found a home with a family but there was no room upstairs in the family living quarters so they were sheltered by the manger at the lower level."