Fight disinformation:
Sign up
for the free
Mother Jones Daily
newsletter and follow the news that matters.
New Orleans, Louisiana—I touched on this briefly in my last post, but one of the stranger (if not totally unexpected) things about post-Katrina New Orleans is the extent to which the city's worst-hit areas have become a primordial stew for all manner of idealists. It's a bit like the early American frontier in a way, where religious entrepreneurs and land-happy dreamers plotted out their own utopian communities and would-be empires on the uncharted Eden.
Partly this is due to the fact that there are no Daniel Burnham, Chicago-after-the-fire, big plans to be found. If the federal or city government is actively trying to lure displaced residents back, they deserve credit for at last stifling a leak. Once you get off the main drags of St. Claude or Claiborne (or Brad Pitt's construction zone toward the canal), the streets feel like they've been paved with fun-size volcanoes, pocked with craters big enough to have their own potholes. You don't pass through intersections so much as you overcome them. Absent the land's original tenants, much of the real estate has returned to nature. Stop signs (the ones still manning their posts) are often blocked from site entirely, as are a few intersections, to the point where you have to roll down your window and listen for oncoming cars, rather than look both ways.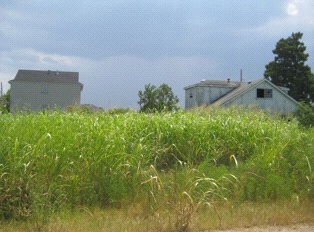 Telephone wires are down, irreparable buildings (including a few churches) are lost in the overgrowth, and from the street you can find dozens of boarded-up buildings that still wear the spray-paint scars of the first-responders—noting the date the house was searched, the group that did it, and the number of dead found inside.
So that's the bad news. The good news, depending on how you look at it, is that the relative vacuum of activity has made it a hub for the aforementioned pioneers. Walk around for a bit and you'll find a Mennonite aid organization, various church groups from as far off as Atlanta, community gardens, and, invariably, tourists (architectural and otherwise) who've come here to see Brad Pitt.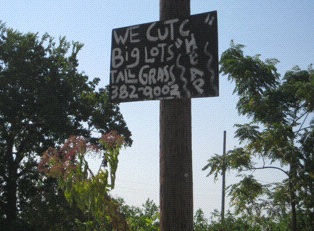 I meet Robert Green standing outside his house, a few blocks from the industrial canal. His is one of the 150 ultra-sustainable homes being constructed by Brad Pitt's organization, Make it Right. "There's no government construction around here," Robert says. "It surprises me because of the flag flying in front of the house. That flag flew at my mother's funeral. She was in the Air Force. She was a citizen. But when you sit around and realize how many volunteer groups come down here. When you're sitting in front of someone who's helping you, you don't have time to complain about what other people are doing."
Surving the storm to live in a Pitt house has turned Robert, a retired tax accountant, into a minor celebrity. "I met Tavis Smiley. Anderson Cooper. I know Danny Glover. The list just goes on and on of the people I meet." Robert shows me a book of business cards he's collected from visitors; he has another one in storage. "This is pretty much what happens every day," he says. "The Irish Times just did a piece. Latvia. Australia—I even got to meet an aborigine! I have a group coming from Wales. The Washington Post, Washington Times, USA Today, you name it, I've been in it!"
He goes on like this for a little while; Robert considers himself a sort of informal ambassador for the Lower Nine. Few New Orleanians went through as much as he did in the immediate aftermath of the storm—he had the left the city but turned around to take care of his mother, only for the levee to break a few blocks from his home. He ended up losing his grandmother and a granddaughter.
Instead of wires, radio signals connect ceiling fans. The whole place is Platinum LED certified, and bolted to the foundations so as to better withstand storm surges. There's enough room underneath the whole thing to park a car (or five) and have a barbecue. Pitt's idea of a new foundation is to build literal ones—keep the houses from floating away, make them better and easier to build, make them cheaper over the long-term, give their owners like Robert a pride of place and ownership, and only from there can the community grow back.
Of course, there's another side to it, which is that Robert's house, and those of most of his neighbors, also look like giant spaceships that have plopped down to colonize this otherwise empty stretch of tall-grass prairie. And that can create an impression, accurate or otherwise, that his rise from ruin was something less than an organic process.
Organic pretty much sums up what Rob Huffman is hoping to create a few blocks down, at the Blair School. Blair (full name: Our School at Blair Grocery) is a post-Katrina experiment in community-growing from the roots on up. The school has eight full-time students, most of whom have been sent there per judge's orders as a last-resort. Students take responsibility for growing all manner of crops—bananas, okra, strawberries, lettuces, melons, and figs. Rob has hooked up an elaborate contraption, ripped straight from OK Go video, which he hopes will simultaneously raise catfish and use their waste to nourish potted plants. The basic mission for the place, as Rob puts it, "is to create a resource-rich safe space for youth empowerment."
"You don't want to reinvent the wheel because that's not good, but you look at some of these programs and think, 'what the fuck are these people doing?'"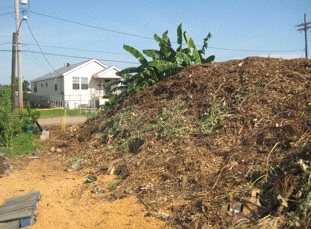 Rob is sitting there on his bench outside the converted grocery store, cross-legged in cutoff shorts, smoking a cigarette, and sweating profusely because, even though we're in the shade and global warming is a documented hoax propagated by the nation's ultra-powerful lobby of tenured climatologists, it's still about 100,000 degrees. He has a stud through his lip and piercings on both ears, and an olive green t-shirt emblazoned with a fist holding up a plant, which represents, I think, the concept of "food justice"—something Rob talks about a lot. He believes the American educational and support system for places like the Lower Ninth Ward is broken, and he believes this absolutely, which is why he moved here from Santa Cruz, California when the school first opened to help cut a different path.
"You've got Make it Right; they build houses. You've got LowerNine.org; they build houses," Rob explains. "My thought is you can build houses as much as you want, but until you can change people's agency, what can you do? You're not doing any good."
Front page image: Flickr/Rain Rannu (Creative Commons).