Fight disinformation:
Sign up
for the free
Mother Jones Daily
newsletter and follow the news that matters.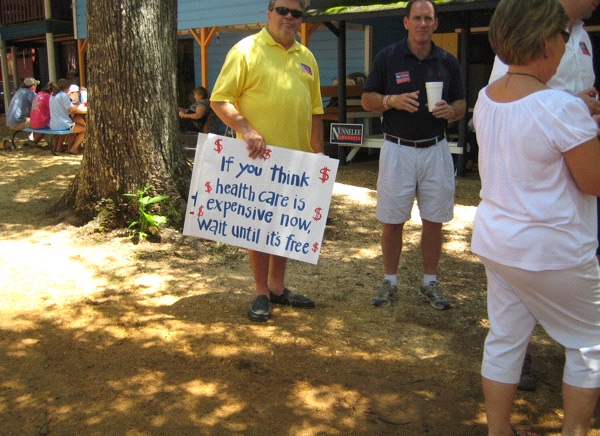 Oxford, Mississippi—For most of the month I've spent in the South, it's felt as if we were just collecting the raw ingredients (sometimes literally) of Southern culture—a revival meeting here, some historical revisionism there, a splash of moonshine and hospitality after dinner; Oxford, home of Ole Miss, William Faulkner, bookstores, good music, and even a few liberals, feels like someone's finally taken the time to cook a nice meal. It's the South simultaneously at its most introspective and its most defiant.
In other words, it's the perfect place to consider a question that's been nagging at me—and asked of me, time and time again—since we first crossed the Potomac a month ago: What do you think of the South?
My answer is colored, as you might expect, by the conversations I've had. There were some consistent complaints, for instance: Many of the folks we stayed with were college-educated coastal transplants who came for the jobs but wanted out (a few were Southern-grown but still, in a way, looking for something bigger, be it Asheville, or Austin, or New York City). Invariably they would complain about the social traditions—all the pretty young women are already married, or looking to get married quick, or not married at the moment but dragging around a couple of kids; you can't meet anyone new unless you're active in a church or a rotary club; you can't talk about politics—ever; you can't buy liquor on Sundays; you can't buy liquor at all; some of the conversations you hear when people drop their guard and run their mouth will freeze your Yankee blood. And so on.
But most of these confessions would, at some point, also include a disclaimer. Something like, "But you know, they're good people" or "They'll always wave when you drive by."  Those aren't necessarily contradictory personalities, but they're emblematic of the notion that there are really two Souths, everywhere you look.
There's the South that proudly notes that most Confederates were poor and couldn't care less about slaves, and the South that holds up Gone With the Wind's notion of southern nobility as the regional ideal. The Oxford that gave us Faulkner, but also produced the mob that wounded 28 US Marshals because a black kid wanted to take freshman seminars. The county fair that's intended to recreate a pre-Walmart, old-fashioned front-porch community—and does so—but also might as well have implemented housing covenants because the only blacks I see are working with animals or concessions. The South of Greenville, with its Asian fusion restaurants and coffee shops, and the South of suburban Greenville, so thickly coated in puddles of chicken gravy it's as if the glaciers left them behind.
And that's true enough, to be sure, of most places you look at on the map. What's different in this case is the level of self-consciousness, bordering on a sense of persecution. "What do you think of the South,"when asked by a southerner, is followed often enough by a complaint on how unfairly the region's been caricatured. "There are a lot of misconceptions about what we're all like down here," as Jim, the mule advocate, warned me at the Neshoba County Fair livestock competition. When I told a woman at that same fair that I first heard of Philadelphia, Mississippi, because of the three Freedom Summer volunteers murdered there in 1965, she rolled her eyes.
So ultimately what I keep coming back to when I wrestle with the answer is the expectancy behind the question itself: You like it, don't you? We don't bite, right? We're not so bad as you all make it out to be? Sure did throw a wrench into your Yankee preconceptions, didn't we?
When you feel like you're being unfairly persecuted, I guess that tends to become an obsession; a few years back, the state of Mississippi sponsored an ad campaign to bring tourists to the state, focusing, Domino's-style, on the state's rotten reputation: "Yes We Can Read—A Few Of Us Can Even Write" read one billboard, promoting Faulkner and a dozen or so other famous writers.
Politically, the result has been that it produces boosters when what it needs are advocates. The rural South we saw, God love it, faces the same problems as the big cities it hides from—failing schools, food deserts, drug abuse, teen pregnancy, crumbling infrastructure. But the impression you get once you're there is of a society under assault—from the homosexual agenda, socialism, Islam, or just changing norms and technology. When's the last time you heard a southern conservative politician talk about, say, brain drain?
And yet in spite of everything, I'm really going to miss the place. Go figure.
Front page image courtesy of sonofthesouth.net.