Fight disinformation:
Sign up
for the free
Mother Jones Daily
newsletter and follow the news that matters.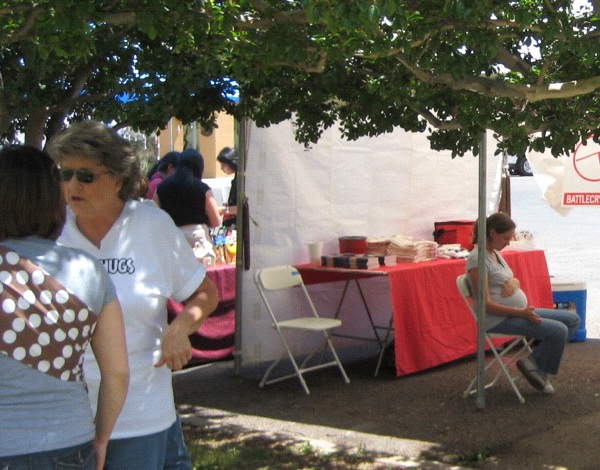 Marfa, Texas—I have some closing thoughts on Texas' ultra-weird Big Bend country in the pipeline, but while you wait, here's a really quick sketch I found in my notebook, from the Marfa Lights Festival in (you guessed it!) Marfa:
"We do not preach a religion; we tell people about Jesus Christ our Lord and Savior," says Betty Scarbrough, of Alpine. She's wearing a white t-shirt with "Free Hugs" written in blue letters, and, as you may have guessed, giving out free hugs.
"People from all over have forgotten how to hug," Betty tells me. "We'll tell people 'We'll give you a free hug; we're not trying to convince you of anything.' Last year, I hugged a man, he said it was the first time he'd been hugged in 40 years! Can you believe that?"
At the big Christian music festival up in Midland, Rock the Desert, they had a prayer tent about 10 times the size of the one here, but then, Marfa only has 2,100 people, so what would be the point? They've been doing this fair for two years; a family in town asked them to come and they said yes, of course, so they come on over from Alpine. "It's just a way of going out to different places" and making a difference.
So that's the idea behind "Free Hugs." But how does it work logistically? As this delightful Times trend story notes, there's no right way to hug. What happens if someone goes in for a bro-hug*?
"Usually I will reach out, I will embrace them," Betty says. "I know that some people are not front-huggers, so I get them from the side, like this."
*Until I sat down to write this post, I, like you, was hopelessly unaware of the fact that the bro-hug has become become the subject of serious academic research. This Denver Post piece gives a pretty good introduction to the debate. Money quote: "At least two professors — Kory Floyd at Arizona State University and Mark Morman at Baylor University in Waco, Texas — have dedicated part of their careers to studying the male hug. The two often collaborate on research." Collaborate? I believe the term is "scholarly embrace."