Fight disinformation:
Sign up
for the free
Mother Jones Daily
newsletter and follow the news that matters.
It's not that there aren't enough clues on the cover of the new issue of Mother Jones—the headline, for one—but since you asked: Yes, that is a full-throated homage to the B movie classic Attack of the 50-Foot Woman. If you're like us, your knowledge of American cinema doesn't extend to the full plot of this 1958 gem, but suffice to say that it involves a wealthy heiress, Nancy Archer, who after an encounter with an alien is found on the roof of her pool house and soon grows into a giantess. She goes searching for her no-good husband and his mistress, Honey Parker (!), and mayhem ensues. We liked the image because of the subtle historical echoes and… oh, who are we kidding: We liked it because the poster is awesome.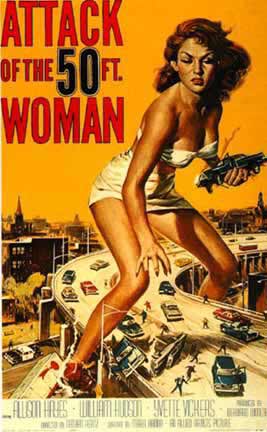 (The echoes, though, are there: 1958 was an election year, in a recession, that dealt President Eisenhower's party a big string of defeats and launched the Senate careers of, among others, Gene McCarthy, Robert Byrd, and Edmund Muskie.) 
MoJo's creative director Tim Luddy encouraged illustrator Zina Saunders to follow the poster out the window in tone and feel, tweaking only the landscape to look more suburban. Saunders (who has cranked out a number of terrific Palin illustrations in the last couple of years) took the assignment very seriously, at one point sending a picture of Palin in her beauty-contestant days to confirm that she'd gotten the proportions right. She also made an animated version. Behold (this might take a sec to load):