Fight disinformation:
Sign up
for the free
Mother Jones Daily
newsletter and follow the news that matters.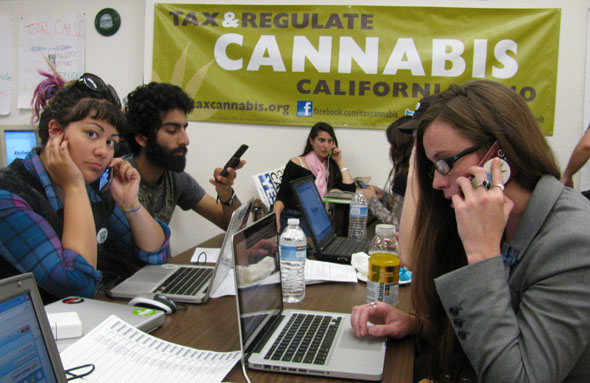 At the Oakland campaign headquarters for Prop 19, the California referendum to legalize marijuana, the time is exactly 4:20 PM, stoner culture's designated hour to get high. Dozens of marijuana activists who've flown in from all over the country are phone banking, noshing on pizza, and trading war stories. It feels kind of like a hemp festival. Except for one thing: Nobody is smoking pot. "Well, it's not legal," said a woman in a green tank top manning a table by the front door. She laughs. "I'm an upright citizen."
Not everybody displays such discipline. I run into a young phone banker who is wearing a mock John Deere shirt that says, "High Geere." Dude, it's 4:20 right now, I tell him, what are you going to do? "I'm going to make phone calls to help legalize pot!" he says. Because then he can smoke? "I've smoked!" he says. "I'm high right now!"
Proponents of Prop 19 are quick to point out that legalizing weed is about a lot more than winning the right to get stoned. Smoking pot in California is already incredibly easy. The state's laxly worded medical marijuana law, passed in 1996, has spawned a cottage industry of "pot docs" who will recommend herb for just about anything worse than a stubbed toe. As a result, some 500,000 medical marijuana users in California already enjoy the legal right to smoke up. And even if you get busted for smoking illegally, a bill recently signed by Governor Arnold Schwarzenegger makes the penalty the equivalent of a parking citation.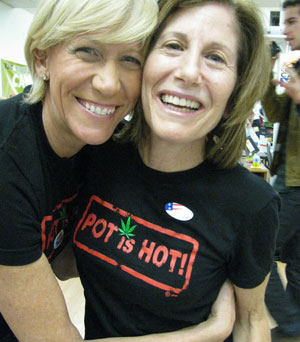 The real motivation behind Prop 19 has more to do with ending California's nod-nod, wink-wink approach to prohibition. Making pot fully legit (at least on the state level) would fuel a national debate about legalization, and, they hope, turn California into a test case for completely ending the federal war on weed. Near the front of the Yes on 19 HQ is a billboard filled with stories of upstanding families that have been wrecked by drug arrests. One example: The Clyde Young Family of Mississippi. Both parents are serving around 25 years in prison for growing a small amount of weed: "The police seized all the money in the house, including the children's piggy banks and a 90-year-old uncle's social security check."
As 4:20 PM came and went, I spoke with Neill Franklin, the executive director of Law Enforcement Against Prohibition. He last smoked pot in 1976. "And I don't plan to use it once it's legal," he said. Even so, he's come to the HQ to vouch his strong support for legalization. As a former police officer who focussed on drug cases in Maryland, he found that alcohol caused far more problems than pot. He felt that legalizing weed would allow the state to regulate it, thereby keeping it out of the hands of children. 
It was a little bit weird to be sitting with Franklin, who had a shaved head and a conservative suit, as young bearded volunteers milled around us wearing shirts that said, "Yes We Cannabis." Another popular shirt was a version of the California state flag, in which the star in the corner had been transformed into marijuana leaf, as if to guide leading the wise (or the party-minded) towards the the promised land of kush.
As 4:20 faded into the late afternoon, it became clear that Prop 19 was headed for a defeat. Even so, pot activists still had reason enough to party. Their campaign has taken the legalization debate mainstream, and they'll all probably try again in 2012. They gathered in a parking lot outside of Oaksterdam University, the cannabis cultivation school owned by Richard Lee, Prop 19's biggest financial backer. Pot smoke occasionally wafted through the air, and there wasn't a cop in sight who gave a damn.
Updated at 10:20 PM Pacific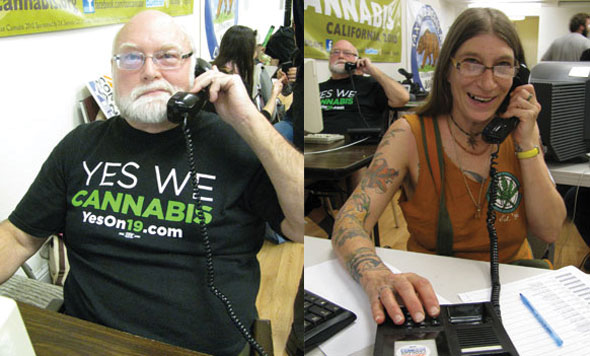 Photos: Josh Harkinson.