"Today is a day to remember," said a mid-fifties man outside the Ministry of Health in Port-au-Prince this morning. "Not a day for protest."
But not everyone agreed with him on how to commemorate the one-year anniversary of the earthquake that killed hundreds of thousands of Haitians. A group whose name roughly translates to Interceptive Resistance Against Forces That Expel gathered outside the government building to protest displaced people being thrown forcibly, and sometimes violently, out of their tent camps by police or landowners.
After a prayer ceremony in the middle of the street, they took to marching and chanting slogans against MINUSTAH, the unpopular United Nations force supposed to keep the peace. They yelled that all they'd gotten from foreigners is cholera (repeating a common conspiracy theory) when what they really need is houses, that Haitians need to take their own country back. They spray painted the sidewalks and a Red Cross car with "Down With NGOs," covered a UN ambulance with graffiti, and threw rocks at a passing truck full of heavily armed MINUSTAH soldiers.
Though they were intense, these protesters numbered less than a hundred. As the man outside the ministry pointed out, most people spent the day remembering. Throughout town, groups, many religious, organized walks and tributes. Thousands packed a "celebration of life" of songs and prayers near the national palace. The marches and impromptu dance parties were upbeat, with a lot of singing and shouting and, in some cases, moonshine.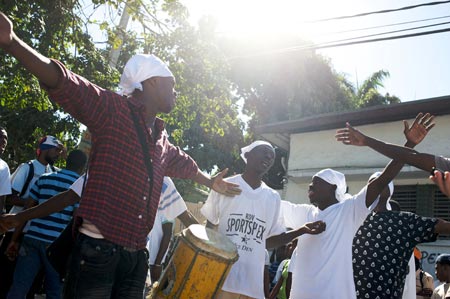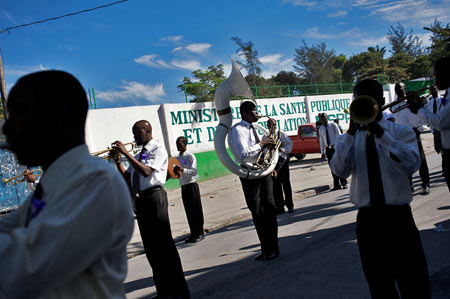 Even yesterday, at the ceremony held at the mass graves on the edge of the city, only one woman was prominently crying. (So many photographers crowded to take pictures of her that her friends eventually covered her face.) And today's protest at the ministry started off on a weirdly celebratory note. As the demonstrators amassed and prepared to start hollering for reform, a police brass marching band struck up a happy tune.