This week, I'm reporting from outside Savannah, Georgia, on my first-ever hunting trip. We're after invasive feral pigs, which have proliferated over the last decade in much of the southeastern US, competing with native species for food and wreaking havoc on land with their rooting. I'm hanging out with Jackson Landers, who aims to whet American appetites for invasive species like hogs, lionfish, geese, deer, and even spiny iguanas by working with wholesalers, chefs, and restaurateurs to promote these aliens as menu items. Read my introductory post (wherein MoJo takes a field trip to the shooting range) here. Read my post from Day 2, "Do Hogs Like Supermarmet Danishes?" here, and my post from Day 3, "OK, but How Does Wild Hog Taste?" here. A word to the squeamish: The Feral Pig Diaries do contain a few graphic images.

The forecast called for rain all day in Savannah on Monday, but we weren't about to let a little precipitation come between us and the hogs. So we rose early and headed out on the hunt. I'll tell you all about what happened. But first I'd like to introduce my hosts:
This is Jackson Landers, a.k.a. the Locavore Hunter. Jackson quit his job in insurance a few years ago to write books about hunting and teach people how to do it at his home near Charlottesville, Virginia. Right now, he's really into hunting and eating invasive species. Jackson is a great teacher—I know because my temporary apprentice hunter license required me to basically stay glued to his side all day. He's also a genuine animal nut; his critter knowledge is vast. Some things I learned from Jackson today, in no particular order: why you have to lasso alligators instead of shooting them (like Rasputin, gators have a way of resisting death); where you're most likely to find armadillos that carry leprosy (near the Gulf coast); and how country music got its twang (imported by American cowboys returning from stints rounding up wild cows in Hawaii, where they enjoyed the sound of the local slack-key guitar. I don't really know if I buy this one.)
This is Jackson's father-in-law, Bob. He used to hunt a lot, though these days, he says, he pretty much sticks to shooting the pests around his property near Charlottesville, where he raises chickens and plans to buy a few pigs this spring. He makes planting and harvesting potatoes sound like a piece of cake, and would like to try his hand at shitake mushrooms. He's also an all-around nice guy and believes that no slice of pizza is complete without a meat topping.
This is Baker Leavitt, whose family owns the former horse farm where we're hunting, a thousand acres of dirt roads, fields, and woods strewn with Spanish moss. Baker says feral pigs have done a number on the land in the last few years, eating low vegetation, rooting, and wallowing. Baker grew up in Savannah, with plenty of hunting and riding horses (till he got thrown). He worked in local real estate till the market went south, and now he's in grad school in New York City. A few days before I came, Baker sent me an email from his Blackberry that said, "You ready to bust some hogs??" (Ready as I'll ever be.) And then, when he read my blog post about us hippies at the shooting range, he sent another: "No stinky patchouli!" Don't worry, Baker, I left that and my incense at home. After the jump: gory-ish images (but they're not too bad).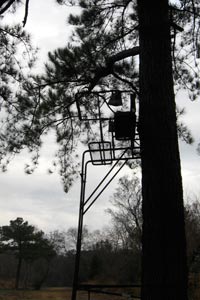 We started off the day with a little target practice for me, "you know, just to see what you're capable of," Jackson explained. To the left is the rifle I used, a Remington 700 (much less quaint than the Paul-Revere-esque gun I used at the shooting range, though its kick didn't knock me over as I feared it might). Although I did passably well putting a hole through a not-very-far-away plastic bottle with my rifle resting on some sandbags, it turns out that what I'm not really capable of is aiming without steadying the gun on something. Lucky for me, Jackson and I ended up hunting from a blind (right), where I could prop my rifle up on a railing.
As you can see, this blind is essentially a platform. It's sort of like hunting from a couch in a tree. If it weren't for the rain, it would have been mighty comfortable up there. Jackson told me that most hunting accidents involve people falling out of trees, and I'd wager at least a few are the result of an ill-timed nap. From the blind we had a great view of the surrounding trees: Loblolly pines, hickories, and live oaks. We watched a bright red cardinal flit in and out of the brush, and Jackson pointed out a pilleated woodpecker launching off a distant branch. What we did not see was a hog.
After a while, we were both wet and cold, so Jackson suggested we get down and go for a stroll to warm up. We hadn't walked very far when we heard four shots. "That's Bob's gun," said Jackson. We got in the truck and drove to Bob's stand just in time to see Bob emerge from the woods. In the back of his ATV was:
One dead pig. It was a teenager, about 45 pounds, Baker guessed. Its fur was coarse and black. Even in death, it was adorable: Think Wilbur's hoodlum cousin. Jackson gutted it (that's the gut bucket behind him). I'll spare you most of the gory details of the butchering process, but let's just say it was educational. (What's that yellow thing sticking out of its butt? Why a butt-out tool, of course, which is, uh, pretty much what it sounds like.)
After Jackson finished gutting, Bob hung the carcass from a hook and skinned it (left)
. Jackson and Bob put the meat on ice in a cooler. (Meanwhile, I stood around drinking moonshine out of a jar. Real moonshine! Out of a real jar! Here's hoping I don't go blind!)
Bob was the only one of us to kill a hog today; Jackson and I never even saw a live one. Which means we have our work cut out for us tomorrow: Jackson has committed himself to wild pork for 50 (a Slow Food event). In the evening we're going to try to hunt armadillos, so Jackson can try out a new recipe that he got from God knows where. My only real clue as to what this will be like was a conversation I had on the phone with Jackson a few weeks ago:
Kiera: How do you hunt armadillos?
Jackson: Are you a good runner?
Kiera: I mean, I go running sometimes. Why?
Jackson: Great. Because you don't hunt armadillos with guns. You run after them and catch them. With your hands. So endurance helps.
Right. More moonshine tomorrow, please.
Read my post from Day 2, "Do Hogs Like Supermarmet Danishes?" here, and my post from Day 3, "OK, but How Does Wild Hog Taste?" here.
Got a burning eco-quandary? Submit it to econundrums@motherjones.com. Get all your green questions answered by visiting Econundrums on Facebook here.