Meet the megalenders, payday loan inventors, and pawnshop popularizers behind the logos.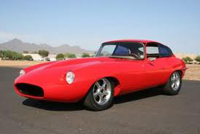 ROSS LONGFIELD, former executive VP, Beneficial Corp.
INNOVATION: Invented the refund anticipation loan.
FINE PRINT: Longfield bet that low-income customers would pay dearly to get their tax refunds right away. "Everything we did suggested people would love it—love it to death," he said.
UPSHOT: Now retired, Longfield has the leisure to race around Patagonia in his prized 1969 E-Type Jaguar SII coupe.
ALLAN JONES, CEO, Check Into Cash.
INNOVATION: Pioneered payday lending.
FINE PRINT: A small-town debt collector from Tennessee, Jones made a killing by making small loans—at 400 percent interest or more—against a person's next paycheck, Social Security payment, or unemployment check.
UPSHOT: Jones clears some $20 million a year from his 1,000-plus stores. He owns a pair of jets and a 650-acre estate, complete with stables and a football stadium.
VIDEO:
ERNIE TALLEY, CEO emeritus, Rent-A-Center.
INNOVATION: Fathered the rent-to-own industry.
FINE PRINT: Talley started the first store in the 1960s. He and his imitators figured out that the rent-to-own customer would spend $2,000 to buy the same TV set that a person with ready credit could buy outright for $800.
UPSHOT: The industry booked $7 billion last year; Rent-A-Center's 3,000 stores boast profit margins twice as large as Best Buy's.
VIDEO:
JACK DAUGHERTY, founder and chairman, Cash America.
INNOVATION: Took pawnshops mainstream.
FINE PRINT: Investment banks snubbed Daugherty back in 1983, when he first sought to strike it rich as a pawnbroker. But they changed their tune when they saw the killing he made charging 60 to 300 percent interest. "Merrill Lynch, now Dean Witter, now Goldman Sachs," he told one reporter. "We get letters from all of them."
UPSHOT: His 700-plus pawnshops earned $1 billion in revenue last year.
VIDEO:
TERRENCE MURRAY, former CEO, Fleet Bank.
INNOVATION: Megalenders got into subprime only after Murray, a working-class kid from Providence, R.I., who attended Harvard on a scholarship, showed them the way.
FINE PRINT: In the 1980s, Providence-based Fleet began targeting areas that had fallen on hard times, peddling subprime home loans, often at interest rates exceeding 20 percent a year.
UPSHOT: By 1991, Fleet was New England's largest bank. "It was these huge profits that got the rest of the mainstream banking industry involved," says attorney and subprime expert Bill Brennan.
VIDEO:
SANDY WEILL, former CEO, Citigroup.
INNOVATION: In 1986, Weill, a Wall Street dealmaker looking for his next big thing, bought Commercial Credit Corp.—a second-rate peddler of loans with rates as high as 23 percent—and used the profits to snap up Smith Barney, Travelers Insurance, Salomon Brothers, and, ultimately, Citigroup.
FINE PRINT: Weill's personal assistant had tried to talk him out of the Commercial purchase, calling it a loan-sharking biz. She was being a snob, Weill retorted. Under his leadership, Citigroup became a top-five subprime lender.
UPSHOT: What mortgage meltdown? Weill still owns a yacht; a $42 million Manhattan apartment; and homes in Greenwich, Conn. and the Adirondacks.
VIDEO: