Fight disinformation:
Sign up
for the free
Mother Jones Daily
newsletter and follow the news that matters.
With his once-secure grip on the GOP presidential nomination loosening, Mitt Romney has been hitting Newt Gingrich hard this week in Florida. The former Massachusetts governor's plan: Make the mortgage meltdown—and Gingrich's paid work for the mortgage insurer Freddie Mac—a huge issue in this state, one of the worst-hit by foreclosures. Romney opened this offensive Monday morning in Tampa at a roundtable on the flagging Florida housing market; shortly after, his team released an attack ad alleging that Newt "cashed in" on foreclosures.
But Romney is also embracing the one person in Florida who has likely done more than anyone else to shaft troubled homeowners and help foreclosure mills stay in business: state Attorney General Pam Bondi.
Slate's Dave Weigel, who attended Monday's roundtable, writes that after Romney took an oblique swipe at Gingrich's mortgage consulting, he extolled Bondi's work:
"Where there has been fraud, where people who entered into a mortgage arrangement were misled by institutions or by individuals—why, there should be an effort to go after those institutions and prosecute them," he said. "That's something that Pam Bondi is doing here—the attorney general of Florida—and is hopefully being done in other states as well."
The Romney camp also released a radio ad Monday touting Bondi's endorsement. ("He is tough, he is qualified, and he's ready to take on Barack Obama, and that's why I'm supporting him," she gushed on Fox News Sunday.) In straight electoral terms, it's understandable why Romney would want Bondi in his corner: One of the most prominent female conservatives in the state government, a fixture of the Fox News circuit capable of grabbing him some cachet with red-meat conservatives in a tough primary. But when it comes to hooking up mortgage bankers and servicers, Bondi's carried more water than Lake Okeechobee.
Florida is one of the five worst-hit states in the foreclosure crisis; nearly half of all its home mortgages are underwater. Yet since taking office in 2010, Bondi has lagged far behind her counterparts in helping homeowners or holding lenders' feet to the fire. When a faith-based action group met with Bondi last year to beseech her to go after crooked lenders, they complained to the Orlando Sentinel that she showed "a lack of interest" in foreclosure fraud. "Her stance was that she didn't feel the banks were as liable as the media portrayed them to be, and people shouldn't have gone ahead and signed the mortgage paperwork, and that they knew what they were getting into," a community organizer told the paper.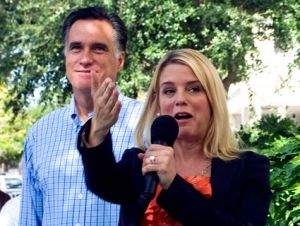 Instead, Bondi has shown a lot of interest in pleasing mortgage banks. The 50 state attorneys general have been working with the country's five top lenders—including Wells Fargo and Bank of America—to reach a settlement that would reform the mortgage market and compensate victims of fraud. Yet with a settlement taking shape last year, Bondi broke ranks with her counterparts and rejected it. That's because the settlement would have mandated principal reduction—a measure that could help keep more homeowners out of foreclosure, but that would force banks and lenders to take a bigger hit on their balance sheets. "It seems like she's balancing the interest of businesses with the interest of Floridians when it comes to principal reduction," state Rep. Darren Soto (D-Orlando) told the Sentinel. "When you're the AG, you have one interest: Floridians. You're supposed to be the consumer advocate, first and foremost."
Most unusual was Bondi's purported role in the forced resignations of two of the state's most dogged mortgage fraud attorneys. Theresa Edwards and June Clarkson, who were the top mortgage investigators for Bondi's predecessor, were pushed out by Bondi's office last year in the middle of a major investigation of two big foreclosure mills, Lender Processing Services and ProVest. The firms stood accused of "robosigning" and forging legal paperwork to ram foreclosures through Florida's overworked court system—and extract top dollar from beleaguered homeowners. "The termination of these attorneys is a violation of state policy by obstructing the prosecution of mortgage and foreclosure fraud," Soto said.
Bondi, it turned out, had received campaign contributions from several ProVest executives; she'd also gotten "thousands of dollars in campaign funds from Lender Processing and its employees, as well as its in-house counsel, Holland & Knight, during her successful 2010 campaign," according to the Florida Independent. That report also noted that one of Lender Processing Services' top lawyers and lobbyists, Martin Fiorentino, has bundled more than $100,000 for Romney.
Romney has felt the heat before for his coziness with some of the mortgage meltdown's biggest names. My MoJo colleague Andy Kroll wrote on Monday about the GOP front-runner's financial stake in Goldman Sachs, whose double-dealing on bad mortgage deals is now infamous; months ago, Andy also highlighted how Romney has made money off of Fannie and Freddie. Which makes it all the harder to understand why in Florida, with his political future on the line, Romney would lob a mortgage-backed grenade at Gingrich—and seek cover behind Bondi. Romney was for battling foreclosures before he was against it. Where he stands now is anyone's guess.