This explainer has been regularly updated; click here for the most recent post. Or read on for a primer.
On the evening of February 26, Trayvon Martin—an unarmed 17-year-old African American student—was confronted, shot, and killed near his home by George Zimmerman, a neighborhood watch captain in Sanford, Florida. Since Martin's death and the revelation of more details, the case has drawn national outcry and sparked hot debate over racial tensions, vigilantism, police practices, and gun laws.
Read on for the rest of our primer, or jump to these recent updates:
What happened to Trayvon?
Martin, a Miami native, was visiting his father in Sanford and watching the NBA All-Star game at a house in a gated Sanford community, the Retreat at Twin Lakes. That evening, Martin walked out to the nearby 7-Eleven to get some Skittles and Arizona Iced Tea. On his return trip, he drew the attention of Zimmerman, who was patrolling the neighborhood in a sport-utility vehicle and called 911 to report "a real suspicious guy."
"This guy looks like he's up to no good or he's on drugs or something," Zimmerman told the dispatcher. "It's raining, and he's just walking around looking about." The man tried to explain where he was. "Now he's coming towards me. He's got his hand in his waistband. And he's a black male…Something's wrong with him. Yup, he's coming to check me out. He's got something in his hands. I don't know what his deal is…These assholes, they always get away."
After discussing his location with the dispatcher, Zimmerman exclaimed, "Shit, he's running," and the following sounds suggest he left his vehicle to run after Martin.
"Are you following him?" the dispatcher asked. Zimmerman replied: "Yep."
"Okay, we don't need you to do that," the dispatcher warned.
Several minutes later, according to other callers to 911 in the neighborhood, Zimmerman and Martin got into a wrestling match on the ground. One of the pair could be heard screaming for help. Then a single shot rang out, and Martin lay dead.
Are the 911 recordings available to the public?
Yes. After public pressure, the city of Sanford played the tapes for Martin's family, then released the audio recordings. Here are some excerpts. You can also read a full transcript of George Zimmerman's initial police call here, along with an examination of whether he used a racial epithet, as some listeners have suggested.
What happened to the shooter?
So far, not much. Zimmerman told police he'd acted in self-defense. ABC News reports that he had wanted to be a police officer, and Sanford police didn't test him for drugs or alcohol after the shooting (such tests are standard practice in homicide investigations). He was licensed to carry his gun, and police initially told Martin's father that they hadn't pressed charges because Zimmerman was a criminal justice student with a "squeaky clean" record.
That wasn't entirely true, however; in 2005, Zimmerman was arrested for "resisting arrest with violence and battery on a law enforcement officer"; those charges were dropped. Media investigations and Martin family attorneys suggest that Zimmerman was a vigilante with "a false sense of authority" in search of young black men in his neighborhood. Police records show Zimmerman had called 911 a total of 46 times between 2004 and the day he shot Martin. (Florida guidelines for licensed gun owners state: "A license to carry a concealed weapon does not make you a free-lance policeman.")
How are Florida's self-defense and "stand your ground" laws key to this case?
Zimmerman may have benefited from some of the broadest firearms and self-defense regulations in the nation. In 1987, then-Gov. Bob Martinez (R) signed Florida's concealed-carry provision into law, which "liberalized the restrictions that previously hindered the citizens of Florida from obtaining concealed weapons permits," according to one legal analyst. This trendsetting "shall-issue" statute triggered a wave of gun-carry laws in other states. (Critics said at the time that Florida would become "Dodge City.") Permit holders are also exempted from the mandatory state waiting period on handgun purchases.
Even though felons and other violent offenders are barred from getting a weapons permit, a 2007 investigation by the South Florida Sun-Sentinel found that licenses had been mistakenly issued to 1,400 felons and hundreds more applicants with warrants, domestic abuse injunctions, or gun violations. (More than 410,000 Floridians have been issued concealed weapons permits.) Since then, Florida also passed a law permitting residents to keep guns in their cars at work, against employers' wishes. The state also nearly allowed guns on college campuses last year, until an influential Republican lawmaker fought the bill after his close friend's daughter was killed by an AK-47 brandished at a Florida State University fraternity party.
Florida also makes it easy to plead self-defense in a killing. Under then-Gov. Jeb Bush, the state in 2005 passed a broad "stand your ground" law, which allows Florida residents to use deadly force against a threat without attempting to back down from the situation. (More stringent self-defense laws state that gun owners have "a duty to retreat" before resorting to killing.) In championing the law, former NRA president and longtime Florida gun lobbyist Marion Hammer said: "Through time, in this country, what I like to call bleeding-heart criminal coddlers want you to give a criminal an even break, so that when you're attacked, you're supposed to turn around and run, rather than standing your ground and protecting yourself and your family and your property."
Again, the Sunshine State was the trendsetter: 17 states have since passed "stand your ground" laws, which critics call a "license to kill" or a "shoot first" law. The law has been unpopular with law enforcement officers in Florida, since it makes it much more difficult to charge shooters with a crime and has regularly confounded juries in murder cases; many Orlando-area cops reportedly have given up investigating "self-defense" cases as a result, referring them to the overloaded state Attorney's Office for action. A 2010 study by the Tampa Bay Times found that "justifiable homicides" had tripled in the state since the law went into effect.
Slate's Emily Bazelon has more background on the evolution of "stand your ground," its predecessor (the "castle doctrine"), and why Zimmerman hasn't yet been arrested and charged. And we have a more detailed legal explanation of exactly why the law makes it so hard to get a prosecution or conviction.
Why is the history of the Sanford Police Department in question?
Sanford PD's officers have suffered a series of public missteps in recent years, according to local reporters. In 2006 two private security guards—the son of a Sanford police officer, and a volunteer for the department—killed a black teen with a single gunshot in his back. Even though they admitted to never identifying themselves, the guards were released without charges. In 2009, after an assailant allegedly attempted to rape a child in her home, the department was called to task for sitting on the suspect's fingerprints, delaying identification and pursuit of the attacker.
Perhaps the most significant incident occurred in late 2010: Justin Collison, the son of a Sanford PD lieutenant, sucker-punched a homeless black man outside a bar, and officers on the scene released Collison without charges. He eventually surrendered after video of the incident materialized online. The police chief at the time was ultimately forced into retirement. "Bottom line, we didn't do our job that night," a Police Department representative told WFTV of the incident. The TV station later learned that the Sanford patrol sergeant in charge on the night of Collison's assault, Anthony Raimondo, was also the first supervisor on the scene of Trayvon Martin's shooting death.
As a result of these incidents and their initial handling of Martin's death, the Sanford Police Department has been under increased scrutiny. Martin's parents have suggested they might call for Police Chief Bill Lee to resign.
What has been the reaction to the case?
The case garnered national attention thanks in large part to the reporting of Huffington Post's Trymaine Lee, who kept on the story since it broke. It caught major national media attention last week, when the police tapes were released, and the New York Times' Charles M. Blow and The Atlantic's Ta-Nehisi Coates argued that the case deserved greater scrutiny. Celebrities like Russell Simmons, John Legend, and Janelle Monae have taken to social media to comment on the case. A petition at Change.org was recently posted demanding that Florida Attorney General Pam Bondi, the local state attorney, and Sanford Police Chief Bill Lee prosecute Martin's killer. The petition currently has more than 350,000 signatures, and had been averaging more than 10,000 signatures per hour.
The local state Attorney's Office, which has the option of pursuing a case against Zimmerman, said this weekend that it received so many emails—more than 100,000—demanding prosecution, that the office's servers temporarily shut down.
Has anything like this happened before?
The case bears faint echoes of the death of 14-year-old Martin Lee Anderson, whose case gripped Florida for nearly a year in 2006. Anderson, an African American who was attending a boot-camp-style detention center run by the Bay County Sheriff's Office, died during physical training that January; the initial autopsy said he'd died of complications from sickle-cell anemia. But after civil rights groups alleged bias by the white officers running the camp, further investigation revealed Anderson had been physically abused and forced to inhale ammonia.
The boot-camp officers were eventually acquitted of manslaughter at trial, but Florida lawmakers shut down the boot camps, and incoming Gov. Charlie Crist signed an order paying $5 million to Anderson's family. The commissioner of Florida's top law enforcement agency, was ultimately forced to resign after making racially insensitive remarks in connection with the case.
Could the federal government step in?
That's a distinct possibility. Benjamin Crump, an attorney for the Martin family, has written a letter to Attorney General Eric Holder requesting federal involvement. "I feel betrayed by the Sanford Police Department and there's no way that I can still trust them in investigating this crime," said Martin's father, Tracy Martin, said in a Friday news conference.
ABC News contacted an FBI spokesman who said, "We are aware of the incident, we have been in contact with local authorities and are monitoring the matter." A representative of the Justice Department's civil rights division, which usually investigates police matters, declined to comment on the case to Reuters Sunday.
If the state attorney's office declines to file charges against Zimmerman, that means federal authorities might step in to file any number of charges, including a hate crime. They might also investigate allegations of police misconduct, including a charge by one eyewitness that an officer on the scene of Martin's shooting told her to change her story. The witness says she stated that Martin had been screaming for help before he was shot, but that the officer "corrected" her and insisted it was Zimmerman who'd called for help, according to ABC News.
Have the governor or attorney general said what they'll do?
So far, neither Gov. Rick Scott nor Attorney General Pam Bondi, both pro-Second Amendment conservatives, have referred publicly to Martin's death. Nor has Jeb Bush, the ex-governor who signed the controversial stand-your-ground law, gone on record about the case. But Bush is slated to appear with the Rev. Al Sharpton on an upcoming episode of MSNBC's Morning Joe, and it's likely he'll be asked his thoughts on Trayvon Martin's killing then.
UPDATE 1, 12 p.m. EDT, Monday, March 19: More details on Florida's self-defense laws
Many readers have asked whether, given the 911 recordings, a case against Zimmerman would be easier than most homicides in which "self-defense" is cited by a defendant. In Florida, the answer probably is no: The courts' interpretation of the stand-your-ground law has been extremely broad—so broad that, to win an acquittal, a defendant doesn't even have to prove self-defense, only argue for it, while to win a conviction the prosecution has to prove that self-defense was impossible.
Numerous cases have set the precedent in Florida, with the courts arguing that the law "does not require defendant to prove self-defense to any standard measuring assurance of truth, exigency, near certainty, or even mere probability; defendant's only burden is to offer facts from which his resort to force could have been reasonable." When a defendant claims self-defense, "the State has the burden of proving beyond a reasonable doubt that the defendant did not act in self-defense." In other words the burden of proof beyond a reasonable doubt never shifts from the prosecution, so it's surprisingly easy to evade prosecution by claiming self-defense.
This has led to some stunning verdicts in the state. In Tallahassee in 2008, two rival gangs engaged in a neighborhood shootout, and a 15-year-old African American male was killed in the crossfire. The three defendants all either were acquitted or had their cases dismissed, because the defense successfully argued they were defending themselves under the "stand your ground" law. The state attorney in Tallahassee, Willie Meggs, was beside himself. "Basically this law has put us in the posture that our citizens can go out into the streets and have a gun fight and the dead person is buried and the survivor of the gun fight is immune from prosecution," he said at the time.
One of those defendants ended up receiving a conviction for attempted voluntary manslaughter for an unrelated case, in which he shot indiscriminately at two people in a car.
UPDATE 2, 4 p.m. Monday, March 19: White House weighs in
In a press conference today, White House spokesman Jay Carney answered a question about the Martin shooting for the first time. "We here in the White House are aware of the incident, and we understand that the local FBI office has been in contact with the local authorities and is monitoring the situation," he said. "Our thoughts and prayers go out to Trayvon Martin's family, but obviously we're not going to wade into a local law enforcement matter." Video:
Meanwhile Monday, demonstrators gathered in support of Martin at the Seminole County courthouse and the Tallahassee campus of Florida A&M University, a historically black institution. Groups at the Seminole County rally reportedly chanted "Do I look suspicious?" and "Arrest Zimmerman now." George Zimmerman's father wrote in a letter the Orlando Sentinel that his son has moved out of the neighborhood where he shot Trayvon Martin. "The media portrayal of George as a racist could not be further from the truth," he wrote. "He would be the last to discriminate for any reason whatsoever."
But Martin's mother and her attorney disputed that assertion on TV Monday morning. "[Zimmerman] was reacting to the color of his skin," the mother, Sybrina Fulton, told NBC's Matt Lauer. "I just don't understand why this situation got out of control." Her lawyer, Benjamin Crump, added: "Trayvon had a bag of Skittles. [Zimmerman] had a nine-millimeter gun. He was almost 80 pounds more weight than Trayvon Martin…Everyone in America is asking, 'When are they going to arrest Zimmerman for killing this kid in cold blood?'"
UPDATE 3, 9:30 p.m. EDT, Monday, March 19: Where is Trayvon Martin's cellphone?
When Trayvon Martin was killed, all he had were Skittles, iced tea…and a cellphone, authorities told the L.A. Times. The phone has been mentioned in multiple reports in recent days, and journalists and concerned citizens are starting to ask: Where is Trayvon's phone? Why did the police on the scene of the shooting not use it to identify Martin, or contact his next of kin? "Trayvon's body was bagged and taken to the morgue, where he was tagged as a John Doe," writes African American affairs blogger Sandra Rose. "No one contacted Trayvon's family even though police had Trayvon's cell phone in their possession."
The lack of information about Martin's phone is feeding further skepticism about the police's conduct, and it's led New York Times columnist Charles Blow to start a new meme on Twitter:
Make this trend: Where is Trayvon's cellphone?

— Charles M. Blow (@CharlesMBlow) March 20, 2012
UPDATE 4, 10:56 p.m. EDT, Monday, March 19: US Department of Justice, FBI, and Florida state detectives to investigate
The Miami Herald reports that the Department of Justice's civil rights division will investigate the Martin case. The paper quotes a DOJ statement (apparently not online yet) noting that the bar for such federal probes is high: 
"With all federal civil rights crimes, the government must prove beyond a reasonable doubt that a person acted intentionally and with the specific intent to do something which the law forbids – the highest level of intent in criminal law. Negligence, recklessness, mistakes and accidents are not prosecutable under the federal criminal civil rights laws."
Florida, too, is moving forward with a state-level investigation. Gov. Rick Scott sent a letter to the Florida Department of Law Enforcement (the state's FBI equivalent) requesting the move, according to the Tampa Bay Times. The letter states:
The circumstances surrounding the death of Trayvon Martin have caused significant concerns within the Sanford community and the state…I understand an investigation was initiated by the Sanford Police Department and referred to the Eighteenth Judicial Circuit State Attorney's Office. I believe it is appropriate the the Florida Department of Law Enforcement provide any assistance necessary to fully investigate this matter. Accordingly, please ensure that FDLE offers and provides the appropriate resources to the State Attorney's Office as they continue their investigation.
These moves may suggest that state- or federal-level charges in Trayvon Martin's death could come soon.
UPDATE 5, 11:45 p.m. EDT, Monday, March 19: Zimmerman violated neighborhood watch rules; traumatized teen witness speaks
Via Ta-Nehisi Coates at The Atlantic, who tweeted "There are 22,00 registered neighborhood watch programs. Zimmerman's was not one of them":
Zimmerman also blatantly violated major principles of the Neighborhood Watch manual, ABC News has learned.

The manual, from the National Neighborhood Watch Program, states: "It should be emphasized to members that they do not possess police powers, and they shall not carry weapons or pursue vehicles. They should also be cautioned to alert police or deputies when encountering strange activity. Members should never confront suspicious persons who could be armed and dangerous…."

According to Chris Tutko, the director of the National Neighborhood Watch Program, there are about 22,000 registered watch groups nationwide, and Zimmerman was not part of a registered group—another fact the police were not aware of at the time of the incident.
In another development, the Orlando Sentinel has a video interview with a 13-year-old identified as Austin who witnessed part of the confrontation between Martin and Zimmerman. (Austin and his sister are audible on one of the 911 recordings embedded in this post.)  "I just think that sometimes people get stereotyped, and I fit into this [same] stereotype as the person who got shot," Austin worries.
UPDATE 6, 12:00 a.m. EDT, Tuesday, March 20: "How one senator predicted a Trayvon Martin-like case in 2005"
The Miami Herald's Marc Caputo relates how, during the debate over Florida's passage of the controversial "stand your ground" law seven years ago, one state senator offered "eerily prescient" concerns about the bill that echo the shooting of Trayvon Martin. Democrat Steve Geller of Hallandale Beach, south of Fort Lauderdale, criticized the law as an unreasonable extension of the well-known "castle doctrine":
…Geller fretted it was going too far.

"We never said . . . that the street is your castle," he said on the Senate floor.

"I don't think you ought to be able to kill people that are walking toward you on the street because of this subjective belief that you're worried that they may get in a fight with you."
UPDATE 7, 3:00 a.m. EDT, Tuesday, March 20: What did George Zimmerman whisper at 2:21 on his initial police call?
Late Monday night, several journalists and listeners suggested that in his call to police (which you can listen to above) George Zimmerman muttered or whispered a racial slur about Martin. It's hard to be sure. Mother Jones has transcribed the entire call here and excerpted the part in question below. Zimmerman whispers "fucking [something]" at 2:21 on the recording as he leaves his car and pursues Martin on foot. Some listeners have suggested the muffled word was "coons," while others heard "punks" or "clueless" or "course." It is clear from the rest of the recording that Zimmerman repeated Martin's race numerous times in his call. ("He's got his hand in his waistband," he says at one point, "and he's a black male.")
With the FBI and Florida detectives now on this case—and with hate-crime charges potentially on the line—hopefully federal and state agencies will attempt to enhance the recording's quality to determine clearly what Zimmerman said.
Read the entire transcript of Zimmerman's police call here.
Listen to the full call:
UPDATE 8, 10:00 a.m. EDT, Tuesday, March 20: Girl: Martin spoke on phone of being chased before he was shot
ABC News is reporting that a 16-year-old girl spoke on the phone with Trayvon Martin just before he was killed, and she said Martin was evading the pursuer who would eventually kill him. She told her story to the network:
"He said this man was watching him, so he put his hoodie on. He said he lost the man," Martin's friend said. "I asked Trayvon to run, and he said he was going to walk fast. I told him to run but he said he was not going to run."

Eventually he would run, said the girl, thinking that he'd managed to escape. But suddenly the strange man was back, cornering Martin.

"Trayvon said, 'What, are you following me for,' and the man said, 'What are you doing here.' Next thing I hear is somebody pushing, and somebody pushed Trayvon because the head set just fell. I called him again and he didn't answer the phone."

The line went dead. Besides screams heard on 911 calls that night as Martin and Zimmerman scuffled, those were the last words he said.

Trayvon's phone logs, also obtained exclusively by ABC News, show the conversation occurred five minutes before police first arrived on scene.
UPDATE 9, 11:10 a.m. EDT, Tuesday, March 20: Grand jury convened; lawmakers line up for prosecution, investigations
The state attorney for Sanford, Florida, has announced he will convene a grand jury on April 10 to investigate Trayvon Martin's shooting, according to WESH-TV in Orlando. "I share in the desire of the family and the community to accurately collect and evaluate all the facts surrounding the tragic death of Trayvon Martin," prosecutor Norm Wolfinger said in a statement.
Meanwhile, two state legislators who sponsored Florida's "stand your ground" deadly-force law in 2005 called for George Zimmerman to be arrested for shooting Martin. "They got the goods on him. They need to prosecute whoever shot the kid," one of the lawmakers, Republican former Sen. Durell Peaden told the Miami Herald. "He has no protection under my law." His co-sponsor, current Rep. Dennis Baxley (R), told the paper: "There's nothing in this statute that authorizes you to pursue and confront people, particularly if law enforcement has told you to stay put. I don't see why this statute is being challenged in this case. That is to prevent you from being attacked by other people."
Even so, the Democratic state senator from the Miami district where Martin lived, Oscar Braynon, called for legislative hearings on the effectiveness of the "stand your ground" law. "The Legislature needs to take a look at Stand Your Ground," he told the Herald. "This is a perfect case of where it goes awry. This could only be the beginning of more problems down the road. It has unintended consequences. When the Legislature passed this in 2005, I don't think they planned for people who would go out and become vigilantes or be like some weird Batman who would go out and kill little kids like Trayvon."
UPDATE 10, 12:25 p.m. EDT, Tuesday, March 20: More on Trayvon's last phone call; family "does not trust the Sanford PD"
Benjamin Crump, the attorney for the family of Trayvon Martin, held a press conference Tuesday releasing further details about the purported final cellphone conversation between Martin and a girlfriend just before Martin died. "She completely blows Zimmerman's absurd self-defense claim out of the water," he told the assembled reporters. "Arrest George Zimmerman for the killing of Trayvon Martin in cold blood today."
According to Crump, Tracy Martin—Trayvon's father—worked with his cellphone service provider on Sunday evening to determine the final phone call his son had received before being shot dead by George Zimmerman. That led him to the 16-year-old girl, who reluctantly offered an affidavit detailing the contents of her conversation with Trayvon. She was "traumatized…beyond anything you can imagine," Crump said in a long and far-ranging speech that sounded like a courtroom opening statement.
Crump related the girl's experiences, which were consistent with the ABC News rendering linked here. Her testimony, he said shows that Trayvon was "just a kid trying to get home and get out of the rain from the store," Crump said. "That's all. Nothing else."
The girl's final call to Trayvon lasted four minutes, Crump said. One minute after she and Martin were cut off, police were reportedly on the scene.
Crump then played a recording of the girl's statement and said he would forward it directly to state and federal investigators. The family, he said, "does not trust the Sanford Police Department in anything to do with the investigation."
UPDATE 11, 7:00 p.m. EDT, Tuesday, March 20: EXCLUSIVE: NAACP president to Mother Jones: "Trayvon Martin was stalked and murdered"
Mother Jones has received an exclusive statement from NAACP President Benjamin Todd Jealous, weighing in on Trayvon Martin's death:
It appears that Trayvon Martin was stalked and murdered by a neighborhood watch volunteer. In recent years, people with connections to the Sanford Police Department have gotten away with assaulting and even killing black men. We requested and welcome the Department of Justice's involvement. Trayvon's killer must be brought to justice. The people of Sanford deserve to understand why the police did not lock him up the day the killing happened. And the nation must ensure that this pattern and practice of people attacking and killing black men with impunity is ended.
UPDATE 12, 7:25 p.m., Tuesday, March 20: Martin's congressional representative: "I am tired of burying young black boys"
Rep. Frederica Wilson (D-Fla.), who represents the Miami Gardens district where Trayvon Martin lived, rose during morning hours in Congress and delivered a stirring speech on his behalf today. "I am tired of burying young black boys," Wilson said in a wavering voice. "I am tired of watching them suffer at the hands of those who fear them and despise them." 
She brought up the case of Martin Lee Anderson (detailed above), a black teen who was killed by guards in a Florida youth boot camp in 2006; the guards were eventually acquitted of wrongdoing. "In Florida, we have another Martin: Trayvon Martin," Wilson said. She concluded:
I encourage the citizens of Florida and the citizens from around the world to continue to fight for justice for Trayvon Martin. Justice must be served: No more racial profiling. I'm tired of fighting when the evidence is so clear, so transparent…

We still have to march and demonstrate and write letters and protest and fight and have prayer vigils and sue and sit in just to be heard. No more. No more, Florida. No more, America. No more hiding your criminal racial profiling by using self defense to get away with murder. Stand up for Trayvon Martin. Stand up for justice. Stand up for our children. I am tired, tired, tired of burying young black boys.
UPDATE 13, 12:00 p.m. EDT, Wednesday, March 21: Neighbor defends George Zimmerman's actions: "The stage was already set"
A neighbor of George Zimmerman's and a fellow night watchman in the neighborhood told NBC Zimmerman believed he was protecting the townhouse development when he shot Trayvon Martin.
Frank Taffe, shown in the video below, said there had been eight burglaries in the neighborhood in just over a year, most committed by black men. "The stage was already set. It was a perfect storm," he said. (NBC couldn't immediately confirm Taffe's statement.) Taffe continued:
"George is a congenial, amiable, admirable person," he said. "He had a passion and a care for this neighborhood to ensure the safety of everybody here. And, furthermore, George is no Rambo."

Taaffe said that Zimmerman was appointed as a watch captain, despite reports that he appointed himself to the post.

He said he believes his neighbor acted in self-defense, which is what Zimmerman told police. He conceded, however, that the boiling tensions may have been affecting Zimmerman.

"I think any time you use a weapon, there are certain anger issues working," Taaffe said. "I think he had fed-up issues. He was mad as hell and wasn't going to take it anymore."

Zimmerman has not been charged, despite growing calls for his arrest.

"It's really sad that he's already been convicted in the public media and has already been sentenced to the gas chamber," Taaffe said. "Let's let justice do its job."
One minor point of order: Justice does not do its job with gas chamber in Florida; capital offenders are executed by lethal injection.
UPDATE 14, 12:45 EDT, Wednesday, March 21: Is a corporate-backed group behind the "stand your ground" laws?
Media Matters reports that the American Legislative Exchange Council—a lobby group funded by an array of corporations, including Koch Industries, Wal-Mart, Pfizer, and others—may have played a leading role in writing and passing the 2005 Florida self-defense law that's reportedly hindering prosecution against George Zimmerman.
As Mother Jones has reported before, the ALEC often writes conservative legislation that finds its way onto the lawbooks—it's shaped energy laws, as well as labor fights in Wisconsin and Michigan. (It's also recently been caught red-handed passing its legislation onto lawmakers in Florida.) But Media Matters says ALEC has also teamed up with the National Rifle Association to pass "stand your ground" legislation to protect shooters:
Florida's statute on the use of force in self-defense is virtually identical to Section 1 of ALEC's Castle Doctrine Act model legislation as posted on the Center for Media and Democracy (CMD). According to CMD, the model bill was adopted by ALEC's Civil Justice Task in August 2005—just a few short months after it passed the Florida legislature—and approved by its board of directors the following month.

Since the 2005 passage of Florida's law, similar statutes have been passed in 16 other states. This was no accident. In a 2008 interview with NRA News, ALEC resident fellow Michael Hough explained how his organization works with the NRA to push similar legislation through its network of conservative state legislators:

HOUGH: We are a very pro-Second Amendment organization. In fact, last session, I'll get off-topic here real quick, but some of the things that we were pushing in states was the Castle Doctrine. We worked with the NRA on that, that's one of our model bills that we have states introduce.
Media Matters notes that the NRA has been a primary funder of ALEC, adding, "NRA got what it paid for."
UPDATE 15, 3:30 p.m. EDT, Wednesday, March 21: Glenn Beck website calls Trayvon Martin "aggressor," implies he's a criminal
In a separate post here at Mother Jones, my colleague Adam Serwer has flagged two articles from the Blaze, Glenn Beck's news site, that 1) call Trayvon Martin the "aggressor," 2) intimate the furor over Martin's death is cooked up by minority racial activists, and 3) speculate that Martin was suspended from school for, possibly, maybe, "'armed robbery,' 'arson,' 'kidnapping' or 'sexual battery.'" Adam's piece is a must-read.
The Blaze pieces are written not by a random anonymous commenter but by Mytheos Holt, a Wesleyan graduate and former speechwriter for Sen. John Barrasso (R-Wyo.). Holt claims to hail from the mean streets of Big Sur, California, where 0.3 percent of the population is African-American.
Personal note: I am a product of several mostly-black public schools in Broward County, the large district adjacent to Miami-Dade. Most of my friends were products of one of these public school districts. I served my share of detentions and suspensions. So did my friends—white, black, Latino, Indian, and "other". I wonder if Holt would assume my friends and I are armed robbers.
Instead of conjecturing, he could have found the Department of Education report earlier this month that confirms how black students are punished out of all proportion to their numbers. He also could have checked state and county records in Florida for any complaints against Trayvon Martin, as I've done. Major felonies of the sort Holt alleges would typically be public records here, even for juvenile offenders. There are no such records for Martin. You can check for yourself.
Also, it's worth noting that the superintendent of Miami-Dade schools has no problem with Trayvon Martin's student record…only with "the senseless and untimely death of one of my students, one of my children, Trayvon Martin."
Not that this matters: As Adam points out, even if Martin was a criminal felon—which he apparently wasn't—and even if George Zimmerman, the shooter, knew his victim's record—which he obviously didn't—even alleged criminals would have the right not to be gunned down without cause. For Holt to fantasize otherwise isn't criminal. But it also isn't reporting, and it's perilously close to racebaiting.
UPDATE 16, 8:45 p.m. EDT, Wednesday, March 21: NRA pushes "stand your ground" in all 50 states
My colleagues Nick Baumann and Dave Gilson have compiled a story and set of charts showing how the National Rifle Association wants the "stand your ground" self-defense standard, "the law protecting Trayvon Martin's killer," in all 50 states. Here's one of their charts:
UPDATE 17, 8:45 p.m. EDT, Wednesday, March 21: City of Sanford releases Q&A with police chief: Zimmerman claims he was attacked
In other developments, the Sanford city commission approved a vote of "no confidence" in Bill Lee, the police chief whose department has so far declined to arrest and charge Trayvon Martin's shooter. The city manager now has three choices: fire Lee, ask him to resign, or do neither and agree to take responsibility for any future problems with the police department. In response, the city manager released an undated set of "citizens' questions" about the case for Lee to answer; they appear to date from before the release of the 911 tapes. The questions and answers, which you can read here, are pretty fascinating and add to our knowledge of the case—or, at least, Sanford PD's understanding of it. Among Chief Lee's more interesting revelations:
On why Zimmerman wasn't arrested or detained after the shooting:
Lee then goes on to cite Florida's "stand your ground" law as the reason Zimmerman could not be arrested. That wouldn't however, explain why even a law-abiding gun-owner who committed a purportedly justifiable homicide wouldn't have been administered drug and alcohol examinations as a matter of procedure.
On the release of the 911 tapes, which apparently hadn't occurred yet when the Q&A was drafted:
On Zimmerman's armed presence in the neighborhood:
While on the phone with police, Zimmerman began to pursue Martin, and the police dispatcher who fielded Zimmerman's call told him, "You don't need to do that." But that doesn't mean Zimmerman was in the wrong, Lee explained:
This latter account of Zimmerman's would appear to be in conflict with much of the story currently known to the public.
UPDATE 18, 4:05 a.m. EDT, Thursday, March 22: Trayvon's parents speak to "Million Hoodie March" in New York City
Protesters wearing hoodies (and, in some cases, clutching Skittles and iced tea) marched through Manhattan Wednesday night chanting "We Are All Trayvon Martin." Martin's parents addressed the march: "My son is your son," his mother told the crowd. Our reporters were on hand, and James West filed this video. See more of the MoJo news team's pics and tweets from the march here.
UPDATE 19, 2 p.m. EDT, Thursday, March 22: New info on George Zimmerman; his police calls: potholes, piles of trash…and black men
The city of Sanford this week quietly released a 47-page log of some of George Zimmerman's previous phone calls to 911 and police dispatchers. I've written a detailed report on the fascinating contents. Here's the lede:
At 9:02 p.m. on September 21, 2005, he called 911 about a stray dog on Skyline Drive. At 7:22 p.m. on St. Patrick's Day, 2005, he called 911 about a "pothole that is blocking [the] road." Then there was the pile of trash in the road near the local Kohl's, which he reported on Nov. 8, 2010. "[Complainant] states it appears recently dumped and appears to contain glass," the dispatcher dutifully reported…the newly released police calls paint Zimmerman as a man obsessed with law and order, with the minutiae of suburban life, and with black males.
The full story is kind of amazing, and you can read it here.
We're also learning more about Zimmerman's background: The Daily Beast has a pretty encompassing profile here, and a Fox affiliate in Northern Virginia, where Zimmerman's family lived before moving to Florida, interviewed some of his old acquaintances. George Hall, a former neighbor, tells the station he once wrote Zimmerman a letter of recommendation for the local police academy. "He just said he always wanted to be a policeman, Hall says.
UPDATE 20, 4 p.m. EDT Thursday, March 22: Sanford police chief steps down "temporarily"; town rally planned at 7 p.m.
In a dramatic midday statement, beleaguered Sanford Police Chief Bill Lee announced he was leaving his post until the city's investigation into the killing of Trayvon Martin is complete.
"I am aware that my role as a leader in this agency has become a distraction from the investigation," he announced from behind an outdoor podium this afternoon. "It is apparent that my involvement in this matter is overshadowing the process."
Lee announced that he was "temporarily removing" himself from the department's lead as it retraced its steps in an investigation that got off on the wrong foot.
In earlier updates, we explained how Lee's position had grown precarious after the police department failed to arrest or charge shooter George Zimmerman after the killing, and Lee defended that course. "[L]aw enforcement was PROHIBITED from making an arrest based on the facts and circumstances they had at the time," he had stated in response to questions about the case posed by Sanford's city manager.
A sergeant in the department, Scott O'Connor, will take over Lee's duties during the investigation.
Meanwhile, the Central Florida city is bracing itself for a mass march for Trayvon Martin at 7 p.m. today, led by the Rev. Al Sharpton. That rally comes on the heels of the "million hoodie march," a major demonstration that Mother Jones covered from the trenches in New York yesterday. For their part, Trayvon's parents reportedly meeting with officials from the Justice Department right now, and will make a public statement shortly after the meeting.
UPDATE 21, 10:25 a.m. EDT, Friday, March 23: Obama weighs in: "If I had a son, he'd look like Trayvon"
President Obama this morning spoke publicly for the first time about the Trayvon Martin case, expressing relief that the Department of Justice was on the case and saying it was "absolutely imperative that we investigate every aspect of this."
"I can only imagine what these parents are going through," he said. "And when I think about this boy, I think about my own kids. I think every parent in America should be able to understand why it is absolutely imperative that we investigate every aspect of this."
"I think all of us have to do some soul searching to figure out how does something like this happen."
He added, "When I think about that boy, I think about my own kids…If I had a son, he'd look like Trayvon. I think they are right to expect that all of us as Americans are going to take this with the seriousness this deserves and get to the bottom of what happened."
Obama made the comments during a Rose Garden press conference to announce his nomination of Dartmouth President Jim Young Kim to run the World Bank.
Update: CNN now has raw video of Obama's statement:
UPDATE 22, 11:00 a.m. EDT, Friday, March 23: Must read: Profile of Obama's top civil rights attorney, now in Sanford
Consider this your absolute, positive, don't-miss must-read-of-the-day: My colleague Adam Serwer has published a deep profile of Tom Perez, the Justice Department's lead civil rights investigator—who's currently examining the Trayvon Martin case, and who's taken pains to turnthe department's civil rights division around after it was ravaged by the previous administration. Perez will look at ths shooting itself for evidence of hate crimes…but as events develop, he may very well end up investigating the local police's behavior, too. Do yourself a huge favor and read this piece.
UPDATE 23, 1:30 p.m. EDT, Friday, March 23: MoJo tells Geraldo to back off the hoodie-hating
I just did a short radio hit with Geraldo Rivera on his WABC/KABC radio show where I took him to task for his sad commentary that "His hoodie killed Trayvon Martin as surely as George Zimmerman did." And yes, as Geraldo insisted to me that he wasn't victim-blaming, I wore a hoodie. We'll get a transcript/tape up as soon as possible, but in the meantime, here's a rough taste of what I told him:
I do just want to call you out for a minute: You know, our explainer and our coverage have become a community for people to gather and express their concerns and frustrations about the case, and one of the big frustrations we're hearing today is with your commentary that Trayvon's choice of clothing, his hoodie, was as much to blame for his death as George Zimmerman and his 9 millimeter.

That ignores some facts in this case: We pored over Zimmerman's previous calls to 911, and when he wasn't obsessing over potholes and piles of trash in the road outside a Kohl's department store, he worried about black guys. Black guys in leather jackets. Black guys in tank tops. He was equal opportunity in that respect. Trayvon didn't die because of what he was wearing. And even if he did, that's not his fault, anymore than a rape victim could be blamed for a short skirt. That's malarky.

I think a lot of people agree with you that minority kids are being unfairly stereotyped by their clothes, but the appropriate response is not to tell kids to change their clothing – the appropriate response is to flip it and tell our culture, hey, pull your head out, stop making deadly assumptions about people based on what they wear.
UPDATE 23, 4:00 p.m. EDT, Friday, March 23: The right goes nuts over Obama's Trayvon Comments
Well, that didn't take long. While much of the right wing stayed silent (or civil) in the month following Trayvon Martin's Killing, they went all-out today after President Obama commented on the case today. My colleague Adam Serwer has the complete story.
What makes this all the more puzzling is that Obama's off-the-cuff remarks were confined mainly to expressing empathy for Trayvon's family, and refraining from influencing the investigation with any out-of-turn commentary. He even complimented Florida's Republican tea party governor, Rick Scott, for putting a task force on the case. But as Adam points out, Obama's two-minute musing was a golden opportunity for the right to stoke some anti-Obama racial paranoia.
[Related update, March 27: Read Kevin Drum on the agenda driving conservatives' attacks on Trayvon Martin.]
UPDATE 24, 11:00 a.m. EDT, Saturday, March 24: Trayvon case not exactly a top priority for Florida's GOP governor
I've got a new piece up here at MJ that details how Rick Scott, one of the nation's most unpopular governors (and host of this summer's Republican National Convention), isn't doing much to bring justice to Trayvon Martin… or to fix his own poor relationship with minorities. The lede:
Last Monday, Rick Scott—Florida's beleaguered freshman tea party governor—made a powerful executive decision: He signed legislation to require drug tests of state employees. On Friday, he acted decisively and signed a controversial pro-school-prayer bill into law. His top cop, Republican Attorney General Pam Bondi, spent the week on one of her top priorities: promoting the state's Supreme Court case against President Obama's health care reforms. The state's Republican Party this week also began airing a new pro-Scott ad, two years ahead of his next election, and Scott's also taken to bragging about his recent legislative accompishments.

Somewhere in there, the governor addressed Trayvon Martin's killing.
Scott hasn't done nothing, exactly…but what he has done comes with some stunning caveats. Read the full story here.
UPDATE 25, 6:00 p.m. EDT, Saturday, March 24: Zimmerman attorney speaks, but media can't; rallies continue
An attorney for Trayvon Martin shooter George Zimmerman took to CNN and MSNBC Saturday to say Florida's "stand your ground" law wasn't a factor in his client's defense.
"In my legal opinion, that's not really applicable to this case. The statute on 'stand your ground' is primarily when you're in your house," attorney Craig Sonner told CNN. "This is self-defense, and that's been around for forever—that you have a right to defend yourself. So the next issue (that) is going to come up is, was he justified in using the amount of force he did?"
He added that Zimmerman was not a racist. "This case is spinning out of control," he said. "I hope there's a way to rein things in so it doesn't become an issue of a racial battle. I hope that things come back so that there can be a time for justice and for healing and not for just skipping the whole judicial process and going straight to sentencing."
Meanwhile, some media workers have been asked not to comment publicly on the case. ESPN recently put a gag on their employees discussing Martin's killing on their Twitter accounts. "We completely understand the strong feelings involved," a spokesman for the sports station said. "Our decision is in keeping with our long-standing policy for ESPN content.
Rallies in support of Martin's family continued nationwide in dozens of cities Saturday, including Philadelphia, Washington, Tampa, Jacksonville, Nashville, Albany, New York, and Portland, Oregon. More rallies are planned on Monday, from Indianapolis to Shreveport, Louisiana. "We're asking people to get involved in their community and step up and take action and speak out," an Indy organizer said. "We want to show every voice does count."
UPDATE 26, 12:00 p.m. EDT, Monday, March 26: Zimmerman still permitted to pack heat…and buy more guns instantly
George Zimmerman still has his state concealed weapons permit, allowing him to carry a gun in Florida and the 35 other states that have reciprocity agreements with the state, the Sanford Police Department confirmed this morning to my colleague, Andy Kroll. (See his full story: "Is George Zimmerman Still Packing Heat?")
A representative of the Sanford PD confirmed that they have the gun used in Trayvon Martin's killing in their evidence locker, but nothing prevents Zimmerman from carrying other firearms on his license until and unless he's charged with a violent crime. (In fact, he can also obtain another handgun instantly; the Florida carry permit allows holders to bypass the state's standard three-day waiting period for handgun purchases.)
Mother Jones decided to check with Sanford PD after receiving a press release from the Brady Campaign to Prevent Gun Violence stating that "One month after Trayvon's tragic death, George Zimmerman still has his gun and his license to carry and use it." The release was only half-right: Zimmerman's handgun is in a police impound, though he could replace it easily enough under existing Florida law. Read Andy's story for even more details.
Meanwhile, unnamed officials in the Sanford PD also released details of George Zimmerman's account of that night to the Orlando Sentinel. Zimmerman says he was walking back to his SUV when Trayvon Martin engaged him in a verbal altercation, the Sentinel reports:
Trayvon asked Zimmerman if he had a problem. Zimmerman said no and reached for his cell phone, he told police.

Trayvon then said, "Well, you do now" or something similar and punched Zimmerman in the nose.

Zimmerman fell to the ground and Trayvon got on top of him and began slamming his head into the sidewalk, he told police.
That, the authorities say, was when "Zimmerman shot Trayvon once in the chest from very close range."
It was still unclear from the authorities' account how, with Martin straddling him and slamming his head into the pavement, Zimmerman managed to get his hands on his weapon, release the safety or cock it, and aim and fire it at Martin's chest.
UPDATE 27, 1:30 p.m. EDT, Monday, March 26: Trayvon was suspended from school for trace amounts of pot
A Martin family attorney confirmed to the Miami Herald today that Trayvon Martin was serving a suspension from his high school "because he was caught with an empty plastic bag with traces of marijuana in it." According to the paper:
Family spokesman Ryan Julison said the family has always maintained that Trayvon's suspension had nothing to do with anything violent.

"The fact of the matter is that an empty baggie does not change what occurred," he said. "The reason he was suspended does not change the fact that if George Zimmerman had stayed in his car, none of this would have happened."
Trayvon's previous behavior has been called into question by conservative skeptics who suggest he might have been a criminal or thug whose actions toward Zimmerman justified his killing. But that account has also been disputed by school district that suspended Trayvon: the Miami-Dade schools superintendent last week railed against "the senseless and untimely death of one of my students, one of my children, Trayvon Martin."
UPDATE 28, 11:30 a.m. EDT, Tuesday, March 27: Questions about Trayvon's background, and a similar Wisconsin case
Questions continued to swirl around Trayvon Martin's character this week, after unnamed sources in Sanford leaked details about Martin's school record and George Zimmerman's self-defense story. According to those reports, Martin had been in trouble with school authorities for tardiness, tagging a school locker with graffiti, and having jewelry and a screwdriver in his bookbag. The Miami-Dade school superintendent, citing federal privacy laws, declined to comment on Trayvon's record. Also yesterday, the Daily Caller published what it claims is a list of tweets belonging to an account Trayvon had used before his death. The tweets portray Martin as discussing drugs and street life in vernacular language; the profile picture purports to show Martin with a "grill," a set of gold teeth.
Martin's family insists the Sanford Police Department leaked much of the info to turn public sentiment against them, and that accounts of Trayvon's school behavior are irrelevant to the question of how he died. "They've killed my son," Trayvon's mother, Sabryna Fulton, said, "and now they're trying to kill his reputation." Fulton and Trayvon's father, Tracy Martin, are expected to travel to Capitol Hill Tuesday for a private briefing with members of Congress.
Meanwhile, the effects of Trayvon's death are being felt across the country. A public uproar has grown over what appears to be a similar case in Slinger, Wisc., where a man shot and killed a black teen partygoer who had crossed onto his property from the house next door. And a New Orleans police officer has been suspended from his job for posting offensive comments about Martin online. "Act like a Thug Die like one!" one of his comments reads; in another, he insists that Martin is "in HELL." In announcing the suspension, New Orleans PD Superintendent Ronal Serpas didn't mince his words. "To say that I'm angry is an understatement," he said. "Let me be clear: The hardworking men and women of the NOPD do not condone such statements."
UPDATE 29, 6:30 p.m. EDT, Tuesday, March 27: Sanford's lead investigator wanted to arrest Zimmerman; a struggle over Zimmerman's gun?
ABC News reported today that the lead homicide investigator of Trayvon Martin's killing recommended that Trayvon's shooter, George Zimmerman, be arrested and charged with manslaughter. That police investigator, Chris Serino, filed an affidavit on the night of the killing "that stated he was unconvinced by Zimmerman's version of events," according to ABC. But Serino was overruled by the state attorney's office, which said there wasn't enough evidence to secure a conviction in court.
The ABC report also recounted a new detail about Zimmerman's account of that night, concerning Zimmerman's gun: "Martin knocked him down with a punch to his nose, jumped on him, repeatedly banged his head on the ground, then tried to grab Zimmerman's gun," the report states. "In a struggle for Zimmerman's gun, the watchman shot the teenager, Zimmerman told police."
This account raises the question: How did Trayvon Martin know Zimmerman was armed with a handgun? Under Florida law, Zimmerman was licensed only to carry it concealed; the state's permit guidelines also instruct licensees not to brandish their weapons as a deterrent. But in claiming that there was a struggle for his gun, Zimmerman's account suggests he had the weapon out, or visible on his person. It's possible that this inconsistency could have contributed to the investigator Serino's suspicions about Zimmerman's story.
UPDATE 30, 11:00 a.m. EDT, Wednesday, March 28: Trayvon Martin's death extends Sanford's sordid racial history
True story: The founder of Sanford, Florida, lobbied for American blacks to move to Congo "to draw the gathering electricity from that black cloud spreading over the Southern states." That's just the opening chapter in a complicated history of race relations in the town where Trayvon Martin lost his life. I've recorded much of that history in a new story here at Mother Jones, from liquidated black townships to Jackie Robinson to recent police problems. But this history could be written about many cities in many parts of America; if, as the demonstrators say, "We are all Trayvon Martin," then we are all Sanford, as well.
Meanwhile, editors at the Daily Texan, the University of Texas-Austin's school paper, are feeling the heat after publishing this cartoon commentary on the media's Trayvon coverage:
Editors insist that the comic represents only the views of the artist who drew it. (Though it's unclear if they or the artist realize that Zimmerman is not, strictly speaking, white; he's Latino.) The paper's editors did take the cartoon offline temporarily "to alleviate web traffic and prevent the web site from crashing," they stated. It's back up now.
UPDATE 31, 5:00 p.m. EDT, Wednesday, March 28: Trove of police documents now online at MoJo
In addition to a bunch of videos related to the case, Mother Jones has published a set of documents from the Sanford Police Department's files on the killing of Trayvon Martin. The documents include an initial police report that would seem to conflict with the self-defense case George Zimmerman made. According to an officer who reported on the scene of Trayvon's death, "The black male had his hands underneath his body…I turned the black male over and began CPR." He later added, "Located on the inside of Zimmerman's waist band, I removed a black Kel Tek 9mm PF9 semi auto handgun and holster."
As we reported yesterday, Zimmerman claims he shot Trayvon after there was a struggle for the gun. But if Zimmerman had his weapon in a waistband holster (the gun, after all, was required by Zimmerman's license to be concealed), it begs the question of how Trayvon could have known the gun was present, much less grabbed for it, unless Zimmerman had already drawn it out of his pants.
For more details, check out the whole document trove.
UPDATE 32, 9:30 p.m. EDT, Wednesday, March 28: Police video shows no blood or bruises on George Zimmerman
As we reported earlier today, with more evidence emerging about the night of the shooting, questions are mounting about Zimmerman's account. An ABC News report out late today raises doubts about Zimmerman's claim that Trayvon Martin attacked him, punched him in the face and "repeatedly slammed his head into the sidewalk" before Zimmerman put a bullet in Martin's chest:
A police surveillance video taken the night that Trayvon Martin was shot dead shows no blood or bruises on George Zimmerman, the neighborhood watch captain who says he shot Martin after he was punched in the nose, knocked down and had his head slammed into the ground…

The initial police report noted that Zimmerman was bleeding from the back of the head and nose, and after medical attention it was decided that he was in good enough condition to travel in a police cruiser to the Sanford, Fla., police station for questioning. His lawyer later insisted that Zimmerman's nose had been broken in his scuffle with 17-year-old Martin.

In the video an officer is seen pausing to look at the back of Zimmerman's head, but no abrasions or blood can be seen in the video and he did not check into the emergency room following the police questioning.
UPDATE 33, 3:10 a.m. EDT, Thursday, March 29: Zimmerman's father says his son was attacked, beaten
George Zimmerman's father, Robert, told Fox 35 in Orlando Wednesday night that Trayvon Martin attacked and threatened his son before the fatal shot was fired. In an account that closely mirrors what George Zimmerman reportedly told police—but conflicts with most of the other accounts so far made public—he said Martin accosted his son and asked "you got a [expletive] problem?" Shortly afterward, he says, Martin jumped George, pummeled him, and finally reached for his gun saying "you're going to die tonight." The voice heard screaming on one of the 911 calls, he said, is George's.
"When the Martin family got on and said that was their son [screaming], I thought they are grieving parents, the recording might not be that good. But when I heard the recording, there was no doubt in anyone's mind that that was George yelling for help."
Zimmerman, a former judge, told reporter Valerie Boey that his son was studying criminal justice and hoped to become a judge himself. Regarding the intense reaction to the case around the country, including among political leaders, Zimmerman said: "I never foresaw so much hate coming from the president, the Congressional Black Caucus, the NAACP. Every organization imaginable is trying to get notoriety or profit from this in some way."
Asked how George was dealing with the episode, he said, "Currently, he's not dealing with it well. I don't know if his injuries are physical or mental, but he is not in good shape."
"I'm 64," Robert Zimmerman concluded. "I have done a lot in my life. I wish Trayvon Martin would have been able to do a lot more with his life. I hope that my son can go on and do something with his life. It's just very, very sad."
UPDATE 34, 4:30 p.m. EDT, Friday, March 30: Report: Zimmerman lost job for being too aggressive; new witness disputes self-defense account
George Zimmerman, Trayvon martin's shooter, was fired from a 2005 job as a security guard for excessive aggression, a former co-worker told the New York Daily News Thursday. The paper reports that Zimmerman had worked on and off for several firms that "provided security to illegal house parties."
"Usually he was just a cool guy. He liked to drink and hang with the women like the rest of us," the paper's source said. "But it was like Jekyll and Hyde. When the dude snapped, he snapped." The report continues:
"He had a temper and he became a liability," the man said. "One time this woman was acting a little out of control. She was drunk. George lost his cool and totally overreacted," he said. "It was weird, because he was such a cool guy, but he got all nuts. He picked her up and threw her. It was pure rage. She twisted her ankle. Everyone was flipping out…

"He definitely loved being in charge. He loved the power. Still, I could never see him killing someone. Never," he said.
Meanwhile, an anonymous man who claims he witnessed Trayvon's shooting told Anderson Cooper last night that Zimmerman's account of the killing was wrong. Zimmerman and Trayvon were struggling on the grass, he said, not the pavement, as Zimmerman claims. Contrary to Zimmerman's claims that he suffered cuts and a broken nose, the witness said, "He didn't appear hurt or anything else":
"I saw two men on the ground, one on top of the other. I felt they were scuffling and I heard gunshots which to me were more like pops…

"I don't know if was an echo but it definitely made more than one pop.

"After the larger man got off there was a boy, obviously now dead, on the ground facing down."
In light of the new eyewitness testimony and more recent leaks relating to the case, Martin family attorney Daryl Parks renewed his calls today for the shooter to be arrested. "I think Mr. Zimmerman will be arrested very, very soon," he said.
But Zimmerman's brother, Robert Zimmerman Jr., told CNN's Piers Morgan that George acted within the law to save himself. "George showed tremendous restraint," Zimmerman said. "He prevented his firearm from being taken from him and used against him. And that's called saving your life…
"George was out of breath. He was barely conscious. The last thing he remembers doing was moving his head from the concrete to the grass. So that if he was banged one more time, he wouldn't be, you know, wearing diapers for the rest of his life and being spoon-fed by his brother."
UPDATE 35, 1:15 p.m. EDT, Monday, April 2: Screams on 911 call aren't Zimmerman's, experts say; Ann Coulter weighs in
Two voice-analysis experts enlisted by the Orlando Sentinel have concluded that the screaming voice on a 911 recording of the Trayvon killing is not shooter George Zimmerman. Zimmerman and his family have insisted that the screaming—which precedes the fatal gunshot—came from Zimmerman himself, who was in fear for his life. But that's not possible, say experts Tom Owen and Ed Primeau. Both used different techniques to a analyze the recording and concluded the screaming couldn't have been the shooter:
"I took all of the screams and put those together, and cut out everything else," Owen says.

The software compared that audio to Zimmerman's voice. It returned a 48 percent match. Owen said to reach a positive match with audio of this quality, he'd expect higher than 90 percent.

"As a result of that, you can say with reasonable scientific certainty that it's not Zimmerman," Owen says, stressing that he cannot confirm the voice as Trayvon's, because he didn't have a sample of the teen's voice to compare…

Not all experts rely on biometrics. Ed Primeau, a Michigan-based audio engineer and forensics expert, is not a believer in the technology's use in courtroom settings.

He relies instead on audio enhancement and human analysis based on forensic experience. After listening closely to the 911 tape on which the screams are heard, Primeau also has a strong opinion.

"I believe that's Trayvon Martin in the background, without a doubt," Primeau says, stressing that the tone of the voice is a giveaway. "That's a young man screaming."
Rallies continued in Trayvon's hometown of Miami this weekend, and the Washington Post assembled a list of other recent deaths around the country with circumstances similar to Trayvon's.
Meanwhile, commentators on the right continue to downplay Trayvon's death and its implications. Ann Coulter told ABC this weekend that the case "has nothing to do with the 'Stand Your Ground' rule":
"The 'Stand Your Ground' law is only relevant if someone had the opportunity to retreat, and the law said that you don't have to retreat," she said. "In neither narrative is retreating an option. It has nothing to do with the 'Stand Your Ground' law. This is simple self-defense, on at least George Zimmerman's narrative."
Coulter is a lawyer, but she doesn't appear to be terribly familiar with the Florida self-defense law or its adjudication in state courts. As I explained on Countdown with Keith Olbermann last week, the law means a defendant doesn't have to prove self-defense, just argue it plausibly. That outcome, I argued, has "caused a lot of local police and law enforcers and a lot of local state's attorneys to just use their discretion and say, 'Well, look, if we can't get a solid conviction probability here, then what's the point of taking it to trial?'"
Alex Pareene of Salon has an excellent analysis of the right-wing reaction to the Trayvon case, and how criticizing the dead teen became a clarion call for conservatives. Also see two recent pieces from my colleague Adam Serwer, who was among the first to bring attention to the response of the far right.
UPDATE 36, 10:15 a.m. EDT, Tuesday, April 3: Video walk-through of the scene where Trayvon Martin was shot
Joy-Ann Reid, managing editor of The Grio and an MSNBC contributor, has a fascinating video analysis of the townhouse development where George Zimmerman shot and killed Trayvon Martin. It raises some serious questions about Zimmerman's account of the night, in which he claims to have spotted Trayvon while driving to the grocery store. That account in particular is difficult to explain when the physical layout of the area is analyzed. We've embedded the video here; take a look for yourself.
UPDATE 37, 4:30 p.m. EDT, Tuesday, April 3: Alleged letter from a Zimmerman family member calls NAACP "racists"; "enhanced" police video released
An anonymous member of George Zimmerman's family has allegedly written an open letter blasting the NAACP for characterizing Zimmerman as a racist. "If something happens to George as a result of the race furor stirred up by this mischaracterization of George there will be blood on your hands as well as the rest of the racists that have rushed to judgment," the letter states. "You need to call off the dogs. Period. Publicly and swiftly."
The letter, typos and all, was originally published by the Daily Caller, which claims to have confirmed the identity of the author. It's unclear why the author gave the letter to the Daily Caller; the site also claims to have been the first media outlet to have published Trayvon Martin's tweets under his Twitter handle, "NO_LIMIT_NIGGA." What is clear is that the letter writer fixates on the NAACP as the titular head of a violent and unruly African American community. "I will not be providing my name because all of our family is in hiding and frankly scared by the threats from the black community," the letter states. The letter goes on to claim that Zimmerman was actually an advocate for justice for a homeless black man who'd been assaulted by the son of a Sanford police officer in 2010.
Mother Jones could not independently confirm the author's identity, nor the claims that the letter-writer makes about Zimmerman's alleged activities on behalf of the homeless victim. The author claims to have "attached herewith a flyer that was placed on your constituents cars last year that might jog the memory of your amnesia-laden supporters"—but that attachment was not included in the Daily Caller's version of the letter, which we've posted in our collection of documents and videos related to the case.
NAACP President Ben Jealous didn't immediately comment on the letter, but last weekend he told MSNBC that "this isn't about whether Mr. Zimmerman is a racist. We have no idea. But it's about young black men being profiled, by white cops, by black cops, by people in the neighborhood watch program, by private security agencies in this town."
In other developments, ABC News Monday obtained an "enhanced" version of the police video of George Zimmerman's detention the night he shot Trayvon Martin. The recording shows possible gashes or marks on the back of Zimmerman's head—although, as MoJo's Kevin Drum points out, evidence of a struggle isn't necessarily proof of Zimmerman's self-defense claims.
Elsewhere on the web, Slate legal analyst Emily Bazelon has an excellent rundown of the most salient evidence that might be considered in court, if Zimmerman is eventually accused of a crime. "What we need to know is what happened in the moments before and during the shooting," she writes. "The rest says more about us than it does about the killing of Trayvon Martin, and whether it was a crime."
UPDATE 38, 9:30 a.m. EDT, Wednesday, April 4: Zimmerman supporter says "young black males" were a problem: "If you plant corn, you get corn."
Has the media paid too much attention to race in the Trayvon Martin killing? Recent polls show that a majority of Republicans and 43 percent of whites are fed up with coverage of the case, saying "enough is enough." But testimony from a George Zimmerman supporter on Tuesday suggests that racial perceptions surrounding the case are indeed worthy of attention.
In an awkward TV interview with CNN, Frank Taaffe—himself a former neighborhood watch captain in the same Sanford subdivision—poured fuel on the racial fires by insisting that "young black males" were up to no good in his "neighborHOOD," where eight burglaries had occurred recently.
"All of the perpetrators of the burglaries, the prior burglaries, were young black males," Taaffe said. Pressed by Soledad O'Brien on how that related to Trayvon Martin's shooting, he replied, "Well, you know, there's an old saying: If you plant corn, you get corn." We've posted the video on our primary documents page; take a look and judge for yourself: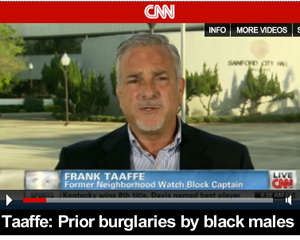 Even critics of Zimmerman have written recently that ethnicity is "a red herring" in the case. But Taaffe's comments drive home how racial assumptions may have played a role in the homicide.
UPDATE 39, 1:15 p.m. EDT, Monday, April 9: Fox channel calls Sanford neo-Nazis "civil rights group"; grand jury canceled
Armed neo-Nazis reportedly have descended on Sanford, the Florida town where Trayvon Martin was shot, allegedly to protect "white citizens in the area who are concerned for their safety," the group's leader told the Miami New Times this weekend. "Whenever there is one of these racially charged events, Al Sharpton goes wherever blacks need him," said Jeff Schoep, head of the National Socialist Movement. "We do similar things. We are a white civil rights organization."
As blogger Pam Spaulding points out, Schoep apparently fooled the local Fox News affiliate, FOX35 Orlando. On Saturday night, the station first referred to the National Socialist Movement as a "civil rights group":
The next evening, the station "fixed" their headline to call the NSM a "white rights group":
About four hours after that, they finally concluded that "neo-Nazi" was the way to go: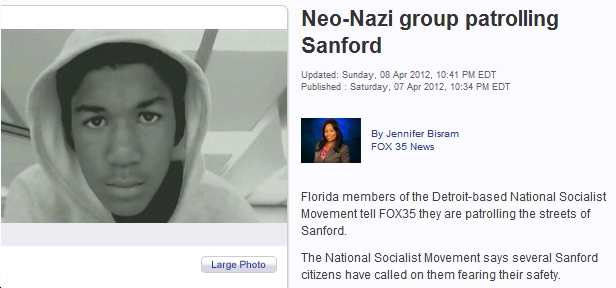 Meanwhile, special prosecutor Angela Corey announced Monday that she would not send the Trayvon shooting case to a grand jury. Last month, the state attorney's office had set a grand jury to convene in the case on April 10, but Corey's move buys prosecutors more time to gather facts and potentially bring charges against shooter George Zimmerman.
"We had hoped [Corey] had enough evidence without the need to convene a grand jury," Ben Crump, the Martin family's attorney, told reporters. "The family is trying to have patience and faith through all of this."
UPDATE 40, 4:45 p.m. EDT, Tuesday, April 10: George Zimmerman's two attorneys withdraw from case; Zimmerman makes mysterious phone call to Fox's Sean Hannity; contradictory video evidence
In a rather unusual press conference in front of the Sanford, Fla., courthouse on Tuesday afternoon, George Zimmerman's two attorneys, Craig Sonner and Hal Uhrig, announced that they were withdrawing from the case. They stated that they'd lost contact with Zimmerman as of Sunday, and can no longer "ethically" serve as his attorneys. The decision seemed to hinge in part on the fact that Zimmerman did an end run on Sonner and Uhrig by putting up a website on Monday asking for donations via PayPal. Sonner and Uhrig said they'd already been working on a website for Zimmerman and had alerted national media outlets to it, but that Zimmerman moved forward without their knowledge and had since fallen out of contact.
Sonner also told reporters that Zimmerman had since made a phone call to Sean Hannity and had an off-the-record conversation with the Fox News anchor. Hannity is not disclosing the contents of that discussion, Sonner said. (It's worth recalling here that when the Trayvon Martin killing was blowing up in the national media in mid March, Fox News barely lifted a finger on the story. And that when armed neo-Nazis showed up in Florida to take a stand over the case last weekend, a Fox News affiliate in Orlando dubbed them a "civil rights group.") Asked where Zimmerman is, Sonner said the two attorneys have "a pretty good idea" but don't know his exact location. He added, "He's in the United States."
Uhrig and Sonner also suggested during the press conference that Zimmerman was in a bad way and may be suffering from PTSD. They seemed somewhat exasperated by the inability to communicate with Zimmerman—and by the fact that Zimmerman had reportedly told law enforcement authorities that Uhrig and Sonner were only serving as his "legal advisers" but were not actually his attorneys.
"I've never met him face to face," Sonner said of Zimmerman, in response to a reporter's question. "It's all been through phone calls and contact with family members."
In other developments, as Kevin Drum noted earlier today, questions continue to swirl around police video footage of Zimmerman from the night of the shooting—did he or didn't he have head wounds? An "enhanced" version of the video from ABC News seemed to indicate that he did; a version aired more recently by MSNBC suggests the opposite (and has drawn some doubts about its veracity, as Drum details). Watch both of the videos here on our primary evidence page and decide for yourself.
UPDATE 41, 2:15 p.m. EDT, Wednesday, April 11: Zimmerman to be charged today, official says
An unnamed official with knowledge of the case told the Washington Post on Wednesday afternoon that George Zimmerman would likely be charged Wednesday in connection with his shooting of Trayvon Martin in February. Special prosecutor Angela Corey had issued a statement last night stating that she would hold a press conference "in the next 72 hours" to discuss the disposition of the case; that came on the heels of her announcement Monday that there would be no grand jury to investigate charges against Zimmerman. He can't be prosecuted for first-degree murder under Florida law without a grand jury indictment, so that's presumably off the table.
Update, 5:30 p.m. EDT:
BREAKING: Official tells AP: Trayvon Martin's killer to be charged with 2nd-degree murder; is in custody. -RAS

— The Associated Press (@AP) April 11, 2012
And here's a link to the story. An unnamed law enforcement official told AP that Zimmerman is in custody in Florida, but declined to be more specific.
Update, 6:05 p.m. EDT:
At a press conference in Jacksonville, Fla., special prosecutor Angela Corey confirmed that Zimmerman will be charged with 2nd degree murder. Zimmerman turned himself in, she said. Her team made the decision to charge Zimmerman last week.
Acknowledging the intense public scrutiny and high emotions surrounding the case, Corey said: "We prosecute on facts and the laws of the great sovereign state of florida, and that's the way it shall be in this case. We do not prosecute by public pressure or by petition." She added, "we did not come to this decision lightly." She also referred to Zimmerman as "the person responsible" for Trayvon Martin's death.
Corey spoke with a forceful tone to reporters, emphasizing that her focus is on justice for the victim. She said that after taking over the case, the first thing she did when she met with Martin's parents was pray with them. She also praised Florida law enforcement authorities for doing a great job. That may have been rather generous.
According to his attorney Zimmerman will plead not guilty. If convicted, he could face up to life in prison.
UPDATE 42, 11:18 a.m. EDT, Friday, April 20: Zimmerman apologizes to Martin family, gets 150k bail
Florida judge Kenneth Lester set George Zimmerman's bond at $150,000 on Friday. Under the bail agreeement, Zimmerman must submit to GPS monitoring; forgo any contact with firearms, alcohol, drugs; and observe a curfew. Zimmerman would also have to check in with the authorities every three days.
Florida prosecutors had pushed for no bail at all or for bail to be set at a million dollars. "What it boils down to is he shot somebody," assistant prosecutor Bernardo de la Rionda told the judge. Zimmerman attorney Mark O'Mara requested that Zimmerman be allowed to live out of state, fearing for his safety, but Judge Lester said O'Mara would have to work that out with the state's attorneys. 
Zimmerman, who spoke briefly during the hearing, addressed the Martin family by saying, "I wanted to say I am sorry for the loss of your son."
UPDATE 43, 4:19 a.m. EDT, Monday, April 23: Zimmerman is free on bail
George Zimmerman was released from jail, wearing a bullet-proof vest, around midnight Sunday. It's not known where he will stay, but the Orlando Sentinel reports that he'll wear a GPS device while out on bail.
UPDATE 44, 2:30 p.m. EDT, Monday, April 23: Sanford police chief resigns; Zimmerman attorney apologizes for apology; prosecutor re-elected
Sanford Police Chief Bill Lee, who temporarily stepped down during the investigation of Trayvon Martin's shooting, is expected to leave his post permanently, according to city officials. Lee faced stiff criticism over his department's initial handling of the case, in which shooter George Zimmerman was left free on the night of the killing.
The city commission is expected to meet at 4 p.m. today to discuss the end of Lee's tenure. "They have a separation agreement and we have to approve it later on," city commissioner and Lee critic Mark McCarty told the New York Times today. "I am pleased that they have come to agreement for Mr. Lee to leave the chief's job."
In other developments, Zimmerman attorney Mark O'Mara issued an apology on CBS This Morning for his client's mea culpa to the Martin family during his bail hearing last week. Zimmerman's soft apology to the parents of Trayvon Martin had been criticized for its lateness; lawyers for the family also said Zimmerman had chosen an inappropriate forum to address them for the first time. O'Mara said he regretted the statement. "Had I known or been told that that wasn't the time, it wouldn't have happened," he said. "So I apologize for that."
Finally, Angela Corey, the special prosecutor appointed to the Trayvon case by Florida Gov. Rick Scott, won automatic re-election to her post as the Jacksonville-area state attorney today when no challengers filed for the November ballot. Corey, a Republican, has served the area as its top state prosecutor since 2008.
UPDATE 45, 6:50 p.m. EDT, Friday, May 11: Trayvon Martin gun targets sold on the Internet
A stomach-turning development: As we report on the MoJo blog today, some unidentified entrepreneur aimed to make money online by selling paper shooting targets depicting Martin. The image on the target has Skittles and a can of iced tea tucked under the arm of a hoodie—with crosshairs over the chest, the place where Zimmerman shot Martin at point-blank range.
UPDATE 46, 7:10 p.m. EDT, Thursday, June 21: New evidence released, including police reenactment video
Does George Zimmerman's story add up? New evidence released by his defense team raises more questions about his account of what transpired the night of the shooting. Read an analysis of the newly released material and watch Zimmerman's reenactment video here, and decide for yourself what it reveals about his case.
Explore all the primary documents, reports, and press releases from the Sanford Police Department related to the Trayvon Martin case, including the initial police report on Trayvon's killing. Or jump to the collection of videos below.
---
ABC News examines "enhanced" police video that apparently shows injuries to George Zimmerman's head.
---
Al Sharpton's show on MSNBC aired a close-up of Zimmerman on police surveillance video on April 9 that seems to contradict the "enhanced" video ABC aired on April 2. While ABC's close-up seemed to show injuries to George Zimmerman's head, MSNBC's video close-up does not.
---
In an awkward interview with CNN, George Zimmerman defender (and fellow neighborhood watchman) Frank Taaffe adds fuel to the racial fires by insisting that "young black males" were up to no good in his "neighborHOOD." Asked whether he and Zimmerman were fixated on black men as potential criminals, Taafe responded: "Well, you know, there's an old saying: If you plant corn, you get corn."
---
A walk-through of the scene where Trayvon Martin was shot:
Video analysis of the townhouse development where the killing took place, narrated by TheGrio.com managing editor and MSNBC contributor Joy-Ann Reid.
---
Fox 35 TV in Orlando interviews George Zimmerman's father, Robert. "I hope that my son can go on and do something with his life," he says. "It's just very, very sad."
---
President Obama refrained from public comment on the Trayvon Martin case for almost a week after it had blown up into a national news story. His comments in answer to a reporter's question on March 23 made instant headlines: "If I had a son, he'd look like Trayvon."
---
Hundreds of protesters gathered in New York City on March 21 for the "Million Hoodie March," a memorial of sorts for Trayvon Martin. Mother Jones was on the scene and captured video of the protesters demanding justice for Trayvon:
---
ABC News reported that a 16-year-old girl spoke on the phone with Trayvon Martin just before he was killed, and she said Martin was evading the pursuer who would eventually kill him:
---
A neighbor of George Zimmerman's and a fellow night watchman in the neighborhood told NBC Zimmerman believed he was protecting the townhouse development when he shot Trayvon Martin:
---
It wasn't until Monday, March 19, that White House spokesman Jay Carney answered a question about the Martin shooting for the first time: