Fight disinformation:
Sign up
for the free
Mother Jones Daily
newsletter and follow the news that matters.
If you are a fly-fisher, a rafter, or heck, just a person who drinks water, here is some troubling news: Our waterways are in rough shape. An eye-opening new report (PDF) from Environment America Research and Policy Center finds that industry discharged 226 million pounds of toxic chemicals into America's rivers and streams in 2010. The pollution included dead-zone-producing nitrates from food processors, mercury and other heavy metals from steel plants, and toxic chemicals from various kinds of refineries. Within the overall waste, the researchers identified 1.5 million pounds of carcinogens, 626,000 pounds of chemicals linked to developmental disorders and 354,000 pounds of those associated with reproductive problems.
In the report are a few goodies (or baddies, really) that are worth ogling. First up, there's this map of the most heavily polluted waterways in the United States, broken down by state: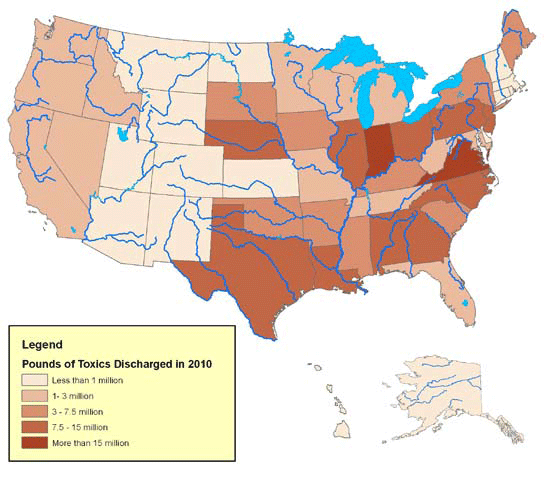 And if you're curious about which waterways suffer from the most pollution, here's the top 10:
Finally, a list of the top 20 polluters—composed mostly of steel manufacturers, chemical plants, and food processing operations:
It's important to note that the vast majority—if not all—of these releases are perfectly legal. I reached out to all of the companies on the list above and received a response from several. They all basically told me the same thing: "All discharges meet permit requirements," Cargill said. "This is a natural process that is fully licensed, and included as part of our wastewater discharge reporting," echoed McCain Foods.
We'll have to take their word for it, since the companies are not required to release the results of their chemical safety testing to the public, nor do they have to reveal how much of each chemical they are releasing. The Clean Water Act doesn't even apply to all bodies of water in the United States; exactly how big and important a waterway must be to qualify for protection has been the subject of much debate. Rivers get the big conservation bucks; they're the waterway equivalents of rhinos and snow leopards. But pollutants in oft-neglected ditches, canals, and creeks—the obscure bugs of the waterway world—also affect ecosystems and our drinking water quality. Sean Carroll, a federal field associate in Environment America's California office, estimates that 60 percent of US waterways aren't protected. "The big problem," he says, "is that we don't know how big the problem is."
The situation has gotten slightly better since the last time Environment America conducted a study; overall waterway pollution decreased by 2.6 percent from 2007 to 2010. There's still a lot of room for improvement, Carroll says. Environment America is calling on Obama to extend the protections offered by the Clean Water Act before the end of his first term. A list of the group's specific recommendations is here.