Fight disinformation:
Sign up
for the free
Mother Jones Daily
newsletter and follow the news that matters.
Hurricane Irene has forced organizers to delay the dedication ceremony for the new memorial to Dr. Martin Luther King Jr. on the National Mall, which was originally scheduled for this weekend. But before the cancelation, I was a bit surprised to see BP, of all companies, tweeting about it yesterday: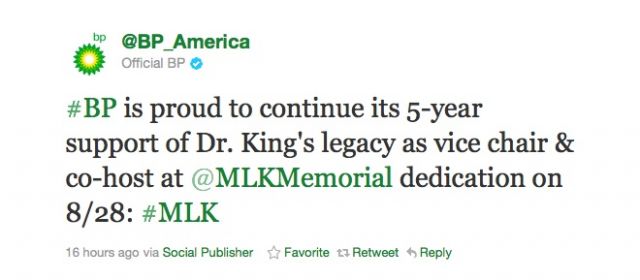 Well, sponsorship of a memorial to a civil rights hero is certainly better than befouling the Gulf of Mexico or killing polar bears. But doesn't it strike you as a little odd that BP—or any corporation, for that matter—is sponsoring a monument on the National Mall? Actually, it turns out that the monument has a long list of corporate sponsors—the General Motors Foundation, Chevrolet, the Tommy Hilfiger Corporate Foundation, Aetna, Boeing, BP, Coca-Cola, Delta Air Lines, GE, McDonald's, Travelers, and Walmart.
I'm not entirely opposed to corporations giving support for good causes. It just makes me uncomfortable that those corporations can use this as a badge of honor, evidence that they are responsible, compassionate members of the community. They can dump money on good causes instead of actually living up to the morals that Dr. King stood for.
I'm surely not alone in wishing that BP would, perhaps, also consider compensating the victims of the Gulf oil spill that they've ignored, many of whom are poor people or members of minority groups. Or McDonalds could serve healthier food in low-income communities. Or Walmart could offer decent wages and benefits to all of its employees.
I'm not really sure how common corporate sponsorship is for memorials on the Mall these days; I sent in a few questions to the foundation behind the memorial, but haven't heard back.
Meanwhile, the Atlantic is keeping track of other gripes about the MLK memorial.