Fight disinformation:
Sign up
for the free
Mother Jones Daily
newsletter and follow the news that matters.
The Center for Public Integrity has an eye-opening report on the Environmental Protection Agency's poorer-than-thought track record enforcing the Clean Air Act. The report comes out of an investigative team at the Center for Public Integrity's iWatch News, and NPR, which delved into reams of EPA documents, federal and state data, interviewed with former officials, and dispatched reporters to 10 different states. The investigation reveals a grim picture of how declining EPA funding, staff cutbacks, and flawed enforcement structures have contributed to the agency's ability to regulate the most egregious toxic air polluters.
It's a must-read no matter where you live in the US because, for one, you can locate 17,000 toxic air polluters near you on an interactive map: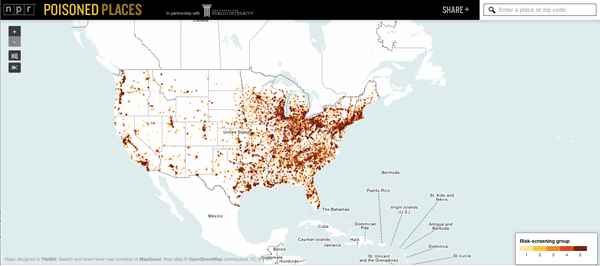 Noteworthy among the iWatch and NPR's findings:
The EPA has specific limits on seven air toxins—including the familiar asbestos, benzene, and mercury. The Clean Air Act, however, covers 180 other chemicals, and those are loosely regulated under sector-wide laws, despite the chemicals' proven links to cancer, birth defects, brain impairment, respiratory disease, among other maladies.
Today, states receive about $200 million a year in federal grants, or about 25 percent of what it costs states to enforce private compliance with the Clean Air Act. When the act first went into effect in 1990, federal funds supported 60 percent of the cost.
The funding cutbacks have resulted in local environmental protection agencies relying on voluntary pollutant emissions reporting by industry players, which, as you might imagine, has made for some weak data. Mike Fisher, deputy director of the EPA's office of criminal enforcement, tells iWatch that of some 120 ongoing Clean Air Act cases his department manages, 90 percent involve polluters trying to mislead regulators.
In all, the EPA knows of more than 1,600 "high priority violators" of the Clean Air Act, a quarter of which appear on the internal EPA watchlist. Previously undisclosed, the list includes more than 383 chronic US polluters, ranging from chemical companies to corn processors, paint stripping operations, and tire makers spanning across the country. Among some of the more recognizable names are ArcelorMittal, Boeing, and Huntsman Corp., owned by the family of former Utah governor and ambassador to China Jon Huntsman. Now that the list is public, you can sift through them yourself:
More than anything, the report serves as a reminder that wherever the ongoing Congressional debate over the EPA and Clean Air Act lands, the health of entire communities hang in the balance.