Fight disinformation:
Sign up
for the free
Mother Jones Daily
newsletter and follow the news that matters.
This series was originally published online by OnEarth magazine. Follow continuing coverage of the story at OnEarth.org.
Part 1: The whistleblower
I rolled to a stop and cut the engine. John Bolenbaugh leaned forward in the passenger seat and surveyed the scene. "We can walk over there," he said, and we stepped out onto a gravel track overlooking a marshy bottomland behind Sheet Metal Workers Local 7 in Marshall, Michigan. The town's water tower sprouted on the horizon behind us, and ahead, in the distance, we could just make out the beeping of backup warnings and the rumble of diesel engines. We unloaded Bolenbaugh's ubiquitous supplies—a rake, a digital video camera, the day's newspaper, and a pair of surgical gloves—and set out across the soggy ground. As we tromped to the edge of a wide pond, we could see a line of blaze-orange temporary fencing and, on the other side, a crew on track excavators and wheel-loaders digging out nearby Talmadge Creek. At the water's edge, Bolenbaugh switched on his camera. It was late November 2011, just before Thanksgiving, and the crisp air carried the first hints of winter—but Bolenbaugh, without pause or warning or a single thought for the cold, waded out knee-deep into the pond.
Almost every day for more than a year, this had been Bolenbaugh's daily activity—shooting video of the slow-going cleanup of one of the worst inland oil spills in American history. And on that day he wanted me to see "ground zero," the exact spot where, in late July 2010, an underground pipeline owned by Canadian-based Enbridge Inc., ruptured and spilled more than a million gallons of crude derived from the Alberta tar sands—enough to flow out of this pond into the distant creek and on to the Kalamazoo River. A former cleanup worker himself, Bolenbaugh was fired in October 2010 by Enbridge contractor SET Environmental, because, Bolenbaugh says, he refused to follow top-down instructions to cover up oil.
His whistleblower lawsuit, which accuses SET of wrongful dismissal, went to trial last Wednesday. In pretrial motions, SET attorneys moved to exclude any mention of an oil cover-up, but James C. Kingsley, judge for the 37th Circuit Court of Michigan, ruled that the question is fundamental to Bolenbaugh's whistleblower claim—and, therefore, a matter for the jury to decide.
Thus, this case could provide a judgment—perhaps the only official judgment, since federal regulators have largely looked the other way—on Enbridge's handling of the whole oil spill. That determination is about far more than legal finger-pointing. Roughly 20 percent of America's crude oil, according to the US Interior Department, is now imported from Canada, and most of that is derived from tar sands. With the national jobless rate still high, more and more Americans are willing to accept the environmental and health risks associated with pipelines that carry tar sands crude. And as oil prices continue climbing, Canadian companies are racing to cash in. Enbridge is poised to become the largest transporter of tar sands crude in the country, and its top competitor, TransCanada, is seeking to build the controversial $7 billion, 1,700-mile Keystone XL pipeline across the Great Plains to refineries on the Texas Gulf Coast.
Enbridge, the company that operated the ruptured pipeline, is poised to become the largest transporter of tar sands crude in the country.
As people in Nebraska and elsewhere fought to stop the Keystone XL project last year, staging mass protests at the White House and forcing President Obama to delay a decision until after the November election, they looked toward the Michigan spill as a cautionary tale about what could happen to their own communities if a tar sands pipeline failed and polluted their land and water with vast quantities of chemical-laden crude. With so much at stake, it's imperative to know: Are Enbridge's practices hazardous, incompetent, and laced with deception—or not? And with the safety of tar sands in general increasingly at the center of our national energy debate, what happens in a Battle Creek courtroom this month could prove a defining moment—not only for election-year politics but our larger energy future.
Bolenbaugh, for his part, has been single-minded about proving his claims. He has doggedly patrolled sites already certified as clean by Enbridge and the Environmental Protection Agency, regardless of whether the land is public, owned by Enbridge, or otherwise privately held. Enbridge swore out a warrant for trespassing against Bolenbaugh shortly before I met him in November—and had him taken into custody by a county sheriff's deputy immediately following the hearing on December 12 at which Judge Kingsley decided there was enough evidence for Bolenbaugh's lawsuit to proceed. (The trespassing charge was eventually dismissed.)
But what has drawn the most attention from Enbridge has been Bolenbaugh's uncanny ability to win the trust of private landowners who fear that officials from the oil giant are lying to them; his access to their land has allowed Bolenbaugh to mount a one-man watchdog campaign via his YouTube channel. Armed with a digital camera and a machine-gun delivery of baiting, rhetorical questions, usually directed at cleanup workers ("What do you think of Enbridge covering up oil? Who do you think should pay for killing our fish and poisoning our river?"), Bolenbaugh's caustic style has made him a divisive figure among locals—a selfless hero to some, a self-aggrandizing crusader to others. Enbridge claims that Bolenbaugh has had no effect on its cleanup efforts, but his picture (square-jawed with wild blue eyes and wearing an orange vest) hung for months inside the security box at the entrance to the Enbridge staging site under the heading: "All Personnel Be Alert."
Is Bolenbaugh a legitimate whistleblower who refuses to look the other way or, as his critics deride him, a wack-job whose motor mouth finally got him fired?
Even after countless conversations, I sometimes find it hard to tell whether Bolenbaugh is a legitimate whistleblower who refuses to look the other way or, as his critics deride him, a wack-job whose motor mouth finally got him fired. Is he more focused on holding Enbridge to account for its crimes or atoning for his own criminal history—a dark past he would just as soon not talk about?
And yet, what he has captured on video is difficult to ignore. In one YouTube post after another—more than 100 of them on his channel now, most between 10 and 30 minutes long—Bolenbaugh wades into the waterways around Marshall and Battle Creek, rakes the bottom or upturns the bed with a shovel, and then runs his gloved hand through the chemical sheen. And again and again, he lifts his hand to the camera, the latex tarred with the sticky slime of extra heavy crude.
On that November day, as he waded out into the pond behind the Sheet Metal Workers shed, Bolenbaugh began to narrate like a well-practiced tour guide. "See all this water? At one time this was 100 percent pure tar sands oil." He pointed out the rings on surrounding trees to mark the high-point of the flow. "It had to be so high to be able to reach the creek," he said. "See where those trees are? That's where it entered the creek and went all the way to the Kalamazoo River and then another 40 miles at least." Enbridge and the EPA had earmarked this site as 100 percent cleared of oil months before, but as Bolenbaugh tromped through the water, stirring up the bottom, the surface began to swirl with a rainbow luster, and the air filled with a sharp chemical smell. The glove test was a formality—but Bolenbaugh skimmed the surface anyway, flexing his fist as if he were squeezing a stress ball, and came up with a coated palm.
He held his hand out to show me. "It's oil," he said.
* * *
Just before 9:30 p.m. on July 25, 2010, the Calhoun County Consolidated Dispatch Authority in Marshall, Michigan, began receiving phone calls complaining of an overpowering smell near Talmadge Creek. The first caller reported a "very, very, very strong odor of either natural gas or maybe crude oil." Emergency dispatchers believed that it could be a pressure release from a nearby relay station for a local natural gas line. But within half an hour, the smell near the corner of Division Drive and Brooks Drive, just north of Talmadge Creek, was choking.
"I called a few minutes ago about the gas fumes on Division Drive," one woman told the 911 dispatcher. "They're getting much stronger. Is there any word? Is it safe? I mean, our house is, like, asphyxiated with the gas smell."
Three firefighters were sent to the area and agreed that the strange odor was unmistakable—but the gas company insisted that there was nothing wrong with its lines, and the firefighters' monitoring equipment showed no evidence of natural gas. "It's a different smell than what natural gas is," one of the firemen phoned in. "It almost smells like crude oil."
What the firemen on the scene didn't know was that they were standing directly above a portion of Enbridge's 6B pipeline, which had been switched off and was, at that moment, in the middle of what the company says was a routine pressure test. Line 6B is part of a massive international pipeline complex, connecting the 1,400-mile Enbridge System, originating in the Alberta tar sands, to the 1,900-mile Lakehead System, which stretches from the border near Neche, North Dakota, to refineries ringing the Great Lakes. The 6B portion—reaching from the terminus of 6A in Griffith, Indiana, to one of the company's refineries in Sarnia, Ontario—is also among the most troubled sections in our nation's gopher-like system of pipelines.
Manufactured by an Italian company in 1969 and repurposed by Enbridge in 2005 to carry heavier-grade tar sands oil, Line 6B had displayed "metal loss" during a magnetic flux leakage test conducted in October 2007 at the area that would eventually rupture. That assessment also found 140 anomalies along the line that were severe enough that they fell under federal regulations requiring pipeline operators to make repairs within 180 days or reduce pressure on the line. An additional 250 such anomalies were found when the section was reassessed using ultrasonic technology in June 2009. Enbridge made 26 repairs following the 2007 test, and 35 more after the 2009 assessment, but when Line 6B finally burst in Marshall in July 2010, 329 of those anomalies had yet to be addressed. In fact, Enbridge had decided the required fixes were so extensive that on July 15, 2010—just 10 days before the Talmadge Creek spill—Enbridge had requested additional time from the Pipeline and Hazardous Materials Safety Administration, the division of the Department of Transportation that oversees the nation's oil lines, in order to submit what the DOT described as "an alternative remediation plan for metal loss anomalies found in this survey to consider pipe replacement instead of repair."
Unfortunately, the firemen looking for the source of the gas smell had no idea that the aging Enbridge pipe was in such dire condition, so they headed back to their vehicles. "After checking the area," according to the Marshall Township Fire Department incident report filed that night, the firefighters "came in contact with an Enbridge employee who agreed that it smelled more like a petroleum smell and that he thought it was coming from the Clark Oil holding tanks. One of the firefighters made the comment that it smelled more like crude oil and the Enbridge employee then stated he still thought it was coming from Clark Oil." Enbridge President and CEO Patrick Daniel later denied this report—issuing the plain statement: "There were no Enbridge employees on the site." (The National Transportation Safety Board, which investigated the spill, later stated that the firefighters had mistaken a local gas utility worker for an Enbridge employee). Either way, it seems clear that Line 6B had ruptured during the shutdown for the pressure test and was leaking crude into the marsh behind the Sheet Metal Workers shed, but, unable to find any signs of a spill in the darkness, the firefighters cleared the area and returned to the station house.
Shortly after 4 a.m. on Monday, July 26, Enbridge reopened the valves on 6B. An alarm sounded in the control room in Edmonton, Canada, indicating a flow imbalance between the Marshall station and the Griffith station: The level of oil at one end of the pipe didn't match the level at the other end. Instead of shutting down the pipe, a company analyst, convinced this had to be a bubble in the flow, decided to add pressure from another pump station at Mendon. When that didn't work, the line was shut down.
The elaborate patchwork of pipelines in North America is made up of varying gauges of pipe, carries crudes of differing viscosity, and runs at inconsistent angles. To keep everything moving evenly and in the right direction, pump stations regulate flow. Low viscosity light crude oil surges easily through almost any gauge pipe, so there is little problem with stopping and starting the flow. But tar sands crude must be chemically diluted just to reduce the viscosity enough to make it move through the pipe. Stopping the flow creates "column separations"—gaps in the tube—that must be surmounted by applying additional pressure.
In a group discussion just after 6:30 a.m., the control center shift lead and the pipeline controller agreed with the analyst that the shutdown had caused just such a bubble in the pipe, and they simply didn't have enough pressure to overcome it. No one seems to have floated the possibility that pressure was dropping in the pipe for a simpler reason—a hole—much less that increased pressure would send thousands of gallons of oil gushing through. So, at 7:10 a.m., the line was started once again, and more and more pump stations were brought online, pushing the flow harder and harder.
Meanwhile, on the ground in Michigan, emergency lines were swamped with calls. Morning commuters as far away as Battle Creek were reporting a terrible smell. One caller told 911 that "the whole downtown is smelling like gas." Finally, at 9:49 a.m., the control center in Edmonton asked a local technician to visit the pump station. According to documents Enbridge supplied to the National Transportation Safety Board, the technician found no signs of trouble, prompting a controller in Edmonton to call the regional manager to ask about population density around the Marshall station. They had begun to suspect a leak, but if there was a spill, wouldn't their technician smell something, and wouldn't phone lines be jammed?
Less than two hours later, the control center received a call from Consumers Energy, the local gas company. The utility's employees were onsite near the pump station, responding to 48 customer complaints on their own help line alone. The pipeline controller closed block valves upstream and downstream of Marshall, and the Enbridge regional manager dispatched a technician to investigate the specific area. But at 11:39 a.m., it was a technician from Consumers Energy who phoned 911. "Hi, I need to report that you have a crude oil leak in your city," he said. When the dispatcher asked where, he replied, "Division Road in Marshall. We've been called out for a slew of gas leaks; our service people have found a creek filled with black oil."
* * *
Even after the report that Talmadge Creek was brimming with crude, even after an Enbridge worker phoned to confirm, it took engineers at the control room in Edmonton nearly two hours to call the National Response Center, the US government's communications headquarters for reporting "all hazardous substance and oil spills." It was close to 1:30 p.m., some 16 hours after the first 911 calls, when an Enbridge controller finally told a hotline worker that there had been a leak in Marshall. Containment booms had already been deployed on Talmadge Creek, but the size of the release—Enbridge's analysts soon estimated 819,000 gallons—meant that the black sludge had already pushed two miles downstream to the confluence with the Kalamazoo River.
Even after the report that Talmadge Creek was brimming with crude, it took engineers at the control room in Edmonton nearly two hours to call the National Response Center.
For reasons still unclear, Enbridge denied that the spill was diluted bitumen derived from tar sands, implying that 6B had leaked ordinary crude oil. Indeed, Enbridge's CEO Patrick Daniel continued to deny that the pipeline had carried tar sands oil even when pressed by an OnEarth reporter several days after the spill (see "Michigan Oil Spill Increases Concern Over Tar Sands Pipelines," August 6, 2010). Only amid media reports that the company was covering up the nature of the release did Enbridge executives come clean.
The distinction between standard crude and tar sands oil is more than mere semantics; it determines everything about how proper cleanup is undertaken. Most crude oil floats, so its spread can be halted with containment booms—essentially a chain of buoys with a weighted, plastic skirt hanging below the surface to create a barrier. But bitumen derived from tar sands is heavier than most ordinary crude. According to Alberta government authorities, it has a density greater than 960 kilograms per cubic meter; at approximately 1,000 kilograms per cubic meter, oil is classified as "extra heavy" because it no longer floats. Enbridge insists that its bitumen is "upgraded" to the weight of light crude, but now, after more than a year and a half of cleanup, the company can no longer deny that in a spill like the one in Michigan, unknown amounts of submerged oil sink to the bottom of waterways or hang suspended below the level of the skirting on standard containment booms and sweep downstream on the current.
Also, ordinary crude oil has relatively low viscosity, so it flows easily through a pipeline. Tar sands bitumen requires heating and chemical treatment to make it flow. According to Enbridge's own Material Safety Data Sheet, its crudes contain levels of n-hexane, a hydrocarbon that can cause peripheral nerve damage (the onset of which "may be delayed for several months to a year"), and benzene, which is known to cause leukemia. Other chemicals include hydrogen sulfide, which causes eye and respiratory irritation even in low doses, and toluene, which can cause liver and kidney damage. All of these chemicals are colorless, tasteless, and spread easily in flowing water.
In September 2010, Michelle BarlondSmith, a resident of Baker Estates, a mobile-home park six miles downriver from the spill site, testified before a congressional hearing in Washington, DC, that she knew two children, ages 3 and 8, who had been hospitalized with hydrocarbon poisoning after the spill. She described how the Health Department had arranged meetings at the trailer park, but representatives from Enbridge were no-shows. When Enbridge officials finally did arrive, they came at night, spoke to residents individually, and assured them that they would be fine if they simply set up an air filter in their trailers. In return for providing a filter—and a few dollars for damages (a little for lost gardens, a little more for sick children or pets)—these men produced a form for residents to sign, waiving their rights to future claims against Enbridge. "Many of my neighbors," BarlondSmith testified, "believed that this would keep them from becoming ill and they signed waivers." But the air filters turned out to be off-the-shelf purifiers apparently purchased by Enbridge employees from the local Walmart.
It's clear today that the initial spill response undertaken by Enbridge on Talmadge Creek and the Kalamazoo River was not appropriate for containing submerged oil, much less the toxic chemicals diluting it. To make matters worse, Enbridge's estimate of 819,000 gallons severely underreported the release. According to EPA data issued on March 7, 2012, about 1.15 million gallons have been recovered—and the cleanup is expected to continue through the summer. In short, Enbridge underestimated the spill by nearly a third, so the first wave of cleanup workers summoned to Michigan was severely outmatched.
* * *
John Bolenbaugh was away in Florida when the rupture occurred. A representative from Construction Laborers' Local 355 in Battle Creek called to tell him he was needed for work back home on Monday morning, so Bolenbaugh made his way up to Michigan that weekend. When he arrived, he found his mother's house—where he also lived at the time, renting out the downstairs—was overpowered by oil fumes, though it sat 20 miles downriver. Fish and water birds were dead. Even the mosquitoes had been driven away by chemicals in the water. Still, Bolenbaugh saw an opportunity. He had worked with his brother the year before for Extreme Environmental, first on the Rockies Express Pipeline in Ohio and later in South Dakota, taking out fence lines and rebuilding them to make way for TransCanada's Keystone 1 pipeline. The Enbridge spill might mean an opportunity for a man with his experience to move up.
Bolenbaugh quickly landed a job through the union with Roberts Pipeline, an Indiana-based company contracted to set up staging areas for the heavy equipment, arriving by truck and by rail, to suck up and truck away oil. Bolenbaugh helped lay down the gravel for the yard, cleared areas for receiving container loads of supplies, and then was put in charge of signing out equipment—from containment boom to shovels to insect repellent. "Whatever you needed," Bolenbaugh told me. "I was the guy you came to."
On July 30, four days after initial reports, Enbridge announced that the spill had been contained, and the crew excavating the leak site unearthed the damaged section of pipe. A seam had ruptured in a classic "fish mouth"—pursing outward from extreme internal pressure, like a pair of pouty lips. The crew began work to reconnect the pipeline and on August 9—just two weeks after the spill—Enbridge requested permission from the Pipeline Administration to restart 6B. At a gathering of a hundred concerned residents, John Porcari, deputy secretary of the US Department of Transportation, announced that the request had been denied. "We're not agreeing at this point on a restart plan," he said, adding that 6B might take months if not years to reopen. If Enbridge wanted to restart the flow, it first needed to present a plan to ensure such a spill never happened again.
In late August, Bolenbaugh was made the temporary yard boss of the staging area. His Enbridge supervisor had to go back to Canada, and—while the new supervisor and a Canadian crew were en route—it was his job to run things. "I was given the top position of the whole entire yard. I mean, my jaw was down to here," Bolenbaugh told me, pantomiming his surprise. "But the union people didn't like that, because there's union foremen, and I skipped above everybody. I was now the top guy in charge of my bosses."
Some of Bolenbaugh's coworkers later maintained that it was not jealousy that got under their skin but Bolenbaugh's braggadocio. He never let anyone forget that he had wrestled in high school and college, and then served in the Navy for two years in the Persian Gulf, earning a bronze star and leaving with an honorable discharge. But his supervisor remembered that Bolenbaugh's stories seemed to grow and grow until they were "impossible to believe, ranging from stories about captaining air craft carriers at 18 to being ranked the toughest man in America at one point in time. Just about any topic of conversation brought up, John claimed to be…the best at it in the world." Even his claim of being yard boss, coworkers say, is exaggerated. After all, he was on temporary status; as soon as the team arrived from Canada, Bolenbaugh was laid off with the rest of the local crew.
* * *
Not long after he was laid off from Roberts, Bolenbaugh called Andy Saylor, a project manager at SET Environmental whom he had met while working in the yard. Saylor told Bolenbaugh that SET, another Enbridge contractor headquartered near Chicago, had openings, and the company soon hired him on. Bolenbaugh was reclassified as a cleanup technician and assigned to the Shoreline Cleanup Assessment Team, or SCAT.
One day when his crew was hauling up oil-soaked logs and transporting them to the EPA dumpsite, Bolenbaugh's overloaded airboat started taking on water, so the crew supervisor ordered Bolenbaugh and his coworkers to dump the load on the bank. At shift's end, Bolenbaugh asked when they would return to retrieve the logs. His supervisors assured him that the second crew would clean them up the next morning, but in the morning the second crew was working alongside Bolenbaugh's crew. Bolenbaugh says the thought of the oil-soaked logs gnawed at him. He returned later in his truck and found the logs still there; he spent two days loading the wood and hauling it out on his own. This sort of thing earned Bolenbaugh a reputation with his SET bosses—and made him unpopular with some coworkers—but when supervisor Shaun Dekker inquired with site managers he heard, according to his own report, "that John liked to talk to[o] much but was a hard worker."
If Bolenbaugh was making noise, he contends it was only because Enbridge—and its many contractors—were starting to cut corners, and the government was looking the other way. Just two weeks after John Porcari's pronouncement that it could take years to restart 6B, the Department of Transportation reached an agreement with Enbridge. Should Enbridge promise to repair all known anomalies in 6B and a complete replacement of thousands of feet of pipe running under the St. Clair River, near Detroit, the pipeline could resume at a reduced flow on September 27. But then an investigation by the Michigan Messenger, a Kalamazoo-based alternative weekly, uncovered the employment of scores of undocumented workers by Hallmark Industrial, yet another Enbridge contractor. The paper also found what appeared to be numerous violations of OSHA guidelines on the jobsite. Enbridge was forced to fire the contractor—and lose hundreds of workers. Still, Enbridge wasn't about to miss the September 27 deadline. With 6B's daily capacity at nearly 300,000 barrels, the closed-off pipe was costing the company more than $8.7 million per day.
On Monday, September 6, Jason Buford, a representative from O'Brien's Response Management (another Houston-based contractor, specializing in crisis management) called a meeting of Bolenbaugh's crew, just upriver from the former Hallmark site; he said that, if they were going to meet deadline now, they needed to stop wasting time with small oil-clogged areas. He directed Bolenbaugh's crew to go through the woods, thin out oily debris, and mix mud into the remaining oil so that the EPA would clear the site. Dave Hoekstra, one of Bolenbaugh's supervisors, confirmed under oath last October that Buford "told us to spread oily debris in the woods out thinner so it would look less like there was thick oil there." Buford said they should clean up larger pockets of oil, Hoekstra recalled, but if they encountered smaller tar balls caked with twigs or leaves he wanted them "just to hit it with a rake and spread it out." (Asked in depositions about this practice, Hoekstra said, "That's not the proper way to clean it up.")
Bolenbaugh complained to John Duncan, another supervisor for SET Environmental, asking if he was really compelled to follow the instructions of an O'Brien's foreman. That night, Duncan called a meeting of his workers. "His exact words," Bolenbaugh told me, "were: 'If your conscience bothers you, you do not have to cover up oil.'" (Hoekstra confirmed this in depositions, but Enbridge has since issued a statement, insisting that O'Brien's was not acting on instructions from above, as "we would never instruct a contractor to hide oil.") Bolenbaugh says this was the moment he realized he needed to document what was going on. "I knew right then that SET was doing whatever they were told to do," he recalled in a deposition. "If you felt wrong about it, don't do it, but if you could handle covering up oil and it didn't bother you, go for it."
Days later, Duncan directly instructed Bolenbaugh and a coworker named J.T. to spread cut grass over thick oil. Bolenbaugh got out his BlackBerry and started taking pictures. It was 4:08 p.m., according to the time-stamped photos—the end of a long day—and Bolenbaugh says that Duncan was choosing to cover the oil rather than refresh supplies of oil-absorbing foam squares. Duncan later insisted to SET officials that he was simply trying to improvise with what he had at hand, that the grass was "a temporary fix," and he intended to return to the site to complete the cleanup the following morning.
But the next morning, when the crew did not return to the site, Bolenbaugh got angry—and he started running his mouth. He threatened to go to the press—to tell them what Jason Buford had instructed them to do, what Duncan had done the night before. He said he had SET supervisors on video telling him to level dirt over oil that was seeping out of an island, rather than digging out the area as they should. Line 6A, the companion pipe to 6B, had ruptured in Romeoville, Illinois, just days before—spilling roughly 378,000 gallons of oil into the Chicago suburb, barely 40 miles from where SET is based. How would people there feel about SET covering up for Enbridge?
Somebody called SET Supervisor Andy Saylor, who texted Bolenbaugh directly to say that he was on his way from Chicago to address the situation. "I thought he was going to fire John Duncan for telling us to do an illegal activity," Bolenbaugh later remembered during depositions, but when Saylor arrived, "he yelled at me saying, 'You cannot go to the press.'"
Bolenbaugh remembers going flush in the face. He countered that he had checked company policy, and he was permitted to shoot photographs and video. Bolenbaugh says Saylor pointed a finger at him.
"One more word," Saylor said, "and you are fired."
* * *
Looming over Saylor's confrontation with Bolenbaugh was the EPA's September 27 cleanup deadline, and it appears that Enbridge and its contractors were feeling the pressure as it drew near. In early September, after the Michigan Messenger published its exposé on the use of undocumented workers by Hallmark Industrial, another group of workers employed by a different Enbridge contractor came forward with detailed stories of how they had been instructed to conceal oil at the same site. Workers would land on an island, they said, remove all vegetation, and then lay out absorbent pom-poms, all per EPA regulations. But once the top layer of oil was absorbed, they were instructed to rake dirt over the area to make it appear as though it had been dug out. One worker described his supervisor showing him the process step-by-step, concluding with sprinkling a thin layer of dirt on top. "He said, 'There, now they can't see it. It is clean,'" the worker told the Messenger. Another worker described being told to cover pockets of oil with leaves and sticks. As a last step, such areas were cordoned off with caution tape.
With so many questions about how Enbridge handled the initial spill and its subsequent cleanup, perhaps it's no surprise that the company and its contractors preferred to remain silent when I tried to talk to them. On several occasions while reporting this story, I approached current SET employees—cleanup workers, site supervisors—to ask about the spill response and Bolenbaugh's allegations, but every time they said they had been instructed not to talk. Last month, at my request, one supervisor radioed SET's local office and was told to refer me to Jason Manshum, Enbridge's senior adviser for community relations. I met briefly with Manshum in Marshall and scheduled an appointment with him for the next day. I told him I was hoping for someone who could take me on a site visit to Talmadge Creek. He said he would see what he could do—but when I returned the next day, he had left town. When I asked his secretary to check his schedule to see if he had ever actually intended to meet with me, the office's mountainous security guard put down his copy of Cat Fancy, rose from behind his desk, and stood at my side until I left. I wrote a follow-up message to Manshum from the parking lot. He replied that night, nearly a month ago now, to say that he was "working on some information to e-mail you based on your general inquiries." I never heard from him again.
After Bolenbaugh's confrontation with Andy Saylor in late September, his crew moved to a new worksite on Talmadge Creek, just upstream from where it enters the Kalamazoo River. Bolenbaugh knew that he could lose his job for speaking to anyone about what he had seen, but he also knew that 6B was set to restart the next day, with EPA approval. He stewed that the area where he knew oil had been covered up was about to be certified as clean. Bolenbaugh was thigh-deep in water, rake in hand, churning the bottom, as he told me the story. "I actually worked in this," he said. "I walked this entire, two-mile creek. In it. We had to go through—in it—and rake. And while we were raking, oil was gushing up." According to Bolenbaugh, he approached John Verlac, a site supervisor with the EPA, to voice his doubts. Verlac (who did not respond to my requests for an interview) said his supervisors had told him not to worry about that area, Bolenbaugh recalled.
The day after Bolenbaugh approached Verlac, on September 27, Enbridge was allowed to restart Line 6B. And no sooner had the restart commenced than Enbridge announced that cleanup on Talmadge Creek was complete and the company was now down to secondary cleanup of "residual submerged oil in nine silty locations." Mark Durno with the EPA confirmed that backfilling and restoration were beginning. Crews began planting native grass along the banks and stocking the creek with minnows.
Bolenbaugh was moved to the Ceresco Dam area—the largest of the nine pockets of submerged oil identified by Enbridge. By then, his nit-picky reputation (and big mouth) had earned him a permanent shadow in the person of Mike Blevine, a full-time Enbridge employee. Whether in hopes of keeping him quiet or in an effort to legitimately identify unrecovered submerged oil, Blevine invited Bolenbaugh to come on site-checks before the EPA came in October to review the remaining areas identified as containing submerged oil. Bolenbaugh, however, says he was shocked by the preparations he witnessed. The day before the final assessment of Ceresco Dam, Bolenbaugh says, containment booms were still slicked by submerged oil slowly coming to the surface, so SET workers were openly instructed to replace the old oily boom in favor of new bright-white boom "to make it look nice and clean because the EPA was coming out to check it."
I asked Bolenbaugh if he was sure; the ploy seemed so obvious.
He had no doubts. "It was to deceive the EPA," he told me.
Two days later, on October 14, the EPA cleared Ceresco Dam. Bolenbaugh went to Dave Murphy, another full-time employee at Enbridge—and spewed. He revealed that he had gone to the EPA, that he was going to the local news, that he was going to sue Enbridge himself. According to Bolenbaugh's own court deposition, he told Murphy he had no choice. "I have to go to the EPA and [the] press again," he said, "because Ceresco Dam we just left and it's completely full of oil and I live here and we're not going to allow this to happen. I'm going to do something about this." Bolenbaugh says now that Murphy listened quietly, smiled at him, and said to have a nice day.
Bolenbaugh said he had a video proving that "Enbridge Supervisors are not cleaning the oil up, instead, they are covering the oil up with grass, dirt, tarps."
The following morning, Murphy called Shaun Dekker at SET to recount his conversation with Bolenbaugh. Dekker entered into company records that Murphy "told me John said he was going to sue Enbridge and SET" and that Murphy "never wanted to see John around again." Dekker called Bolenbaugh's immediate supervisor, Andy Saylor, to report what he had heard. In a memo prepared for human resources that day, Saylor recorded that Bolenbaugh had been telling Murphy about video proving that "Enbridge Supervisors are not cleaning the oil up, instead, they are covering the oil up with grass, dirt, tarps," and that he was considering "submitting video and pictures to the local media."
At the request of SET human resources, Saylor wrote out a memo explaining that he had confronted Bolenbaugh who said "as long as he remains employed by SET, he will not submit the videos or pictures… SET viewed this as a threat and a violation of our Code of Conduct policy." Saylor also claimed that Bolenbaugh had used company gas for his personal vehicle the day before and that Bolenbaugh had twice sustained workplace injuries and continued working in violation of SET policy that workers present themselves "physically fit for duty." All were grounds for termination.
On October 15, less than three months after 6B ruptured and only 18 days after it started carrying tar sands oil again, John Bolenbaugh was fired.
Part 2: Buried Secrets
Dark clouds were rolling in—thunder cracking in the distance—by the time John Bolenbaugh and I broke through the pines on the north edge of Jim Monaweck's property and started down the bank toward Talmadge Creek. It was mid-March, some 20 months since the night in July 2010 when an underground pipeline owned by the Canadian energy goliath Enbridge Inc., spilled more than a million gallons of tar sands-derived crude into this tributary of the Kalamazoo River. Enbridge and the Environmental Protection Agency had declared this property clear of oil in September 2010, a mere two months later. But with the disaster's two-year anniversary approaching, evidence of an ongoing cleanup was everywhere: The water's edge was still lined with black plastic silt fencing reinforced with coconut mats, the creek bed itself was newly scraped and filled with fresh pea gravel, and the hillsides were piled with straw to absorb the mud churned up by the recent work of track excavators. Monaweck stood on the far side of the creek, wearing rubber knee-boots and raking out clods of dirt. Another clap of thunder rumbled.
"Gonna rain, ain't it?" Monaweck called out as we approached.
"Yeah, about ready to," Bolenbaugh replied. Monaweck is one of the dozens of residents with homes along these waterways whom Bolenbaugh has interviewed for his YouTube channel since being fired by SET Environmental in October 2010—a wrongful termination, Bolenbaugh says, for threatening to go to the EPA and the news media with his accounts of Enbridge's botched cleanup. After his firing, Bolenbaugh distributed hundreds of fliers, going door-to-door along more than 40 miles of Talmadge Creek and the Kalamazoo River, asking residents if they had seen oil covered up on their land, all in an effort to prove the truth of his claims. Bolenbaugh's whistleblower case is currently in trial in a state courtroom in neighboring Battle Creek, and its outcome will hinge on a simple but fateful question: Did Enbridge and its contractors engage in a willful cover-up in the wake of one of the worst inland oil spills in US history?
"Guess what they did in court the other day with me," Bolenbaugh called out to Monaweck. "They filed a motion that we couldn't talk about the Enbridge or SET oil cover-up in any way, and we can't show any videos to the jury. And the judge said, 'Are you joking?'"
"What judge you get—Kingsley?" Monaweck asked.
"Yeah, he said we can show the videos, and we can talk about the cover-up. But they tried that," Bolenbaugh said, disbelief, even at this stage, creeping into his voice. "They was actually hoping that the judge would say, 'Nope, you can't show nothing,' which is the heart of my case, you know?"
Monaweck has had his own legal troubles with Enbridge—and that's why Bolenbaugh brought me out to meet him. But at the moment, Monaweck was focused on the chaos the company continued to make of his property. He smoothed out a little more dirt, then leaned on his rake.
"What a mess," he said.
Monaweck's land lies about a mile from where the rupture occurred, and the lower part of his waterfront acreage, just down the hillside from his stately brick home, was deluged with tar sands crude. But when, on August 3, 2010, Enbridge held a town hall meeting for all residents in the "red zone" (which Enbridge defined as within 200 feet on either side of Talmadge Creek or the affected parts of the Kalamazoo River), he was turned away. Tucked back amid the pines, his house had been missed by Enbridge canvassers, so Monaweck wasn't on their master list—and no amount of arguing could get him in. He had to hear secondhand that CEO Patrick Daniel had announced that Enbridge would buy any house in the red zone, that the company would pay list price for houses that were already on the market and pre-spill appraisal for anyone else who wished to sell and move out. Getting locked out seems to have hardened Monaweck's stance against Enbridge—and their relationship has been increasingly adversarial ever since.
Monaweck told me that he believed Enbridge's purchase of homes along Talmadge Creek and the Kalamazoo River was about more than having ready access to people's land for cleanup purposes; they wanted to be sure there were fewer landowners to complain. Enbridge's Daniel insisted that this was about community outreach, not an attempt to conceal anything. "Enbridge does not want people in that directly affected area to be financially disadvantaged by the spill," he explained, but Monaweck told me that Enbridge's offer on his home was less than the cash and sweat he had put into building his self-described "dream house." His neighbors, however, for a variety of reasons, didn't—or couldn't—hold out as long as he had. By the time John Bolenbaugh was going door-to-door with fliers in mid-October 2010, Enbridge had already purchased 28 homes along Talmadge Creek and the Kalamazoo River—and had ordered appraisals for an additional 105 homes in preparation for entering bids.
Monaweck told me that he believed Enbridge's purchase of homes was about more than having ready access to people's land for cleanup purposes; they wanted to be sure there were fewer landowners to complain.
Monaweck refused Enbridge's offer. Instead, he told me, he decided to stay and make sure that the company cleaned up all of the oil its contractors had covered up on his property. He knew, for example, of a thick layer of crude buried by workers along a turn in the creek where he still has a footbridge, another layer covered over in the next bend. "I waited to see if they would dig it," he told me, "but they never did."
In September 2010, Enbridge announced that the cleanup on Talmadge Creek was nearly complete. But Monaweck knew his property was far from spotless, and he called the Enbridge hotline. "I got oil on my property," he remembers telling the operator.
"No," the operator said, "they cleaned everything up."
"No, you haven't."
"How do you know?" the operator asked.
"The question is, 'How do you know?'" Monaweck remembers responding. "Because I know—I know for a fact."
Soon after, a work crew arrived at Monaweck's property, asking where he had seen oil being buried. He pointed out the spot. "So they start digging it up," he told me, "and I'm telling you, you couldn't believe the oil."
* * *
Bolenbaugh pointed toward a dirt turnout. "You can park in there," he said. I pulled off East River Road, and we started on foot through the woods. Bolenbaugh threaded through dense thicket to the marshy river bottom. A narrow brook meandered along the foot of the hillside toward a pair of islands nestled in the crook of a hairpin oxbow in the river. As we tight-roped over the brook on a downed tree, I could already see crude clotting the leaves, the telltale sheen on the water. But Bolenbaugh methodically set up his tripod and video camera, got out his newspaper and GPS to mark the date and coordinates, and began raking the brook bottom. The water swirled with oil sheen.
"So I'm just going to show you: clean glove," he said, stretching his white-gloved hand before the lens, then he reached in, skimming the surface. "Just going to come through here and collect the oil—"
He took one step into the creek and slid down into the muck up to his knee.
"I'm sinking in," he muttered, keeping his nonstop, chattering monologue going for his imagined viewer. "Getting all wet and yucky."
Through the trees, we heard the rumble of a diesel engine and saw a red Ford 4×4 prowl back and forth down River Road. Bolenbaugh said the truck belonged to a member of Enbridge's security team. Somebody had phoned us in. "Follow me," Bolenbaugh said and took off through the trees.
The woods belong to Enbridge, purchased some time after Bolenbaugh's firing—even though the land was already officially certified as clean by the EPA and Enbridge. Bolenbaugh claims that the company bought the land, which in early September 2010 had been his worksite, because of all the trouble the spot caused for Enbridge. Undocumented workers for one contractor were found cleaning up under unsafe conditions, and Bolenbaugh says that his crew and another were ordered to cover up oil by other contractors not far away—all so that the Canadian pipeline company could meet the EPA's September 27 cleanup deadline and be allowed to restart the ruptured 6B pipeline, resuming the flow of nearly 300,000 barrels per day of diluted bitumen from the northern Alberta tar sands fields to Midwestern US refineries. (And resuming the flow of $8.7 million a day into the company's coffers.)
But in late October and early November 2010, the woods around the river's hairpin oxbow were still public land—a fact that Bolenbaugh turned to his advantage as he launched his one-man crusade against Enbridge. In the wake of his firing, Bolenbaugh had secured legal representation by the law firm of Geoffrey Fieger, probably best known nationally as the defense attorney for Jack Kevorkian, but also notorious in Michigan for his 1998 run for governor—in which he plummeted in the polls after saying the incumbent looked like "the product of miscegenation between barnyard animals and human beings." Securing Fieger as his attorney introduced the threat of a media circus if the whistleblower suit ever went to trial. To further ramp up the pressure, Bolenbaugh set out with a digital camera and hip-waders and began obsessively stalking sites certified as clean by Enbridge and the Environmental Protection Agency, capturing video of submerged oil bubbling to the top, rainbow sheen swirling the surface. He posted his videos on Facebook (and later his YouTube channel) and then sent links to local media all over the region. By the time Fieger finished drawing up the complaint, Bolenbaugh had already appeared several times on the evening news.
He was positioning himself to be seen as a hero, a champion of truth and of a community done wrong. As the would-be whistleblower became more visible, though, he also risked the possibility that embarrassing information about his own criminal past might come to light. "But if I don't do this," Bolenbaugh told me later, "nobody's going to do it."
* * *
Residents affected by the spill were in dire need of a truth-telling champion—even one who sometimes rubbed people the wrong way. A congressional investigation in fall 2010 revealed that, even as local residents were complaining of health problems following the spill, Enbridge employees skipped meetings arranged by the local health department and instead visited residents individually at night, assuring them that they would be fine if they simply set up an air filter. They then asked residents to sign a document that released Enbridge from future claims—sometimes for as little as $40 cash. Michelle BarlondSmith, a resident of the Baker Estates trailer park six miles downriver from the spill, testified at a congressional hearing in Washington, DC, that she had done a small survey of her neighbors, many of whom had made multiple visits to the hospital for respiratory problems and related health issues following the spill. "Out of about 30 homes, I found 20 that have signed the waivers giving full legal responsibility away from Enbridge for air purifiers and air conditioners," she said. The air filters distributed by Enbridge in Baker Estates were later revealed to be off-the-shelf purifiers likely purchased from the local Walmart.
The congressional investigation also revealed that Enbridge, whose CEO had initially denied to an OnEarth reporter after the spill that its pipeline had been carrying tar sands oil, likewise provided emergency authorities with faulty information. The company gave local officials a Material Safety Data Sheet for garden-variety light grade crude, which didn't include mention of the chemicals contained in its tar sands-derived oil. Those data sheets are designed to help officials respond to hazardous materials spills, and, absent other information, Calhoun County Administrator Kelli Scott followed Enbridge's 200-foot evacuation recommendation. But the Emergency Response Guidebook issued to first responders during the initial phase of the cleanup calls for much larger evacuation zones for "large spills" that involved the chemicals contained in Enbridge's heavy tar sands crude. The guidebook recommends that workers responding to benzene or toulene, for example, "consider initial downwind evacuation for at least 300 meters (1,000 feet)." Scott conceded in flustered testimony before the congressional committee: "What we obtained from Enbridge is what was considered more of a generic materials safety data sheet. And so it is hard to say that, if we would have had different information earlier, you know—would the evacuation process have been different?" Those and other revelations about the condition and safety record of Enbridge's pipeline system prompted Congressman Mark Schauer, then representative for Michigan's 7th District (which includes Marshall and Battle Creek), to dress down Enbridge CEO Patrick Daniel, saying: "I have no confidence that Enbridge can operate this pipeline safely, certainly not until all of those defects are taken care of."
Yet less than a week after the congressional hearing, the Pipeline and Hazardous Material Safety Administration approved a revised Corrective Action Order submitted by Enbridge. The Pipeline Administration then approved the restart of line 6B only a week after that, on October 27, 2010. Rep. Schauer, despite his fiery recriminations of Patrick Daniel, went along with the plan—though he promised increased oversight. "PHMSA's approval of the restart plan is just the beginning of a long process," he said. "I will be keeping a close eye on both Enbridge and PHMSA to make sure all of these deadlines are met." But Schauer was voted out of office on November 2—replaced by pro-oil Republican Tim Walberg, who had previously advocated drilling in the Great Lakes.
Bolenbaugh it appeared that moneyed interests had trumped the least-heard among the residents of the town where he grew up—those people who live in tumbledown old houses or thin-walled trailers along the same river bottoms where he and his mother were living when the spill occurred. He hoped they would be heard if they banded together. Before long, Bolenbaugh had assembled a disparate but impassioned group of supporters. People like Stephen Bridges, a veteran who tells stories of watching Enbridge trucks cover over oil on his property and swears that he has had unexplained tremors ever since. People like Sherri Lynn Baldwin, who spent years working graveyard shift at the Toyota plant, socking away an extra $100 per month to pay off her $44,000 house, but now can't afford to leave (because, since the spill, her house is worth half of what she paid for it); she stays even though her younger son has such weakness in his legs since the spill that he needs help standing. People like Michelle BarlondSmith who, on behalf of all the residents of Baker Estates, begged Rep. Schauer to shut down the 6B pipeline until it could be completely updated. "This is an issue of protecting your constituents' lives, health, and way of life," she said. "Our health hangs in the balance."
One local woman spent years working graveyard shift at the Toyota plant, socking away an extra $100 per month to pay off her $44,000 house, but now can't afford to leave: Since the spill, her house is worth half of what she paid for it.
When I went with Bolenbaugh and BarlondSmith down to the bottoms behind Baker Estates, black residue nearly three feet off the ground still ringed every tree, indicating the high-mark of the oil's rise before it receded in August 2010. They introduced me to another Baker Estates resident, Phyillis Nelson. Nelson looks much older than her 49 years. She wears thick bifocals and is frail from emphysema; on a day when the rest of us wore sweatshirts, she was bundled in a bulky, royal-blue down coat and clutched herself against the cold. She said that she had to put down her dogs after one delivered a full litter of deformed puppies, and the other wheezed and could never catch her breath.
Nelson attributes their illnesses to benzene from the tar sands crude. Just 24 hours after the spill, Enbridge reported to the EPA that an overnight test in 100 locations revealed no benzene detections. When the health department followed up with its own tests, however, officials found benzene levels of 15,000 parts per billion—and promptly evacuated 61 homes. (Federal drinking water standards for benzene are set at 5 ppb, and health officials in the region recommend avoiding all contact with water containing levels above 100 ppb.) Still, in December 2010, the health department announced that there would be no long-term monitoring of the effects of benzene on residents, arguing that over time it would become impossible to determine what symptoms were due to the spill exposure.
"My emphysema's went from Stage I to Stage III," Nelson told me. She remembered how her throat hurt and she started coughing up blood before anyone came to inform her of the spill: 10 days passed, she said, before anyone arrived to suck up the oil where we were standing; for 10 days she hacked up blood not knowing what was wrong with her.
"I'd like to spit on them," she said.
Bolenbaugh calmed her down and told her to start from the beginning, to explain why she was so mad.
"My dad taught me how to fish on this river," Nelson began, then got choked up. "I still picture him sleeping under the old oak tree, while we're fishing. I learned how to canoe on this river. This river used to be beautiful. You could come down on a canoe for miles and see all the wildlife. We used to have a beaver here." She choked again and sobbed. "Like I said, we used to. We don't have it anymore. I can't share that with my grandkids or my kids anymore because of Enbridge."
To break the silence as she wept, Bolenbaugh joked that he needed to remember to ask Nelson about her father whenever he needed someone to cry for a reporter. My irritation must have shown through, because Bolenbaugh back-peddled immediately. "Just joking," he said. "Phyillis knows I'm just joking."
As we climbed up the steep embankment, Nelson took my arm to steady herself, and she leaned in close. She didn't want me to get hung up on the jittery, fast-talking side of Bolenbaugh's personality. He was "the voice that most of us don't have," she said. He might not be a perfect champion, but he was all they had.
"If it wasn't for him, Enbridge would be getting away with a lot," she insisted. "He is our soldier."
* * *
Bolenbaugh may be an effective champion in part because he is so flawed—may press so hard because he feels a powerful need to redeem himself. He wants to be known as the man who spoke up to save his community, but he also has a hard-wired fear of being called a liar. To overcome it, he presses his points long after they are proven, and he is almost always saying too much, sharing thoughts he knows he shouldn't voice. He's the first to concede: His mouth gets him in trouble. But his inability to filter himself may, ironically, be his best case for his honesty. Indeed, on the eve of filing his whistleblower lawsuit on November 9, 2010, when Bolenbaugh was tipped off—rightly or wrongly—that Enbridge was about to publicly reveal his greatest shame, he chose instead to out himself.
That morning, Bolenbaugh led Darren Cunningham, a reporter from WLNS-TV in Grand Rapids, out to see the oil at two sites where Bolenbaugh had worked as a cleanup technician—and which had been certified as clear by Enbridge and the EPA in September 2010. That night the EPA planned to hold a press briefing, and Bolenbaugh intended to stand up, with all media assembled, and show the bottles of contaminated water he had collected with Cunningham. He would explain that he had been fired for refusing to participate in a cover-up and for blowing the whistle on Enbridge.
At first, everything went better than Bolenbaugh could have hoped. When he and Cunningham were down by the river, they found a gas-powered hedge trimmer—a symbol, to Bolenbaugh, of how reckless Enbridge was, how careless the EPA had been in its oversight—and they collected bottles of dark brown water. While they were leaving the spot near the islands, officers from Emmett Township stopped them and warned that they were trespassing; if they returned, they would be "subject to arrest." Bolenbaugh filmed the whole thing and quickly posted it to his Facebook page, prompting a Michigan Messenger investigation. Not only was that spot public land, the local paper reported, but Enbridge had been using similar threats against the Messenger's reporters and a photographer for the Battle Creek Enquirer.
That night, Bolenbaugh arrived at the EPA community meeting decked out in a pinstripe suit and carrying both the hedge trimmer and a bottle of contaminated water. But before the meeting could kick off, a Messenger reporter overheard Enbridge employees talking about plans to arrest Bolenbaugh for trespassing earlier that day. (He was, in fact, shadowed by a Battle Creek police officer throughout the meeting—though Bolenbaugh says the officer leaned over to him and whispered that he was doing the right thing.) The reporter also told Bolenbaugh he had been tipped off that if Bolenbaugh rose to speak—to question any of the sites certified as clean by Enbridge and the EPA, or to claim that he had been wrongfully fired—then Enbridge planned to reveal embarrassing information about his past.
"No, they're not," Bolenbaugh said. He walked into the conference room and called for everyone's attention; he asked the film crews to turn on their cameras. He set the hedge trimmer on the lip of the stage, joking that he was returning it to Enbridge CEO Patrick Daniel. Susan Hedman, EPA Region 5 director, leaned into the mic and asked Bolenbaugh to return to his seat. He ignored her, turning instead to address the audience.
"I am a sex offender," he began.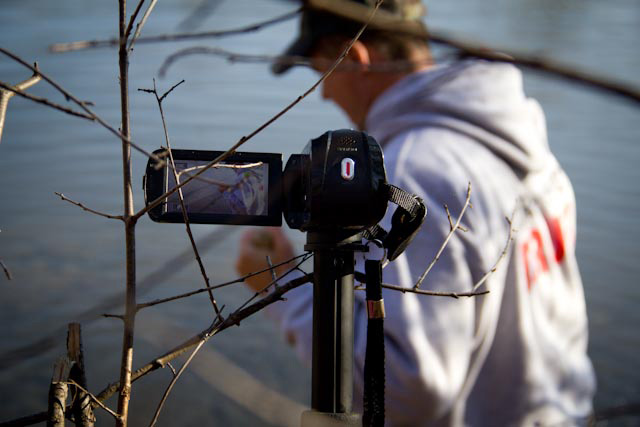 Part 3: Quest for Redemption
It was almost nine o'clock on a Sunday night, late November, by the time John Bolenbaugh and I sat down to dinner at a sprawling Chinese buffet joint on the southern edge of Battle Creek, Michigan. We had attended a marathon informational meeting for people who lived along the 40-mile stretch of the Kalamazoo River, polluted by the July 2010 spill of more than a million gallons of tar sands-derived crude. In the cavernous Kellogg Auditorium—its endless rows of bleacher seats dotted with worried faces—Lansing-based attorney Mike O'Briant had told the crowd that he was bringing a lawsuit against the pipeline's operator, Canadian-based energy colossus Enbridge Inc., on behalf of the residents of Baker Estates trailer park in Battle Creek. Those assembled could join the next round if they, too, lived within 200 feet of the Kalamazoo River and were suffering ill health effects from the spill.
One person after another stood to attest to their headaches and seizures, their persistent coughs, the numbness and weakness in their arms and legs. They remembered how steam rose and filled the air as the heated tar sands that spewed from the ruptured pipeline passed through the cold river water, how they had worried what poisons that fog might have carried, and how representatives from Enbridge had come around with Walmart air filters for anyone willing to sign away their rights to sue. And they swore that a thick layer of oil still coated the bottomlands behind their trailers, poisoning trees and wildlife—and killing, too, they feared, the residents of Baker Estates.
One person after another stood to attest to their headaches and seizures, their persistent coughs, the numbness and weakness in their arms and legs.
When the meeting was over, O'Briant told everyone they could leave—but, if they wanted to stay, Bolenbaugh was going to show a video. O'Briant officially disavowed any relationship with Bolenbaugh, but the fired cleanup worker had asked to show this video, and O'Briant agreed. Bolenbaugh then projected onto a rickety screen a sequence of highlights from his year of documenting what he calls a coordinated cover-up by Enbridge and its contractors. He told the crowd, once again, how he had been wrongfully terminated for threatening to go to the EPA and the news media with his accounts of the slipshod cleanup.
At long last, his whistleblower case is in trial in a state courtroom. With the safety of tar sands taking center stage in of our national energy debate, the verdict could be a precedent-setting moment, but what the jury decides will turn on a basic question: Did Enbridge and its contractors engage in a willful cover-up in the wake of one of the worst inland oil spills in US history, or is John Bolenbaugh—a man with a checkered past and overwhelming desire for redemption—seeing corruption where none exists?
The crowd of 40 or so sick and worried residents of Battle Creek assembled at Kellogg Auditorium that night saw Bolenbaugh in much simpler terms: They were desperate, hoping for any helping hand, and Bolenbaugh was willing to listen to their stories. After his video concluded, Bolenbaugh agreed to go to the home of a woman whose back door sat just feet from the river; she worried that the stains spreading out from the cracks in her foundation and across the walls of her basement were oil residue or chemicals. We went with her down her creaking cellar stairs to see, and, no, Bolenbaugh reassured her, that was not oil, there was nothing to worry about. She hugged him and thanked him with relief.
Only after all that was done did Bolenbaugh lead me through the streets of Battle Creek—past the Kellogg cereal factory, past the gun shop with its four-foot pistol aimed toward the street, past the lines of FOR SALE signs stuck in the yards of foreclosed homes, past a city so down on its luck that it barely remembers what good times look like. For his part, Bolenbaugh has been out of work for more than a year, surviving on unemployment and what he can eke out from the sale of t-shirts emblazoned with the words MICHIGAN OIL COVER UP. He tore up a $2,500 check from O'Briant's law firm, insisting that he wasn't helping people just to turn a buck.
But his principles had forced Bolenbaugh to spend months eating off the dollar menu at the drive-thru, so when I offered to buy dinner, he suggested this all-you-can-eat buffet, even though it stands on the opposite side of town. Once inside, he sat down in back of the restaurant, away from the crowd, carrying a plate in each hand—one piled high with chicken wings and noodles, the other with fresh fruit. And he wanted to go back for seconds before dredging up the memory of that press briefing in November 2010, when he stood before a room of reporters and concerned citizens and admitted to being a sex offender.
"You want to know about my past?" he asked, sitting back down across from me. Then he checked to make sure the red light of my recorder was on. He didn't want to have to go over this twice.
"I went back to college at 26," he began. This was after his time in the Persian Gulf, after his bronze star in the Navy. He didn't want me to forget all of that. "I had a threesome with two girls that said they were of legal age. They said they were 17. In Michigan, 16 is legal. And they weren't; they were underage. Six days later the mom found out that the daughter was hanging out at parties, wanted to know who she slept with. They came and questioned me. I said, 'Legal age is 16. Why are you even here?' They said they're not 16. I started crying, said I wanted an attorney."
"I said to the cops, 'Legal age is 16. Why are you even here?' They said they're not 16. I started crying, said I wanted an attorney."
But Bolenbaugh didn't listen to his counsel. He refused to take a plea bargain that would have reduced his sentence by 80 percent, insisting that no jury would convict him when he had been misled. "So I went to trial, and I lost," he said. He was convicted in February 2002 and spent the next six years and two months in the Michigan State Correctional system before being released on parole in April 2008. He brags even about this: He was never written up once, he will tell you, never given a single demerit in all those years behind bars. He wants you to know that he was the model prisoner, that he designed a rocking horse for his fellow inmates to build and place in Habitat for Humanity homes. He never denied his crime and did his time. But upon release, and to this day, George John Bolenbaugh III, in accordance with state law, must register as a sex offender, guilty of criminal sexual conduct in the third degree. Even after more than a hundred YouTube videos and two-dozen media interviews, it still comes up near the top of a Google search on his name: two counts of contact with a minor between the ages of 13 and 15.
But Enbridge, if indeed the company intended to reveal this secret about Bolenbaugh at that EPA meeting in 2010, seems to have committed a tactical error. This prison term is Bolenbaugh's great shame, it's true—but it is also what drives him.
We may like to believe in the righteous opponent of injustice, but whistleblowing is almost always dirty business. Often the whistleblower has been passed over for promotion or feuded with a boss or just feels anonymous in the face of some corporate giant and sees a way to forge an identity and make a name for himself. Bolenbaugh, whatever his beef with his former employers and his belief that they were covering up oil, is also a man hoping to balance the scales of his reputation, to assure—by his own description—that his obituary leads with "activist" and not "sex offender." When Bolenbaugh hired Geoffrey Fieger's law firm in November 2010 to submit his complaint for violation of whistleblower protection laws against SET Environmental, the Enbridge contractor that fired him, Bolenbaugh told Fieger to be prepared to take the case to trial because he wasn't going to accept a settlement. Once again, he wanted his day in court—but Bolenbaugh still hates the idea of people knowing about his past.
"I hope you don't write about it," he told me, but he also acknowledged that workers for Enbridge and their contractors had been spreading this rumor for months to discredit his claims of a cover-up. It was a smear campaign, he said, pure and simple. And, yet, he insisted—and still insists—it had all been worth it. After having declared Talmadge Creek and most of the Kalamazoo River clean, Enbridge returned to begin "ongoing remediation" in December 2010. Bolenbaugh attributes the company's return—and the months of cleanup since—to his bulldogging. If he hadn't been trying to clear his name, he might never have been so persistent.
He chewed all this over a moment, then shrugged finally. "It's good that everyone know the truth."
* * *
For all this self-revelation, if you spend any amount of time with John Bolenbaugh, you have to ask yourself: Is this guy for real? Can you trust the word of an ex-con—a sex offender—who, by his own admission, sometimes stretches facts in service of what he regards as a larger truth? Driving along country roads, he is constantly checking the rearview mirror for anyone following behind. It's hard not to wonder if he isn't paranoid—or, worse yet, suffering from delusions of grandeur. Could it be that this man, wracked with guilt, wanted so badly to redeem himself that he started seeing injustice, simply in hopes of being the one to set it right?
Certainly these were my nagging doubts as Bolenbaugh chattered on about being the next Erin Brockovich, about how maybe they'll make a movie of his life some day. When I saw him at the big protest against the proposed Keystone XL tar sands pipeline at the White House last November, where Bolenbaugh had talked his way into a speaking spot on the program, he said that the producers of the Oscar-winning dolphin slaughter documentary, The Cove, had approached him earlier that day. But he wasn't about to turn over hundreds of hours of video, just so someone else could win an Academy Award. And yet, every time you think Bolenbaugh is just another self-promoter or a crackpot, you're reminded of the evidence.
After revealing his criminal past in November 2010—to preempt an attempt, he says, by Enbridge to discredit him—Bolenbaugh then released text messages he had exchanged a month earlier with his SET supervisor Mike Martinez. The two had discussed orders issued by Jason Buford at O'Brien's Response Management, the Enbridge contractor coordinating parts of the cleanup effort, to conceal smaller pockets of crude in order to help Enbridge meet an EPA-established deadline.
In the first text, sent on October 20, Bolenbaugh wrote: "I have a question. Why did Jason tell us to cover up oil. Isn't his job to clean it up."
Martinez replied, within the hour: "At the time there was a dedline tryin to meet it."
"It still bothers me that we left oil or they cover up oil cause they had deadlines to meet. I live here," Bolenbaugh responded.
"I understand," Martinez texted back. "Wait til SET is gone then say something."
And it's not only the text messages. It's also Dave Hoekstra, Bolenbaugh's immediate supervisor, confirming in depositions for Bolenbaugh's trial that Buford "told us to spread oil debris in the woods out thinner so it would look less like there was thick oil there." And, of course, there's also the hours of YouTube videos, those countless trips out to the banks of Talmadge Creek and the Kalamazoo River to show that submerged oil still remains, left behind and unrecovered. (How else do you explain that the EPA now estimates that Enbridge has recovered some 1.15 million gallons of crude from a spill that supposedly only consisted of 819,000 gallons—a difference of some 300,000 gallons since Bolenbaugh went public.)
And, then, there was the day last fall when we were headed east on A Drive toward Talmadge Creek and Bolenbaugh was saying how I had better step on it before the Enbridge trucks caught up to us, when, all of a sudden, the same red Ford 4×4 we had early seen patrolling the River Road suddenly pulled up close behind us, riding our rear bumper. Where the blacktop crossed 15 Mile Road, we split off onto private property and went bumping down the dirt road past the white farmhouse. Bolenbaugh craned his neck to get a better look at the red pickup. It peeled off and then stopped and backed into the driveway of the house that sits just across the road at the confluence of Talmadge Creek and the Kalamazoo River. (The title of the house, I have discovered since, is in the name of Enbridge Tri-State Holdings). The driver put the truck in park, then pointed two fingers at his eyes and then at me, to signal that he was watching.
I recognized the truck and driver not only as the same red Ford F350 that had hounded us along River Road but also from one of Bolenbaugh's videos, shot in October 2011 when a phalanx of trucks led by Stewart Coates, Enbridge's safety coordinator in Kalamazoo, came onto private property to block Bolenbaugh's exit from a parking lot near the source of the spill. Two days later, Bolenbaugh says, he was dragged out of a local casino frequented by pipeline workers and beaten up in the parking lot.
Seeing one of those same trucks following us now, the crazy man in the passenger seat suddenly didn't seem so crazy.
Seeing one of those same trucks following us now, the crazy man in the passenger seat suddenly didn't seem so crazy.
"I told you," Bolenbaugh said with a triumphant chuckle.
* * *
Joel Laupp met us where his dirt drive crosses Talmadge Creek. He is thick-bearded with a buzzcut head, a big bear of a guy, but he seemed wary of Bolenbaugh. I mentioned the truck parked across the field with eyes on us.
"Yeah, that security guard, Aaron, I don't know if you know him," he said to Bolenbaugh, "but they look for you all the time. They look for your white vehicle."
Bolenbaugh laughed again, seeming to relish the thought.
"And he said you're a sexual predator."
"I'm not a predator," Bolenbaugh began, then stopped himself. "Listen—my mom was 15 when she had me. My sister was 14 when she got married. I'm not saying I agree with it—"
"Yeah, well, that's just the stuff they're saying to try to discredit you."
"Do you know about the EPA meeting where I came out and told everybody?" Bolenbaugh asked. "I walked up. I said, 'Turn your cameras on.' I got in front, and I said, 'I had sex with two underage girls when I was in college. I have two third-degree sex offenses. And I still recorded [covered-up oil], knowing they would try to use this against me.' Everybody stood up and clapped."
And, Bolenbaugh said, we had the best possible proof that he was right directly in front of us: More than a year after declaring Talmadge Creek clear of oil, Enbridge crews were returning to Laupp's property to redig—and this time they would be going as much as 15 feet deep and 25 feet wide on either side of the creek's natural course. How could they say now that they had completed the cleanup months ago? Or claim that this was just "residual oil?"
This was to be the most extensive work Enbridge crews had ever performed at Talmadge Creek, and Bolenbaugh was looking forward to getting it all on video. But later, when it came time to do the excavation and Bolenbaugh showed up with his camera, Enbridge officials sat down Laupp's grandmother—who still technically holds deed to the land—and convinced her to ban Bolenbaugh as a "safety precaution."
When I talked to Laupp recently, standing in the sideyard of his house, where the stubbled cornfields run in corduroyed rows toward the creek, he sighed at this. "They had my grandma all scared," he said. Meredith Powell, community engagement manager at Enbridge, had told her that if Bolenbaugh was injured in an accident, Laupp's grandmother would be legally responsible. "She had to put the fear in her," Laupp said, so he took Bolenbaugh's camera and agreed to capture the extensive redigging undertaken by Enbridge on video—despite some of his reservations about Bolenbaugh as a person.
"It wasn't even the sexual thing, you know? I mean, whatever. I just think John's in it more for his self-promotion. But, you know, he's probably done good things—and, well, we need that kind of person."
* * *
It was nearly 1 a.m., into the wee hours of April 10, 2012, when my cellphone rang. It was John Bolenbaugh calling from Michigan, wanting to make sure that I would be there next week for the start of his trial. Of course, we'd talked only a few hours before, and he knew that I was coming. What he was really hoping for, even though he knew deep down I wouldn't give it to him, was a preview of this story. He'd long since reconciled himself to the fact that I would be writing about his convictions, his appearance on the rolls of registered sex offenders for Calhoun County, but somehow it hadn't occurred to him until that day that the appearance of this material in the press—information that his attorneys had expertly managed to exclude from the court room—might taint the jury pool. And an old fear had surfaced again: If he lost this case, people might see him not as a whistleblower but as a serial deceiver. They might say he'd made up everything in hopes of getting a few bucks from an oil company that seemed to be handing out cash hand over fist.
But whatever anybody wants to say about Bolenbaugh, he's not in this for the money. I've seen the torn-up check from Mike O'Briant, offered at a time when Bolenbaugh was living off of handouts. He's told me that SET Environmental has proposed tempting settlements—and he has refused them all. He knows full well that any jury award is likely to be less than he could get for settling the case and agreeing to keep quiet, and he's accepted that fact. But just now, as the hour pushed past 1 o'clock and on toward 2, all he could think about was his attorney's worry that Bolenbaugh's big mouth, his urge to over-explain every point and chatter all doubters into agreement, might finally have fatally undermined his case.
"I'm afraid you're going to say, 'This fucking asshole sex offender is a liar,'" he said. It wasn't the first time I'd heard or seen Bolenbaugh near tears, but this was different. He wasn't imagining some scenario where he was martyred for his cause or weeping for the years stolen from him by prison; this was the quiet sobbing of self-realization. He was wishing he were somehow a better man. Some might be tempted to call this catharsis. But that's overstating it. Bolenbaugh's epiphanies about his shortcomings don't absolve him from the mistakes he's made—they certainly don't purge his soul or wash him clean—but his past also doesn't forever brand him as an irredeemable liar. Not to me anyway. To my eye, Bolenbaugh's flaws are bound up inextricably with what has made him the right man at the right time in Michigan.
Without his stubborn insistence on a day in court, this case would have settled quietly, and the cleanup on the Kalamazoo River might have been declared complete without more than a ripple of complaint. There would be no forthcoming trial to serve as precedent, no informal judgment on the cleanup effort by Enbridge. Some people might call Bolenbaugh crazy, but what sane man would try to single-handedly fell Enbridge and its contractors? But, then, Bolenbaugh—no matter what grand dreams he has for himself—has never thought of himself as alone. He pictures himself as the leader of a movement, a voiceless community he has championed and speaks for. I believe him when he says that he wants this day in court for them—the people of Talmadge Creek, the residents of Baker Estates, everyone living in the bottoms and out of view.
All night long, for hours after we hung up, Bolenbaugh emailed me documents—EPA files, health department reports, but also copies of his military records, his safety certifications, his union membership. He was making his closing argument, providing proof that every detail of every story he had told me was true. If he hadn't lied about anything else, he seemed to be asking, why would he lie about SET Environmental covering up oil? Finally, at 4 a.m., the emails still rolling in, I went to bed.
I don't honestly know whether a man like John Bolenbaugh, so raw and so flawed, can take on a company like Enbridge and win. But before this month is over, we'll find out.
---
A note about sources
This story is based on extensive on-the-ground reporting in western Michigan, including more than 100 hours of interviews with people affected by the spill or involved in the cleanup effort. In addition, the reporting is supported by thousands of pages of documents, including civil depositions, congressional testimony, 911 transcripts, and government reports, some of which OnEarth has made available for public review via Document Cloud. Enbridge Inc., and its employees and contractors, did not respond to questions and interview requests for this story posed in person and via email.