Fight disinformation:
Sign up
for the free
Mother Jones Daily
newsletter and follow the news that matters.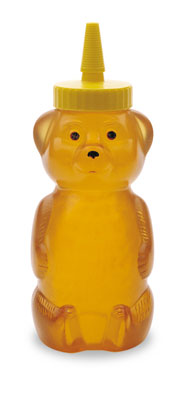 If you've been feeding your kids spoonfuls of honey for their coughs this fall, you might want to think again about where that honey comes from. Food Safety News, a site set up by food safety lawyer Bill Marler, reports today that lab tests show that most honey sold on supermarket and drug store shelves today isn't really honey, according to safety requirements set by the Food and Drug Administration.
That's because it's been so ultra-filtered that it's largely pollen-free. Pollen is a key ingredient in real honey, and thought by some people to have medicinal and allergy-fighting properties.
But according to Food Safety News, you won't find much pollen it in American store-bought honey. Their tests found that:
• 76 percent of samples bought at groceries had all the pollen removed, These were stores like TOP Food, Safeway, Giant Eagle, QFC, Kroger, Metro Market, Harris Teeter, A&P, Stop & Shop and King Soopers.
• 100 percent of the honey sampled from drugstores like Walgreens, Rite-Aid and CVS Pharmacy had no pollen.
• 77 percent of the honey sampled from big box stores like Costco, Sam's Club, Walmart, Target and H-E-B had the pollen filtered out.
• 100 percent of the honey packaged in the small individual service portions from Smucker, McDonald's and KFC had the pollen removed.
According to FSN, most US distributors are selling pollen-free honey because it's likely coming from China, a country that's gotten into trouble for dumping large quantites of antibiotic-laden, dirt-cheap honey onto the US market and putting American bee keepers out of business. In 2001, the US slapped tarriffs on Chinese honey to prevent it from flooding the market. To get around the tarrifs, China is reportedly laundering its honey through other countries. Ultra-filtering the pollen ensures the honey that ends up in the US can't be traced back to its country of origin.
If you're looking for real honey, FSN recommends buying organic from places like Trader Joe's or farmer's markets, where the honey has plenty of pollen.