Fight disinformation:
Sign up
for the free
Mother Jones Daily
newsletter and follow the news that matters.
When South Sudan became an independent country on July 9, dignitaries from around the world descended on the planet's newest national capital, Juba. But even as Juba rejoiced, violence continued to rage, with South Sudanese and their Nuba allies dying not only at the hands of the northern government, which continued its bombing campaign in the border regions, but also as victims of fellow Southerners, caught up in ethnic and tribal rivalries that independence could not end.
The incongruence between the euphoria in the capital and the slaughter in the hinterlands would have seemed strangely familiar to the late NBA star Manute Bol. Like the homeland whose birth he never lived to see, Bol's life—richly chronicled by Jordan Conn in his new Atavist e-book, The Defender—was filled with spectacular contradictions and turns of fate.
In order to wrap their heads around this ungainly 7-foot-7, barely 200-pound freak of nature from one of the most remote corners of the earth, many Americans relied on reductive simplifications: Bol was the NBA's first African-born player, its tallest player ever, a human stick figure. When that didn't suffice, they gravitated toward myth. To this day, perhaps the best-known anecdote about Bol is that, as a boy, he killed a lion. That story contributed to an only slightly less simplistic picture of Bol, one Conn describes as, "benevolent, fearless, almost superhuman." And yet, to this day, it remains unclear whether the story about the lion is even true.
Conn's account goes a long way toward reclaiming the man, in all his complexity, from his myth. Conn, a sports journalist from the San Francisco Bay Area, draws on extensive interviews with Bol's family to offer a rare glimpse into Bol's childhood and his path from the rural village of Turalei to the heights of NBA stardom in the late 1980s. In the NBA, Bol emerged as a shot-blocking machine with a seven-figure salary and endorsement deals with Nike and Toyota, beloved by teammates and fans for his defensive prowess and outlandish sense of humor.
But as Conn alludes to time and again, fatalism pervaded Bol's life. While he made millions in the NBA, he struggled to find a wife among the bachelorettes of his Dinka tribe; the women's families worried that a man of Bol's size couldn't possibly live very long. Bol seemed to share the sentiment, insisting that his firstborn be named Manute, a name reserved in Dinka culture for children whose siblings had died. Indeed, Bol had been bestowed the name after his mother delivered two sets of stillborn twins. Bol told his wife, "It will be okay to name him after me because I'm going to die young."
For all his success, Bol repeatedly ran into trouble—with the law, with alcohol, and with an unwieldy body that was constantly breaking down. Forced from the game by injury after 10 seasons, he soon hit rock bottom. He headed home to Sudan in 1996 with less than $100,000 in savings. (He had pissed away much of the rest on gambling and booze.)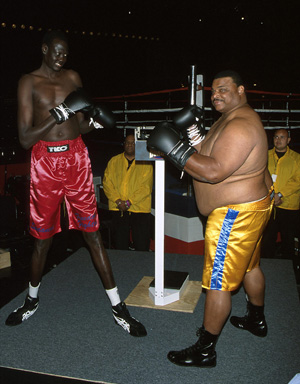 The money didn't last. Soon Bol was broke, rheumatic, and suspected of espionage. He became desperate to return to the US. Eventually, he did—as a refugee. But the man who returned was a shadow of his former self. Needing cash, he went on Fox's Celebrity Boxing 2 to fight William "The Refrigerator" Perry. Bol had always been a curiosity, but for the first time, Conn writes, he'd become a "laughingstock."
And yet, as fate continued to pummel Bol—he nearly died in 2004 when a drunken cab driver veered off the road—he consistently found redemption in politics. He donated millions to the Sudan People's Liberation Movement, the main rebel force fighting the Khartoum government, and helped raise millions more for aid to refugees.*
Bol again returned to Sudan after the Comprehensive Peace Agreement in 2005 officially ended the civil war. It's never entirely clear from Conn's narrative what made Bol so committed to activism—perhaps it helped give meaning to an otherwise wayward life—but whatever it was, Bol devoted himself unreservedly. He built a school in his hometown and traversed the countryside to drum up support for the January 2011 referendum on secession. Last June, he succumbed to kidney failure at just 47 years of age. Seven months later, his countrymen voted for independence.
Conn tells us "Bol lived a life befitting a man of such outsized body." But the takeaway image is not of a giant, lion-killing superhuman. Instead, we see an all-too-human figure, marked by flaws and misfortune, yet able to achieve some small measure of triumph in the end. For Bol's newly independent homeland to survive in the face of formidable obstacles, it will almost surely have to navigate a similar path.
Correction: An earlier version of this post incorrectly referred to the main rebel force fighting the Khartoum government as the "Southern People's Liberation Movement." The group is actually called the Sudan People's Liberation Movement. The sentence has been corrected.