Fight disinformation:
Sign up
for the free
Mother Jones Daily
newsletter and follow the news that matters.
It began with a tweet.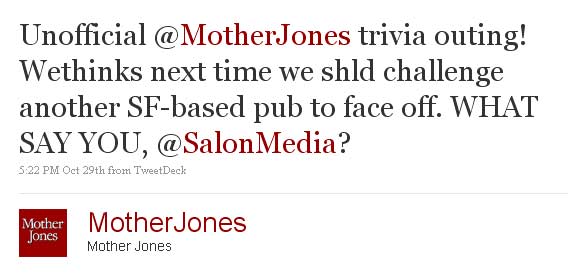 Some fighting words were exchanged.

And last night, after much online trashtalking, the long-awaited trivia battle between the staffs of Salon and Mother Jones took place deep in the heart of San Francisco. The intensity was palpable, as the two teams wrestled over the most important issues of our time, like how many bones are in a baby's body at birth? And what was 1885 Biff's nickname in Back to the Future III?

Also, there may or may not have been some livetweeting going on from across the room.
Long story short, your very own hellraisers triumphed. 60-51. Yes, it's true. We hippies store extra knowledge in our leg hair.
Salon was a great sport, and their staffers were kind enough to present us with an award, a fancy Ralph Waldo Emerson quote emblazoned with a tiny Salon logo. We tried to understand the meaning of this quote paired with the tiny logo, but the sweet taste of victory and/or malt beverages distracted us from Chris' full explanation.

In any case, great fun was had by all. We met some cool people. We succeeded in wrenching useless information from our brains. And we won an award. It is now proudly displayed in our conference room, nestled among, you know, some other awards.
Thanks to everyone for showing up, and keep those trivia hats at the ready. We're still scanning the San Francisco media horizon for the next poor, unsuspecting publication to defeat.
P.S. Salon has courageously requested a rematch. The liberal elite, what can I say, they're just suckers for pain.