Fight disinformation:
Sign up
for the free
Mother Jones Daily
newsletter and follow the news that matters.
By most logical and statistical measures, Mission High School senior Jakob* shouldn't be a success story. Jakob is an undocumented student who lives with the daily threat of deportation. He is not allowed to legally work or drive in this country. He is separated from his family, and when he first landed at Mission High school in 2007, he didn't speak any English or know anyone at the school. So how did this kid wind up with acceptance letters from 13 colleges and gold medals from several citywide wrestling tournaments?
Jakob grew up in the small, rural town in Panama. As a child, he and his friends loved to climb the town's mango trees and sit in the branches, biting into the flesh of sweet fruit, dreaming about traveling to other countries they'd seen on TV. When Jakob turned 13, his mother went on a long visit to China, her homeland. During her absence, Jakob began helping his father run the family business: a neighborhood convenience store. No more climbing mango trees; Jakob got up at 6am, 7 days a week, to stand behind the small, stuffy store's cash register for 15 hours. One day, surrounded by boxes of rice, beans, sugar, and cigarettes, he saw his whole life laid out in front of him. "I realized that there was not a day when my parents didn't work. Their only time off was an hour of TV before bed, no talking. That would be my future," he said. So when his sister, who had come to the United States in 2004, allowed him to visit her, he jumped at the chance. In July of 2007, Jakob landed in San Francisco.
"Hanging out with my friends in the city, seeing a movie, this is a dream," Jakob told me last week over chicken sandwiches at Dolores Park Café near Mission High school. But it's a dream with an uncertain ending: Though accepted at UC Berkeley, Jakob has no idea how he'll pay for school. Undocumented students can legally go to colleges in the US, but they are not eligible for federal financial aid and most forms of state aid. That's partly why out of roughly 2 million undocumented minors in the US, only an estimated 20 percent enroll in college. (PDF)
I was at Mission High School, sitting in Amadis Velez's English class five months ago, when I first met Jakob. As in every other class Velez teaches for seniors, he was going over important deadlines for college applications and scholarship deadlines first. But before he got started, he had an announcement. "Eman got accepted to the San Francisco State University, everyone!" he said, pointing to a student near me who was wearing a blue hijab with silver stitching around the edges, while the class erupted into applause and who-hoo-ing. Then Velez spent 10 minutes talking to the class of 29 immigrants about the Meritus College Fund, a local scholarship fund that awards $12,000 college grants to low-income students from San Francisco, including undocumented students. "How many letters of recommendations do they need?" Jakob wondered. "Three of them," Velez said, and Eman clasped her face in panic. "Where am I going to get that?" Jakob looked upset.
"There was this classmate at school who always put down gay people. I walked up to him and said, 'I'm gay. If I win this match, will you stop disrespecting the gay community?'"
After the bell rang, Jakob and I walked down the hall, passing a security guard, Jose Urista, who doubles as a cross-country coach at Mission High. "Jose hooked me into sports," Jakob explained. "I used to be this really chubby kid, and Jose said that if I joined his team, I could lose some weight and learn English." Jakob, who used to weigh 180 pounds, lost a few pounds and his English improved. But he wanted to see more progress with his weight. "Jose told me wrestling is the best for losing weight in a short period of time," Jakob recalled. Four years later, Jakob is the school's wrestling star.
When Robert,* who used to volunteer as a coach assistant at Mission High, first saw Jakob walk into the gym, he thought, "'This kid won't last.'" But after two hours of wrestling Jakob, Robert started to change his mind. "What really stood out to me that day was this fire and determination. Despite his weight, complete lack of self-confidence, and emotional issues, he kept coming back and fighting and winning."
Jakob not only won the first spot at the school two months into training, he won one of the top spots in the city too: progress Robert hadn't seen before. "How was that possible?" I asked Jakob. "There was this classmate at school who always put down gay people. I walked up to him and said, 'I'm gay. If I win this match, will you stop disrespecting the gay community?'" It was the first time Jakob came out to anyone in public. He won the tournament: lauded as one of the best wrestlers in the city in front of classmates, his parents, and coaches.
Around the same time, Jakob, who lived with his older sister, started getting into conflicts with her. Jakob worked 16 hours a week as a bus boy in a restaurant, but he wanted to take Saturday's off, so he can go to wrestling tournaments. His older sister didn't support the idea. As conflicts became a daily presence, Jakob started spending less time at home.
"At first, I said, you can come by any time, this is your safe zone," Robert told Jakob. But in 2009, Jakob asked Robert to adopt him. In May 2010, Robert did, pronouncing his commitment to guardianship at a San Francisco court. "Jakob used to have huge trust issues. That piece of paper in the court made a huge difference," he said. At home in Daly City and at Mission High, Jakob can temporarily tune out the anxieties of facing daily threats of deportation. In San Francisco? Maybe not. Last year, a controversial program called "Secure Communities" rolled out in 32 states. In San Francisco, local authorities are required to send identification and fingerprints to the federal Immigration and Customs Enforcement database and flag suspected violators of immigration law. Federal authorities could then request local agencies to hold suspects for possible deportation. A student at Velez's class told me that her friend at Mission High was detained and separated from his family for eight months because of this law. But the San Francisco Public Press reports that the city is working to revive a portion of its long-standing "sanctuary city" policy, which would allow local agencies not to report minor arrests to the federal officials.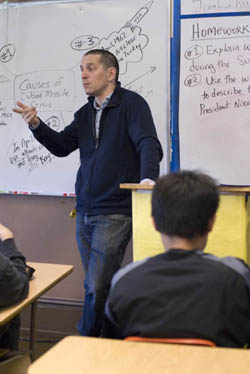 Because of such barriers outside of schools, only an estimated 20 percent of undocumented students enroll in college. Velez is famous at Mission High for his dedication to sending more undocumented high school seniors to college. This year, he is celebrating a record with Jakob's class. "Out of 29 of my students, 22 will go to four-year colleges, three students are going to vocational schools, and one to city college," he told me last week. Four undocumented students got accepted to UC schools, but only Jakob might be able to go, thanks to financial support from Robert. The rest won't go, since despite endless scholarship applications, they didn't get enough funding. "We don't have enough college graduates for many high-skilled jobs in this country. It's such a waste of potential to me," Velez said. He laments the fact that former CA governor Arnold Schwarzenegger, an immigrant himself, vetoed the state DREAM Act, which would grant undocumented students access to financial aid benefits. The federal version of the DREAM Act, which would grant citizenship to students like Jakob, is also stalled in Congress.
One recent afternoon, Jakob's class and I watched Waiting for Superman, a documentary which connects education reform and the achievement gap with the shortages of high-skilled, college-educated workers in the US that Bill Gates discusses in the movie. Some students were upset that the film director, Davis Guggenheim didn't shoot any footage in public schools like Mission. They were also upset that their school is considered a "failure" judging by standardized test scores. "What do you think Guggenheim would think if he looked at Mission High's test scores from the outside?" Velez asked. "Bunch of gangsters here," one student said. "Bad school," Jakob added. "Our test scores are low, but Guggenheim didn't mention how many immigrants there are in California. Our English test scores are bad, but that doesn't mean our school is bad," Marisa, Jakob's classmate, added.
I frequently think about how success stories like Jakob and his classmates seem invisible to education reformers, who use standardized test scores to label "broken" schools and propose solutions. Jakob's standardized test scores and SAT scores are not that great. But that's not why Jakob's grades or his writing was good, getting him into UC Berkeley, or why he has gold medals in his room. Having spent five months at Mission High school, it seems that Jakob succeeded because the school's staff—from the security guard to teachers to volunteers like Robert to Principal Guthertz—constructed a strong safety net for its students. They know Jakob by name and talk about his progress as a team. Whenever life threw another problem at Jakob, the school community made sure that he didn't fall through cracks. There wasn't one "hero" teacher or one "savior" counselor. It was a collective effort driven by Jakob and supported by the school community, and Mission High's low–although improving–test scores don't measure this important progress. It then means that this work is invisible to policy makers, and is not promoted in other schools. Most teachers at Mission High think that we need external measures to rate schools, but the nation's first, serious try in the form of standardized testing is not the right way to do it. Jakob and his classmates don't think test scores mean much either. Out of 22 students I talked to in Velez's class, all seniors highly recommend Mission High for incoming freshman despite what the standardized test scores might say.
Meanwhile, Jakob is busy writing college scholarship applications, and hopes to gather enough funding to go to UC Berkeley. His immigration lawyer assures him that some day the laws will change, and Jakob will be able to get financial aid, work, drive, and live openly in San Francisco. For now, there is a lot of uncertainty. But that doesn't stop him from living and acting like an American in spirit. "There are so many people who are not blood-related who helped me," Jakob said. He is already considering how to "give back." He applied for a non-profit status to run a summer sports camp for other immigrant kids, but didn't raise enough money. He still has a sweet tooth, he says too, but instead of climbing mango trees, he can now bake on the weekends, and invite friends over for tastings at the new house Robert recently purchased in Daly City.
*Editors' Note: This education dispatch is part of an ongoing series reported from Mission High School, where education writer Kristina Rizga is embedded for the year. Names of students and Jakob's guardian are changed. Read more: "Do you chop, mince, slice, or grind the ingredients of salsa?" Plus more questions Mission High students are pondering on the California Standardized Tests this week.
Plus: Sign up for our weekly newsletter to get all of the latest Mission High dispatches.