Fight disinformation:
Sign up
for the free
Mother Jones Daily
newsletter and follow the news that matters.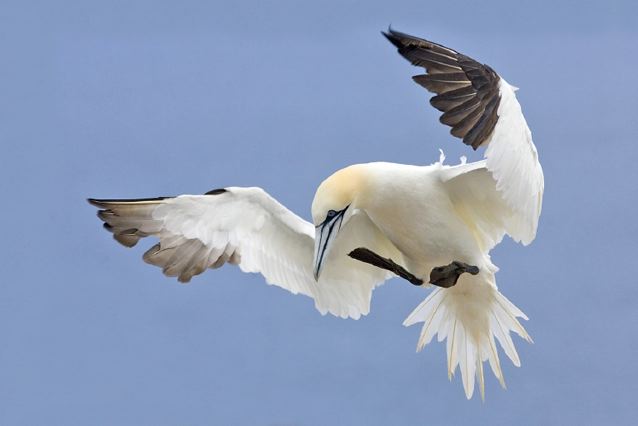 A new paper in early view in Biology Letters—a journal of the Royal Society—finds that Canadian migrant seabirds suffered disproportionately the lethal effects of BP's oil catastrophe in the Gulf of Mexico last year.
Northern gannets (Morus bassanus) suffered the highest oiling among beach-wrecked birds recovered last year.
These are the largest seabirds in the Atlantic, who migrate from their Canadian breeding colonies to overwinter in the Gulf of Mexico. Adults return to the breeding colonies by about March—earlier than immature birds.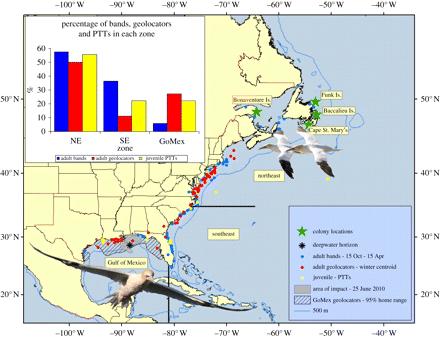 Due to these migration timetables, most of the northern gannets killed in the Gulf last year were likely immature birds. Which means the real impact of their deaths will not show up until those birds would have reached sexual maturity—at about 5 or 6 years of age—or between now and far beyond, since gannets can live at least 21 years. From the paper:
Most adult gannets had returned to Canadian colonies by 20 April 2010, although more than 50,000 immature gannets were in the Gulf at the time and suffered oil-related mortality. Hence, two probable outcomes are (i) a lagged (likely difficult to detect) population decrease or (ii) mortality will be buffered by age-related life-history processes.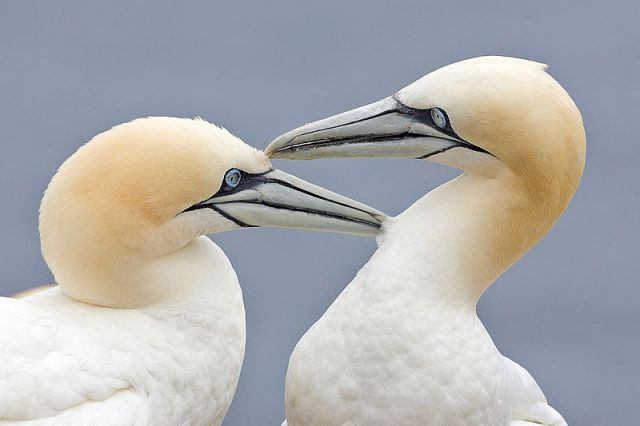 The authors found the story grew even more ominous when they compared numbers on how many gannets were overwintering in the Gulf of Mexico—numbers that differed hugely depending on the technology used:

Old-fashioned technology: recovery of banded birds
Modern technology: bird-borne global location sensors (GLS) and satellite tags (Platform Terminal Transmitters, PTTs)
The newer technologies revealed more than twice as many gannets overwintering in the Gulf. From the paper:
Extrapolation from band recoveries indicates that 13,318 adult gannets winter in the Gulf of Mexico, much less than the 66,124 estimate based on GLS data… PTT positions suggest an estimated population of 52,509 immature gannets in the Gulf compared with 41,587 extrapolated from banding recoveries. Extrapolating tracking data for all gannet age classes more than doubles the estimated number of birds using the Gulf, from 54,905 to 118,633 birds. 
Add to that the fact that dead or oiled birds found ashore represent only a fraction of the birds dead or dying at sea. From the paper:
Seabirds are among the most obvious and immediate indicators of wildlife and environmental damage during marine pollution events. In these circumstances, seabird mortality has been assessed by counting dead and dying animals along coasts. These assessments are biased towards animals that die near accessible well-populated coastlines, and as offshore winds and currents can reduce coastal-deposition of carcasses that sink after a few days, mortality is inevitably underestimated.
The authors note that gannets may be shifting their winter range to the Gulf in response to overfishing of menhaden—their primary winter prey—in Atlantic waters.
They also found possible signs of oil fouling on birds returning to the breeding colonies:
In April 2011, at their southernmost colony, Cape St. Mary's Newfoundland, gannets on inaccessible cliff-sites were observed and photographed with dark soiled plumage that looked like oil, but this could not be verified by chemical analysis. Tracking, survival and physiological measurements at gannet colonies during 2011 are evaluating other potential repercussions and informing management about conservation concerns.
The paper:

William Montevecchi, David Fifield, Chantelle Burke, Stefan Garthe, April Hedd, Jean-François Rail, Gregory Robertson. Tracking long-distance migration to assess marine pollution impact. Biology Letters. 2011. DOI
Cross-posted from Deep Blue Home.