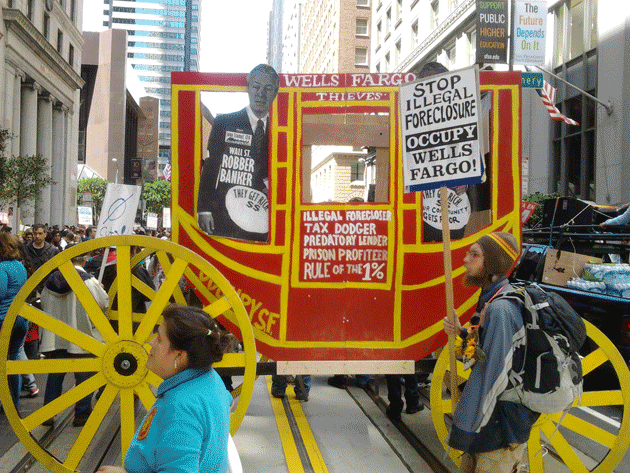 Updated on Wednesday, April 25th at 11 am PST
"I would not want to work for Wells Fargo," one woman on lunch break in downtown San Francisco loudly told her friend.
No kidding. At around noon today, some 2,000 activists launched a blitzkrieg against the bank's annual shareholder meeting at the Merchants Exchange Building, where they blocked entrances, inflated a two-story cigar-smoking rat in the street, and deployed hundreds of shareholder activists to pack the joint.
Citing space constraints, the bank turned away many of the shareholders, a move protesters quickly decried as an illegal attempt to dodge tough questions. A press release from the activist group the Alliance of Californians for Community Empowerment claimed Wells Fargo packed the meeting with its own employees, and continued to let shareholders who were not part of the protest in through a side door.
A Wells Fargo spokesman did not immediately return my call.
In the building lobby, I ran into Wells Fargo shareholder Andrew Constans, who was wearing a suit and tie and holding a paper copy of his single share of stock. The 19-year-old University of Minnesota student flew halfway across the country to tell Wells Fargo that it should pay more taxes. (Between 2008 and 2010, Wells Fargo paid none, but got $681 million in tax credits.) "I pay taxes, so why can't they?" Constans asked. "I'm not a multinational corporation; I don't have 60 tax shelters."
The Wells Fargo protest is part of an effort on the part of 99% Power, a coalition of dozens of labor and community groups that plans to target some 40 corporate shareholder meetings over the next six weeks. "It's a broader group than normally does shareholders meetings," says Stephen Lerner, an executive board member with the Service Employees International Union. "It's a campaign that's saying, let's gather all the folks who are impacted negatively by these giant corporations and lets figure out ways to illustrate that and challenge them directly at the meetings."
That strategy was on full display today in downtown San Francisco, where demonstrators hit Wells Fargo from every possible angle. A speaker with the immigrants rights group Causa Justa pointed out that Wells Fargo is a shareholder in Corrections Corporation of America, a private prison firm that profits from detaining illegal immigrants. Bob Donjacour, a freelance computer programmer and member of Occupy San Francisco, held a sign that said, "Stop Funding Dirty Power," highlighting the bank's investments in oil and gas. Other protesters criticized Wells Fargo's involvement in the American Legislative Exchange Council, the excessive salary of CEO John Stumpf ($19 million in 2010), and, of course, its foreclosure practices.
On the corner of Pine and Sansome Streets, I ran into artist Cheryl Meeker, a member of an Occupy-related protest group known as Don't Just Click There. "It's about doing things in real life, like, physically," she explained. She was blocking the intersection with a long cloth banner with flames on it as others held up signs reading, "Hells Fargo."
"Do you think we can get through?" asked two guys in nice suits.
Meeker declined, but did give each of them a dollar bill. It sported an image of humans pulling a stagecoach with the caption: "Debt slavery."
According to press reports, 24 people were arrested at the protests, including several who disrupted the shareholder meeting from within. Meanwhile, Wells Fargo announced record profits and awarded CEO John Stumpf a $19.8 million pay package.