IT'S IMPOSSIBLE TO TAKE measure of Vivian Maier's photos without taking stock of her story. She was by all accounts remarkably private, someone who didn't always enjoy the company of other adults. And yet her photographs feel like a celebration of people—a celebration of what Studs Terkel, the late grand oral historian, liked to call "the etceteras" of the world. (One photography scholar I spoke with suggested Terkel and Maier would have made a formidable pair, like James Agee and Walker Evans.) Her subjects are often caught looking directly at the camera, apparently making eye contact with Maier, but she used a Rolleiflex, a box-shaped camera that requires the photographer to look downwards through the viewfinder. In other words, as it turns out, Maier didn't need to directly engage with her subjects, and many undoubtedly were unaware that she was, in fact, memorializing their images. But I'm getting ahead of her story.
In the winter of 2007, John Maloof, a 26-year-old realtor who was co-writing a book on his Portage Park neighborhood of Chicago, stumbled upon a box of negatives at an auction house. He paid $400, hoping it might hold some vintage photos of his neighborhood. He stuffed the box in a closet. There the images sat for a couple of months, until he had time to scan a few into his computer. There were no photos of Portage Park, but they were captivating images, and it became clear they belonged to a single photographer. "Little by little I realized how good they were," he told me. He learned the auction house had sold more boxes of negatives, and so he sought out the buyers to purchase those, as well. In the end, he collected more than 100,000 negatives, including a few thousand rolls of film. In one of the boxes, he eventually found an envelope with the name Vivian Maier scrawled on it. He googled her name and found a Chicago Tribune obituary. She had died a few days earlier. She was 83.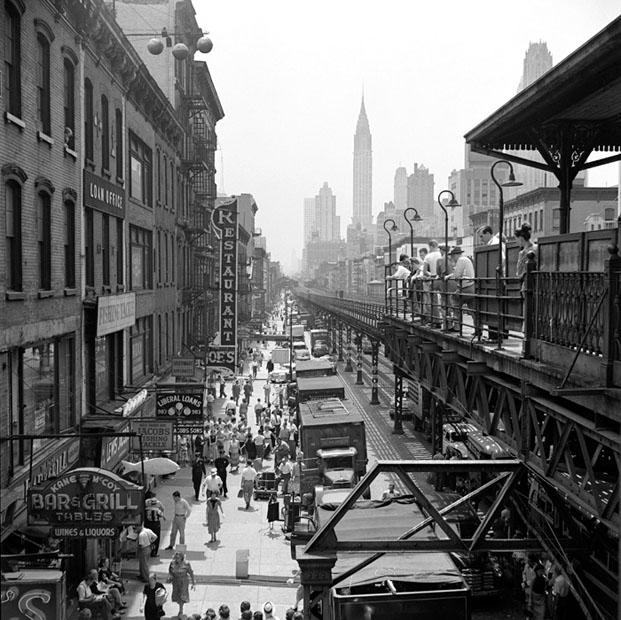 Maloof posted 100 of Maier's photos to a blog, but when that didn't generate much interest, he posted on Flickr. One visitor wrote, "Wow! This is amazing!" Another: "The images speak for themselves and are an inspiration to all photographers." Soon, he was receiving hundreds of emails.
Maloof learned that Vivian Maier had made her living as a nanny, first in New York City, then from the late 1950s until the late 1990s for well-to-do families in the Chicago area. A writer for Chicago magazine contacted some of the children she cared for, and it became clear that no one knew the extent of her photography. Her former charges—all now adults—recounted with great affection how she'd take them on outings to the city, always carrying her Rolleiflex. She had little patience for those who put on airs—and she did little to call attention to herself. Everyday dresses. Small-brimmed hats. In one self-portrait, she's looking away from the camera, awkward and uncomfortable. In another, much of her face is hidden by a shadow. She was a loner of sorts. She never married. Families she lived with have said they couldn't recall her ever receiving a personal phone call. All of which is somewhat astonishing, given the incredible intimacy of her photographs.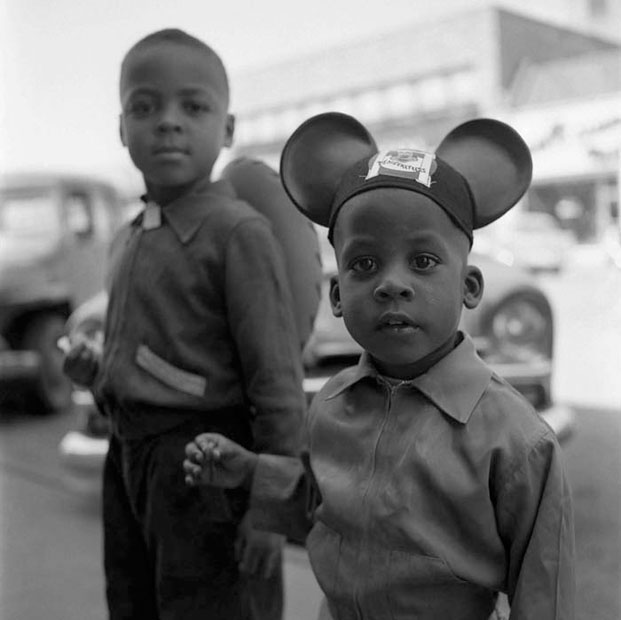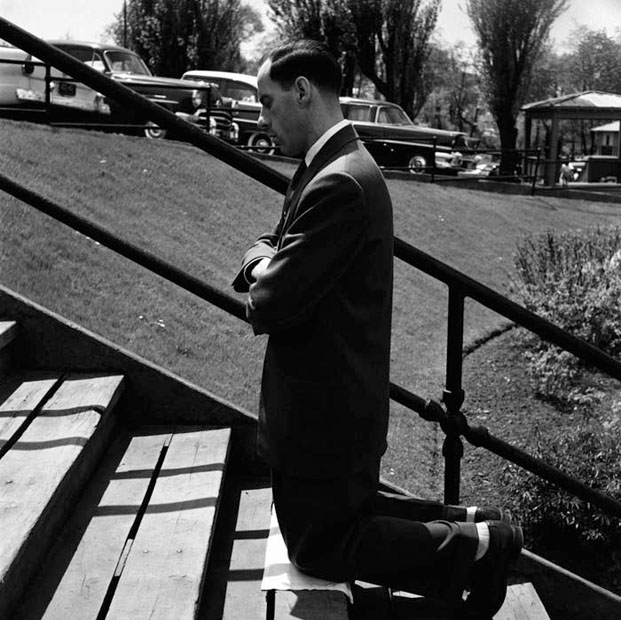 Unlike, say, Walker Evans—who hid his 35 mm camera behind a buttonhole in his coat while taking photos in New York's subways—Maier wore her camera around her neck. But many of her subjects don't seem to have noticed her. They are not looking at her (or us). They're just looking, often as if they were caught in mid-thought. Others—especially children—seem to be responding to her, as if there was something reassuring about her presence. It seems that wherever she went, she brought her camera—and shot. An African American teen riding a horse bareback under an elevated train. Two men—one hefty, the other lean—perched on a wooden fence. Three children—two black, the other white—sitting on one end of a seesaw. A man in a pinstriped suit, asleep across the front seat of his car. Each feels like the beginning of a short story, a bit mysterious, not unlike Maier herself.
She never exhibited her work. Indeed, from what Maloof can gather, she didn't share her photos with anyone, except some of the children in her care. My friend Tony Fitzpatrick—a Chicago artist whose collages, like Maier's images, capture the contradictions in this city—revels in the fact that she saw no need to show off her work. "It tells you the most important thing about her," he says. "She made them for all the right reasons. She made them to hold on to her place in the world. She made them because to not make them was impossible. She had no choice."

MAIER'S WORK IS PART OF THE decades-old genre of street photography, a field that has included such giants as Henri Cartier-Bresson, Garry Winogrand, and Diane Arbus. (Judging by her collection of books on photography, Maier was likely aware of their work.) These photographers speak to the profoundly democratic impulse to acknowledge that we all have a place—that our stories matter. She took photos of the downtrodden and the well-heeled. She took photos of festive people and people in distress. She took photos of children and the aged. She took photos of whites and blacks (notable, given the times). Her work is marked by serendipity; she appeared to have no agenda, but instead captured what she stumbled upon. Joel Meyerowitz, the co-author of Bystander: A History of Street Photography and a renowned photographer in his own right, says of Maier's images: "They are full of wit and surprise and playful spirit…Her basic decent humanism is evident everywhere in her photographs."
Not long ago, I stopped by to visit Maloof at his home. We'd set a time to get together, and when I arrived, he appeared flustered. He'd forgotten I was coming.
He asked me to wait in the vestibule as his wife, who'd just gotten out of the shower, dressed. It was 10 a.m., and though he'd been up for three hours, he hadn't eaten yet. He seemed discombobulated. Maloof, by his own admission, is besieged by the breadth of what he's discovered. That week, he was preparing for a lecture at an international photography conference in Derby, England; a gallery owner was visiting from New York; a foundation planned to stop by to talk about assisting him with the collection; and he was meeting a filmmaker with whom he's working on a documentary about Maier.
Maloof has dropped his real estate work and become a kind of Maier savant. He collected not only her negatives, but also all her belongings, steamer trunks filled with clothes and newspaper clippings, old receipts and uncashed Social Security checks. In one corner of his attic office sit a pair of Maier's fire-engine-red shoes and one of her signature felt floppy hats. He's learned tidbits about Maier, like the fact that she apparently believed Americans smiled too much (her mother was French) and that she didn't like going to doctors, because too many other people couldn't afford to. She liked to talk about films and plays, but only with those she felt were knowledgeable about the subject at hand. "She lived life on her own terms," Maloof told me. "She didn't need to live by society's boundaries."
Maloof's life now revolves around curating Maier's work. He treats her as he imagines she'd want to be treated: without hype, without self-promotion. "I'm doing this because I think I have to," he told me. (Sound familiar?) Maloof would like to make back the money he's invested, as well as enough to allow him to continue scanning her negatives—he has roughly 90,000 to go—and promoting her work. There may not be a big financial gain, as the real value is usually in prints the photographer made. (Maier's are mostly of poor quality.) Meyerowitz, who intends to include Maier's work in a new edition of Bystander, told me, "I'm as moved by Maloof as I am by her. There's a kindness to his act." Maloof loaned Chicago 80 photos for a free exhibition at the city's cultural center. Her work was exhibited in Norway and Denmark last year (signs on Danish buses read "Viva Vivian"), and there'll be an exhibit this summer in London. Maloof is at work on a book of her photos.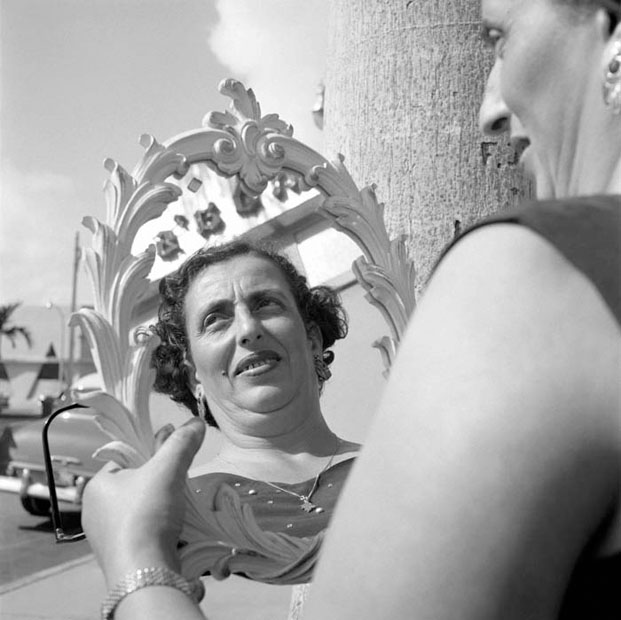 Vivian Maier's photographs are tender, exhilarating, and at times unsettling. They are the product of someone who—despite her outward appearances—clearly had a profound connection with the world around her. She just connected in the one way she knew how, looking downward through the viewfinder of her Rolleiflex—and the results are piercingly honest, even revelatory. In the lives and experiences of everyday people, Maier saw a certain beauty and dignity—and through her photos, she gets us to see it, as well.