Fight disinformation:
Sign up
for the free
Mother Jones Daily
newsletter and follow the news that matters.
Last month The Muppets opened in theaters nationwide, hotly anticipated as the Muppets' first big-screen adventure in over a decade. Its kid-friendly, PG-rated storyline is all about love, laughter, camaraderie, looking out for the little guy, and finding your place in the world. In a season chock-full of dark and controversial Oscar bait, here's an upbeat respite packed with delightful song-and-dance numbers, like this one:
How could anybody not enjoy this? I mean, no one could possibly get bent out of shape over The Muppets, right?
That was Fox Business host Eric Bolling on Friday accusing The Muppets' writers of dousing America's children with anti-capitalist blood libel. With a straight face.
"Liberal Hollywood depicting a successful businessman as evil? That's not new," Bolling says in his introductory "aha!" moment. "Why do the kids need have to be exposed to this?" he continued. Guest commentator Andrea Tantaros later chimed in: "If you want to make [the movie's message] fair, why not have a Barney Frank Muppet? Although Barney Frank looks like a Muppet, anyway…Tell me, why [is] being rich such a bad thing? Why [is] being successful such a bad thing?"
Conservatives are in a lather over the main villain, a sleazy, well-dressed oilman named Tex Richman, played by Chris Cooper, who wants to destroy the legendary Muppet Theater to drill for crude. They'd prefer an over-regulating congressman or a FEMA official to be the antagonist. It probably doesn't help that Richman is the spitting image of libertarian satirist—and self-described "capitalist pig"—P.J. O'Rourke: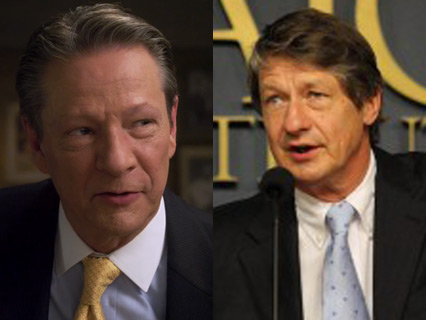 Let's get this straightened out a bit: The Muppets is not The Battleship Potemkin. The movie isn't even political; it's a musical starring Jim Henson's Muppet characters written by the same guys who brought you Forgetting Sarah Marshall. But, hey, let's give Bolling and Co. the benefit of the doubt and say they were just having an off-day. It's not like an isolated incident like that constitutes a pattern of demonizing innocent, defenseless puppets, so why don't we…Wait, what? Oh, come on!:
Take a minute to absorb that: The Fox News personality can't understand why on earth this Muppet would be hungry when Barack Obama is in office. It is worth pointing out that this clip aired in October 2011, and not October 1793.
And here's a Hannity segment that aired in June that elucidates how Sesame Street, a program filled with Henson's creations, pushes the leftist agenda and the "soft bigotry of low expectations":
So, yeah, there is some history behind last week's Muppet panic. What these conservative pundits fail to grasp is this: The Muppets are political from time to time, but in a way that has nothing to do with subliminal brainwashing and everything to do with satire. Check out the cross-Atlantic, Cold War era spoofing in the "Robot Politician" sketch. In 2009, they received media attention for their friendly dig at Fox News (on Sesame Street, it's "Pox News"). And in their spare time, the puppets also poke fun at pop-culture crazes. But any political content found in The Muppet Show or Sesame Street isn't there to offend, brainwash, or surreptitiously infiltrate toddler culture. Like most of the shows' material, it's played up for giggles and cultural relevance, and it's part of why this show has never been just for kids. Taking any of it too seriously—or perceiving Elmo or Kermit as some kind of Trotskyist threat—risks self-satire.
The Fox freak-out over Henson's Muppets provoked a grand social media backlash this week. Here are some of the best tweets and other highlights:
(The Storify might take a few seconds to load.)