Fight disinformation:
Sign up
for the free
Mother Jones Daily
newsletter and follow the news that matters.
Burning Man musicians have it rough. There's the omnipresent threat of dust storms, the dehydrated and disoriented spectators, and the competition for a prime location on the playa. And unlike visual artists, who can vie for grants from the Black Rock Arts Foundation to fund their massive sculptures, Burning Man musicians don't get paid. "This festival won't even give us a free ticket, and our equipment is guaranteed to be destroyed," gripes Grey Filastine, a producer based in Barcelona, Spain, who has been performing at Burning Man since the mid-1990s.
But there's no shortage of bands at the 10-day event, known for all-night performances and subwoofers so loud they masticate the ear drums. (Things are getting better, notes Grey Filastine—see below. "There have been years where I just wanted to wear earplugs the entire week; those days are gone.") Heavy on electronica and light on instruments, the nightscape pulsates from competing DJs amid seas of twinkling glow sticks. Admittedly, I thought most of the DJs and producers sounded all the same, but these performers stood out:
Filastine
Grey Filastine collects morsels of sound from places like Morocco and Indonesia and fuses them together into an amalgam of dubstep, live percussion, and multilingual vocal riffs. His most recent album Dirty Bomb (2009) was recorded in 16 different countries, and features "hybrids so fluent they defy classification" according to Pitchfork. This year, Filastine performed in front of the Hookahdome, a low-lit haven serving up hookahs to Burners day and night. His performance snared audiences into a hypnotic net that paired well with the dome's fire spinning, belly dancing, and Middle Eastern flair. But his sound is anything but geography-specific. His songs are globalized cross breeds, drawing energy from urban centers everywhere. His fascination with cities extends to his love for Burning Man, which he's seen morph from small town to urban center: "Imagine Austin turning into New York City over the span of a dozen years," he suggests. While he has his complaints about the homogenous, wealthy demographic at Burning Man, he still sees it as "the most starkly beautiful and wildly anarchic modern city."
Filastine – Singularities video (Kognitive Krew) from Grey Filastine on Vimeo.
The Hobo Gobbelins
I came across this ragtag Americana group while wandering the deep void of the playa in search of a little escape from the blare of monstruous subwoofers. They stood perched at the rail of The Front Porch art car—a dissected house pulled by a tractor—looking windblown and bedraggled. The Hobo Gobbelins' banjo, guitars, and accordion contributed to something like a raucous vaudeville act, and their songs were a hell of a lot of fun to sing along with. Witnessing their small jubilee transported me out of the modern rave and into a 19th Century pirate party.
The Oakland, California, octet describes its sound as a "bunch of drunken subhumans raising a hellafied ruckus with old-timey instruments." Indeed, most of the people listening seemed ready to let loose. The Gobbelins offered an ideal alternative to techno, embodying the spirit of Burning Man as a dark rumpus best witnessed while passing around cilantro-spiked tequila and slices of watermelon. They also perform regularly around the San Francisco Bay Area, and admit that while they're "all very nice," they "will possibly make you uncomfortable."
Fantuzzi
Fantuzzi was scheduled to perform during the hot lull of the afternoon, a drag given that most of the potential audience was asleep on the couches of Center Camp. But armed with just a drum and his voice, he soon had dancers harnessing his island rhythms and filling the space with energy. "Beautiful goddesses coming out of the woodwork," he howled. "You have to…it's Burning Man!" He was intimate and enthusiastic on stage, and with his long skinny braids resembled an older Michael Franti.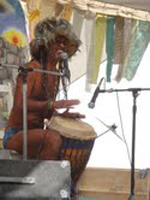 Fantuzzi's parents were Puerto Rican, but he grew up in the Bronx. He claims he's performed in 70 countries, and has been coming to the playa for 15 years. When I talked to him after his set, he was clutching a fat cigar and gave me silly hippie answers like, "I flew in on wings of love" and "Blessed are the flexible, for we shall never be bent out of shape." But under the kooky veneer, the guy was a hoot. His favorite accessory was his speedo; "I carry everything in here," he said, pulling daily essentials from his miniscule underwear ("lip balm, pencils") as I tried to avert my eyes. "Money, rubbers…OK, I have to go see my people now." And off he went, cigar in hand, hugging everyone in sight and telling them, "Get out of your own way."

Click here for more Music Monday features from Mother Jones.