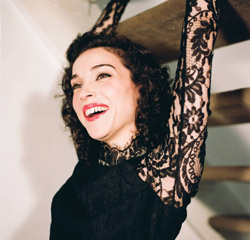 TRACK 4
"Surgeon"
From St. Vincent's Strange Mercy (4AD)
Liner notes: Seemingly possessed by wild-eyed delirium, Annie Clark, a.k.a. St. Vincent, fashions an unstable compound of wistful synths, jittery rhythms, and woozy voices as the mood escalates from serenity to hysteria on this unsettling track.
Behind the music: Taking her name from a Nick Cave lyric, the Dallas-bred Clark performed with The Polyphonic Spree and Sufjan Stevens before going solo. Prior to this, Clark's third album, she collaborated with Justin Vernon (Bon Iver) on the Twilight: New Moon soundtrack.
Check it out if you like: Otherworldly spell-casters like Björk, Kate Bush, and Land Of Talk's Elizabeth Powell.
Click here for more music features from Mother Jones.