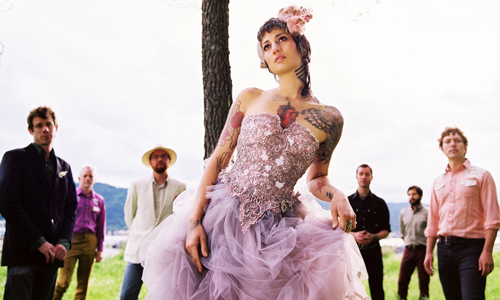 Portland indie band Y La Bamba doesn't serenade you at restaurants or feature a trumpet, and its members don't sport matching embroidered tuxedos. Its resemblance to a mariachi band is more subtle: emotive lead vocals, a plethora of stringed instruments, an accordion, songs of lament. Though her music is now rather folky, lead singer Luzelena Mendoza's past reveals an adoration of traditional Mexican singers whose influence on the band is undeniable.
"When I was a little girl I loved mariachi and the conjuntos and all the little trios and singing at church," Mendoza fondly remembers. It's hard to imagine Mendoza, six feet tall with striking tattoos scrawled across her shoulders and neck, as a small, pious child. But as she continues to resurrect memories, the picture comes into focus.
The singer grew up in sheltered Mexican communities, first in Michoacan and later in California and Oregon, and her list of childhood favorites sounds like a classic Latin jukebox medley: "Ramón Ayala, Los Madrugadores, Los Panchos, Los Dandys, Los Caminantes, Pedro Infantes, Pepe Aguilar, Javier Solís." During Mendoza's teenage years in the US, R&B entered her repertoire and prompted her to develop her voice. "I would sing along with mariachi stuff in the background because I loved the way it felt."
The reason she was entranced with Mexican singers in the first place? "I was born into it." Her dad was a fan of the accordion and someone who "always wanted to be the center of attention and sing his heart out." But her parents haven't always been supportive of her career path. "They didn't really know how to accept who I was. It's not like I'm half-Mexican or something—it was the real fuckin' deal. To see something like me come out of something that strict and thick and beautiful," she explains, referring to her conservative Catholic upbringing, "they were like, who is this?"
She pushed onward, dabbling in punk rock and working as a body piercer before creating Y La Bamba with fellow Portlanders in 2003. Mendoza writes most of the band's songs, dipping into legends and stories as much as her own personal experiences. Recently, for instance, she wrote a song called "Lamento de Madre," which juxtaposes her own mother with the famous Mexican legend of "La Llorona," the crying woman, whose wails of grief over her children's deaths plagued waterways in Mexico and Central America.
Yet even with sounds of Mexico heavy in her mind, Mendoza admits that her ballads will "never sound like a Tejano song, they'll never sound like a bolero, mariachi, corrido, ever. I just have my own way of writing, I guess." Though she is hard to take your eyes off of, the rest of the band pulls its weight as well. Guitarist David Kyle, bassist Ben Meyercord, drummer Mike Kitson, and accordion player Eric Schrepel round out the quintet, harmonizing as what NPR's Felix Contreras called Mendoza's "rugged-looking choir boys." Being the only chick in a band full of dudes "feels natural," Mendoza says. "I grew up with all bros, and I'm very dudely like that."
The resulting music resembles that of other dreamy psych-folk bands, with even a little Joanna Newsom or Edith Piaf tucked in. Spanish makes its way into lyrics, as does a throbbing emotional pulse that digs into you with its passion and pain. "I just want people to not ignore the fact that they feel fucking haunted," Mendoza explains.
As Y La Bamba further develops its sound, Mendoza wants to keep drawing from Mexican culture, but she's currently more into Peruvian and Colombian cumbia, and wants the band to become more percussive. Towards the end of a November show at San Francisco's Amnesia, she breaks out into a vigorous dance number, replete with thigh slapping and plenty of shouts. The band can barely fit the stage, the drummers are dripping sweat and someone grabs a tamborine. Mendoza seems totally engrossed, harnessing the pulse of distant cultural rhythms and making them all her own.
Here's Y La Bamba performing "Crocodile Eyes" in early 2010:
Click here for more music features from Mother Jones.