Fight disinformation:
Sign up
for the free
Mother Jones Daily
newsletter and follow the news that matters.
Three basic facts of life: The planet you live on isn't cooling, you should never forget to bring a towel, and conservative commentators aren't very good at putting together lists of conservative things.
When John J. Miller of National Review compiled his "50 greatest conservative rock songs" in 2006, his selections—which for some odd reason included "Janie's Got a Gun" by Aerosmith—were so often perceived as baseless that the hoopla even provoked a response from the guy who wrote the No. 1-listed tune (a fact Miller clearly relished). On Human Events' 2005 list of "Most Harmful Books" written in the 19th and 20th centuries, Darwin and John Stuart Mill are put in the same ballpark as Hitler and Mao.
And on Wednesday, conservative Brit Nile Gardiner trotted out his rundown of "The top 10 conservative movies of the modern era" in a blog post for the Telegraph. Gardiner writes that these movies "can be taken to heart [by conservatives] in both the United States and Great Britain," and that they "celebrate conservative values, the defence of the free world, deep-seated patriotism and individual liberty." He also insists that the films promote capitalism and are sure to "offend Left-wing sensibilities." (Click here for another one of Gardiner's crushingly lame top-ten lists, this one targeting the Obama administration.)
Amazingly, Red Dawn doesn't even get an honorable mention!
As my colleague Adam Serwer jokingly points out, it might at first glance seem like the "overwhelming majority of these films are about kicking the shit out of brown people" (i.e. Zulu, Black Hawk Down, 300, Tears of the Sun, and so on).
Also, the Russell Crowe vehicle Master and Commander (listed at No. 4), set during the Napoleonic Wars, is hailed as "one of the greatest odes to leadership ever committed to celluloid" that "should be essential viewing for any Commander-In-Chief." But Gardiner takes things a step further with his "British Imperialism Ra-Ra-Ra!" attitude, by viewing the movie as an ode to the "determination that forged the British Empire":
Needless to say, it should be shown at the next EU summit by the UK delegation for the benefit of Nicolas Sarkozy when he gets on his high horse and starts lecturing Britain about French superiority.
Strangely, several of the listed films aren't right-wing flicks, at all. The Deer Hunter (No. 6) is more about the intensely personal tragedies of war than it is about pissing off the Reds or straight-up patriotism. Hotel Rwanda (Honorable Mention), if anything, comes out against the traditionally conservative principle of non-intervention in humanitarian crises. Ridley Scott's Black Hawk Down (No. 8) is a non-ideological, sloppily researched army flick (albeit, a viscerally thrilling and visually impressive one). United 93 (Honorable Mention) just isn't political—or at least heroism on 9/11 shouldn't be political. And the Will Smith-starring The Pursuit of Happyness (No. 10, and somehow described as a 2006 "classic") is recast as a tribute to minorities subscribing to Reaganomics.
And Roland Joffé's The Killing Fields (No. 7) is by no means a conservative movie. It is, by all accounts, a human rights movie, and humans right awareness is—if I am to continue on this ridiculous path of generalization that this debate unfortunately demands—something that is inextricably associated with causes of the bleeding-heart left. It's also worth noting that The Killing Fields—a film that slams the genocidal horrors perpetrated by Cambodia's hyper-Maoist Khmer Rouge—was made by a British leftist filmmaker in 1984. Right around this time, Margaret Thatcher and Ronald Reagan were supporting the Khmer Rouge insurgency in its bid to land a seat at the UN just a few years after Vietnamese troops overthrew the regime.
To live in a world dominated by facile conservative talking points is, evidently, to have no sense of historical irony whatsoever.
But, hey, I'm not totally above playing along. Without further ado, as a rebuttal based on comparable logic and sweeping generalizations, here are the TOP THREE LIBERAL MOVIES OF THE MODERN ERA IN WHICH STUFF BLOWS UP GOOD:
1. Aliens, dir. James Cameron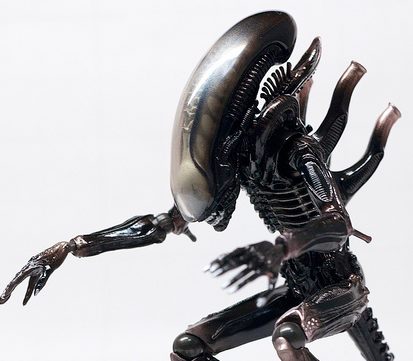 Since American leftists are renowned for heroically chipping away at the exploitation inherent in free markets, it's refreshing to see that one of the all-time great sci-fi action movies features a human villain who's a weaselly capitalist toad (played by comic Paul Reiser) who puts marines' lives at risk for the sake of turning a healthy profit. He ends up getting his face bitten off by a towering space-monster, which is patently a metaphor for the revenge of the 99 percent, we're pretty sure.
Naturally, the day is only saved when valiant feminazi Sigourney Weaver shows up to own some intergalactic ass. We just regret that the day had to be won through animal cruelty.
2. Die Hard 2: Die Harder, dir. Renny Harlin
The first sequel to the 1988 masterwork has Bruce Willis going all Church Committee on a squad of ex-special forces trying to reinstall a Noriega-esque, anti-communist authoritarian/drug kingpin.
Needless to say, it should be shown at the next EU summit by the UK delegation Benevolent and Protective Order of Elks get-together for the benefit of Nicolas Sarkozy George H.W. Bush when he gets on his high horse and starts lecturing Britain student protesters about French superiority American exceptionalism.
3. Glory, dir. Edward Zwick
The best movie about the triumph of big government over states' rights, Glory is essential in helping white Democratic voters cope with their crippling white liberal guilt. In the film, President Lincoln wages his righteous war of aggression against über-racist-y, inferiorly dressed Southerners with the help of the 54th Massachusetts Regiment, a black unit that, if it were around today, Fox Nation would likely label as "tyrannical and loud former ACORN volunteers."
Okay, I'll stop.
But please list your favorite "conservative" or "liberal" movies in the comments below.