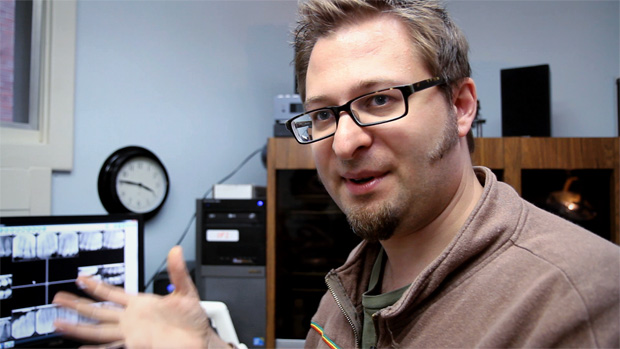 Dr. Nathan Swanson had one of those "holy crap" moments one day when he looked at the amount of waste his old dental practice produced.
"All the offices, in all the roads, in all the states, in all the countries, it's a phenomenal amount of waste!" he said during my recent trip to New Hampshire.
So when he opened his own dental practice five years ago, he began a long journey to claim the title as New Hampshire's greenest dentist, by seeking out corn-based spit cups, biodegradable toothbrushes and a new $30,000 digital x-ray.
"You know, I might not be able to change everybody's way of doing business or practicing dentistry," he told me. "But I'm certainly going to change mine."
Nathan is part of a growing movement, according to Ina Pockrass, the co-founder of the Eco-Dentistry Association, which provides industry-standard certification and helps market over 100 green dentistry products. Nathan is one of 700 members in 45 states, catering to a growing market of what Ina calls "eco-Moms" and "label readers." Since mid-2009, the association has witnessed a "torrent of interest", she says.
"Dentistry is getting beyond drill, fill and bill."
Nathan Swanson is Climate Desk's first Trailblazer, a weekly story showcasing one person's way of tackling climate change. If you want to nominate a Climate Desk "Trailblazer" in your neck of the woods, follow @climatedesk on Twitter, or like our Facebook page and shoot us a message.